Gundam Live-Action Movie In Development At Legendary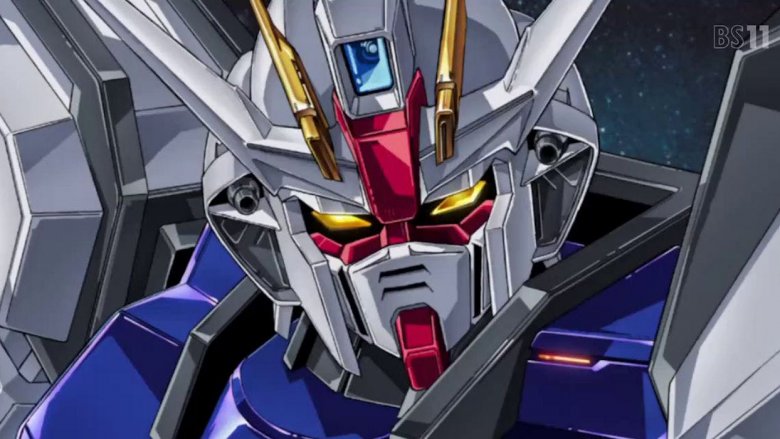 YouTube
Like Jack Twist didn't know how to quit Ennis Del Mar, Hollywood can't figure out how to part ways with space adventures and giant robots. (Not that we're complaining...)
As announced by Variety, Legendary Entertainment and Japanese animation studio Sunrise have joined forces to create a live-action Gundam film based on the popular animated franchise. The companies broke the news during this week's Anime Expo in Los Angeles. 
Not much is known about the live-action Gundam film, but that isn't because Legendary and Sunrise are keeping a lid on all the juicy details. In truth, it's because the project is still in the super-early stages of development. The film is currently without a writer, director, or confirmed cast. We do know, however, that Legendary's Cale Boyter will oversee the project alongside a handful of Sunrise creatives. 
Established in 1979 with Mobile Suit Gundam, the Gundam franchise spans across anime series, animated movies, manga, games, and toys — which, as Legendary and Sunrise noted, have made up the majority of toy licensee Bandai Namco's revenue for the past four decades. The franchise is set in a time in which humanity has shifted from living on Earth to seeking residence in colonies in space, sparking a war between humans and the galaxy-dwelling robots seeking independence.
It's unknown what the movie will center around or how closely it will follow the source material, but bearing in mind that Cale Boyter actually served as a producer on Pacific Rim Uprising might offer some indication as to what it will feel like overall. Unfortunately, the insight might not be all that great. Pacific Rim Uprising tanked hard both with critics, who described it as "Transformers-level inanity" and "a dumbed-down version of its predecessor," and with fans, only 43 percent of whom actually enjoyed the film. 
This could spell trouble for the live-action Gundam movie, but we have our fingers crossed that with the right director (original Pacific Rim director Guillermo del Toro would be an excellent choice) and a stellar team of writers, Legendary's take on the beloved robots-in-space series can be successful and something special.
Until the studio sets a solid filmmaking team for the upcoming Gundam movie, Legendary will roll out Skyscraper on July 13, as well as Godzilla: King of the Monsters and the Ryan Reynolds-led Detective Pikachu, both of which are currently in post-production, in May of 2019.