Yellowstone's Jen Landon Brings A Portable Bathtub To Set (For All That Cow Poop)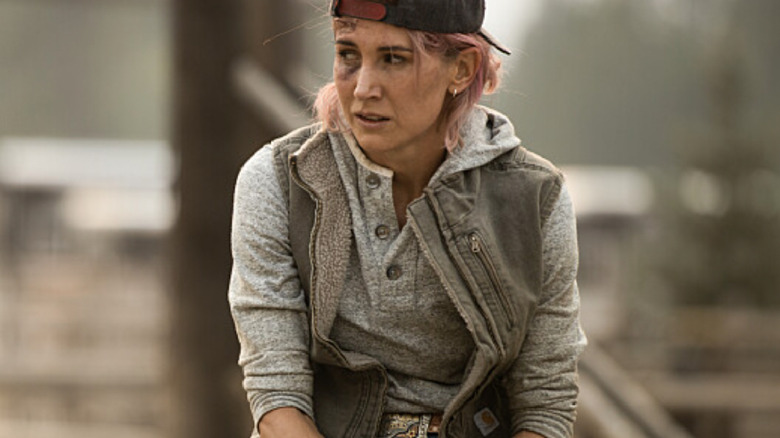 Paramount
Jen Landon has appeared in nearly 30 episodes of "Yellowstone," making her debut on the modern Taylor Sheridan Western in "The World is Purple" (Season 3, Episode 10). Landon plays Teeter, a pink-haired Texan who doesn't shy away from rough language or situations, even sporting the ranch's signature "Y" brand on her chest. Landon is the daughter of actor Michael Landon, and made her acting debut on his fondly-remembered hit series "Highway to Heaven" in 1989 at just six years old. 
Between 2005 and 2010, she appeared nearly 500 times on "As the World Turns" as Gwen, but recently told People magazine that she had to make a special purchase for the transition each day from the set of "Yellowstone" back to regular life. 
Landon told People that she had put on makeup for the first time in four years for the magazine's photo shoot, because "you [are] in cow poo poo all day and you're going to be in cow poo poo the next day ... There were days when we were literally covered in s— from head to toe." 
Landon explained that she had recently purchased a portable shower to clean up before heading home from a day of shooting. "I travel with this tub device that I bought on Amazon and you blow up the ring and you can put it in a tiny shower and sit in this soaking tub," Landon explains. "I have to be in the bath every night."
Landon isn't the only Yellowstone actor who cleans herself off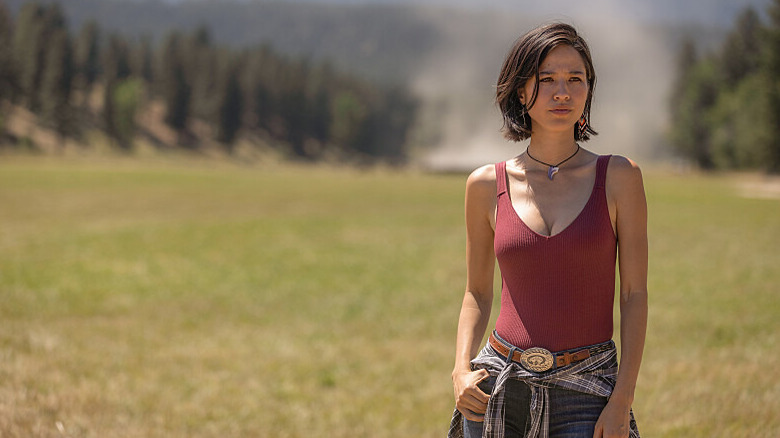 Paramount
Two of Jen Landon's co-stars have shared similar feelings about their on-set experiences filming "Yellowstone," and the required rituals they have developed to clean their bodies after a day of filming. 
Kelsey Asbille, who stars on "Yellowstone" as Monica Dutton, says, "there's usually dirt and blood involved" and after shooting wraps, "there is a physical and emotional cleanse."
Piper Perabo, most famous for her role in "Coyote Ugly" but a veteran of nearly a dozen episodes of "Yellowstone" across Seasons 4 and 5 as vegan activist Summer Higgins, went into a tiny bit more detail about her post-shooting cleanup routine, saying "I wipe the blood off with a hot washcloth and I go home." She says her ritual is largely to make her commute home less harrowing for anyone she might encounter on the way. 
Perabo explained that a well-meaning observer might mistake the dirt and blood left over from her workday for signs that she is in distress."[It's] In case I have to stop and get gas or something," Perabo said. "It's hard to explain in the little town where we work; if your face is covered in blood, one of those guys will ask if you need some help."