Happy Death Day 3: Will It Ever Happen?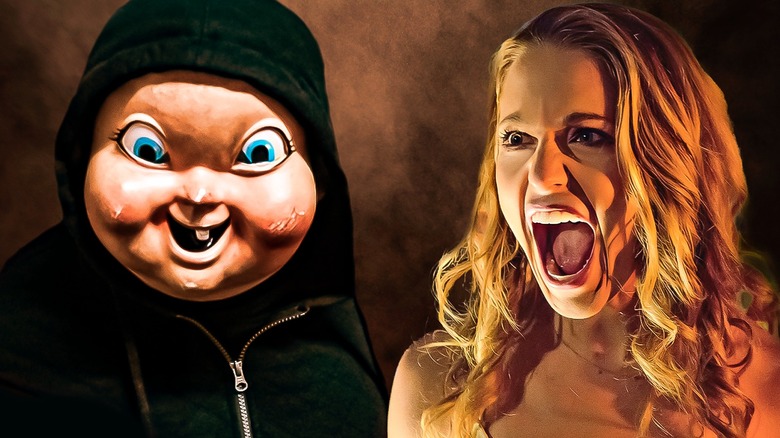 Static Media
Blumhouse and Universal have become prominent forces in the modern horror space. This has been achieved mainly through original films — many of which have garnered wide acclaim and financial success and have also evolved into bigger franchises. From "Insidious" to "Sinister," Blumhouse has delivered some of the most beloved and widely recognized modern horror franchises of the last couple of decades. One of their biggest breakout successes was "Happy Death Day" in 2017. Mixing the comedic time loop concept of "Groundhog Day" with a seriously sinister slasher, "Happy Death Day" killed it at the box office in its opening weekend and was a breakout moment both for star Jessica Rothe and director Christopher Landon. 
With the original film earning roughly $125 million globally against a $5 million budget, it was a resounding win for Blumhouse, and a sequel — "Happy Death Day 2 U" — came along just two years later. Since the second film's release, there's been a lot of chatter about a potential third film that would round out the "Happy Death Day" trilogy, but there seems to have been little to no movement on getting the sequel greenlit. We're here to break down why "Happy Death Day 3" has been left in limbo, and if there is still a chance that it could make a grand return.
Why isn't Happy Death Day 3 happening yet?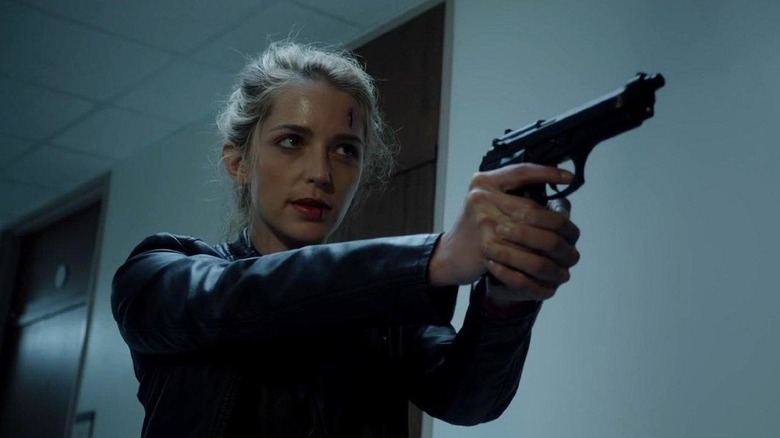 Universal Pictures
The biggest obstacle to "Happy Death Day 3" being made is the box office woes of its predecessor. While "Happy Death Day 2 U" still received plenty of positive critical and audience acclaim — and turned a profit like the original — it wasn't as much of a success. On a $9 million budget, the film grossed around $64 million worldwide — which is just about half of the original's $125 million haul. While that's still an impressive feat, it's not even close to the accomplishments of the original — and even director Christopher Landon recognized this. 
In an interview with SlashFilm while promoting his most recent film, "We Have a Ghost," Landon discussed why "Happy Death Day 3" hasn't seen much movement. "The sequel ["Happy Death Day 2 U"] is loved by people who have seen it, but it did not make a lot of money, and it was not a success for them [Universal]. So it's very hard to motivate them to make a third movie when the last one just didn't perform," said Landon. Unfortunately for fans, the profitability of a movie is a big factor in pushing studios to greenlight further installments in a franchise, and "Happy Death Day 2 U" simply couldn't reach the marks it needed to make the dreams of a third "Happy Death Day" film a reality.
Static Media owns and operates SlashFilm and Looper.
What director Christopher Landon and producer Jason Blum have said about Happy Death Day 3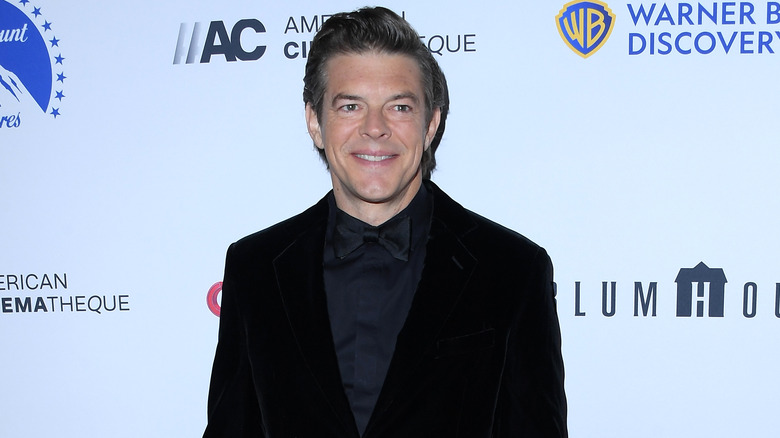 Steve Granitz/Getty Images
Ever since the release of "Happy Death Day 2 U" — and its subsequent box office woes — there's been a lot of chatter from Christopher Landon and Blumhouse head Jason Blum about what's going on with "Happy Death Day 3." Landon has been talking about "Happy Death Day 3" for quite some time and even mentioned plans to change the genre up a bit and go bigger with a potential third film. The comments from Blum though were much more interesting, and back in 2020, he told Inverse that discussions were still happening on the film. Blum said that "The reason it's still alive is because I'm very passionate about it ... It's very rare that you make a second sequel after a movie that didn't perform very well, but I want to do it because I thought the second movie was spectacular." Blum continued, "I really want to make a third one and I think we're going to figure it out."
Unfortunately, according to Landon, it seems like those discussions have stalled. When talking with SlashFilm, Landon said there was "No movement at all, sadly." He went on to say, "There was a tiny moment where I really felt like I had Universal's attention, but they forgot about me." It seems like the talks around "Happy Death Day 3" have halted for now, and chances of a third movie look slim for now. 
What could be explored in Happy Death Day 3?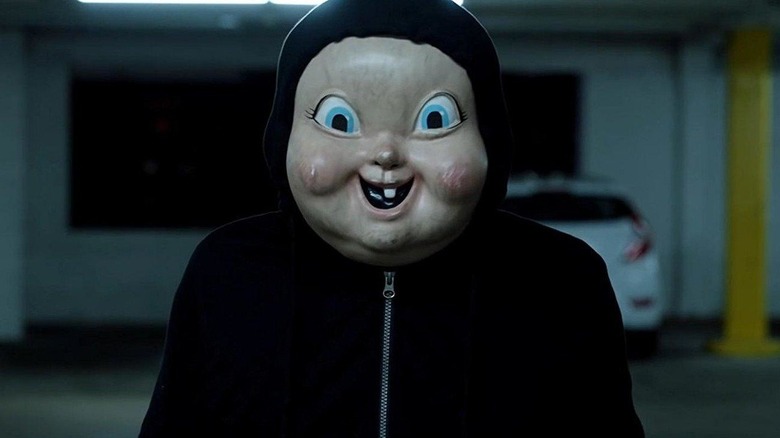 Universal Pictures
Based on the ending of "Happy Death Day 2 U" and Christopher Landon's follow-up plans, there's plenty to speculate on when it comes to what a third film could explore. "Happy Death Day 2 U" ended with a post-credit scene that saw Tree (Jessica Rothe) and her friends picking up trash as part of some required community service. That is until DARPA agents swarm them and take them to their facility where they say that they're looking to experiment more on the reactor with their help. DARPA is in need of a test subject and Tree thinks of putting her old enemy Danielle (Rachel Matthews) up to the task. It's unclear if the final scene of Danielle screaming in bed is meant to be more of a gag or an actual idea for the sequel, but a stronger focus on Danielle is certainly one direction a sequel could go. 
However, Landon has talked in more detail about his potential "Happy Death Day 3" plans and they're not what you might be expecting. In a discussion with The Wrap about the rumored third film, Landon mentioned that he wanted a bigger budget that would fit his vision. "The third movie was going to be an epic apocalyptic adventure with still elements of horror," said Landon, "But yeah, we were going to change gears again and it was going to be bigger."
Who would star in Happy Death Day 3?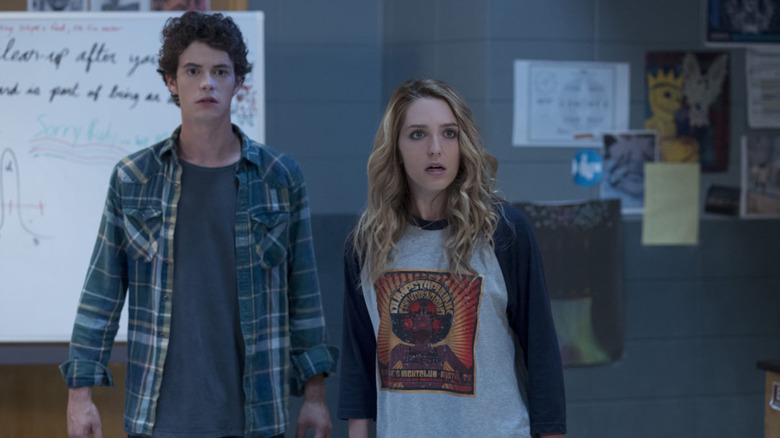 Universal Pictures
While most of the cast hasn't said much about possibly returning for a third "Happy Death Day" film, there are at least some good signs that main star Jessica Rothe is interested in returning. When talking with CinemaBlend about working with Rothe, Landon had nothing but positive things to say. "She's my work wife. She's one of my best friends now. We talk all the time, still. We're working on something else together right now ... I would love to make movies and create stuff with her for the rest of my life. She's amazing." So it's clear that Landon would love to reunite with Rothe for literally any project — including "Happy Death Day 3" — and Rothe has expressed the same interest. 
In an interview with Collider, Rothe spoke about returning to "Happy Death Day" and the potential for a third film. "All I'll say is that I know [director] Chris [Landon] has the idea in his brilliant brain because he is a genius, he is a master, and he's one of my favorite humans in the whole world," said Rothe, "...we only want the movie to happen if it's going to happen in the right way, to finish out Tree's story, to really give support to the two incredible films that we made before, and to honor our fan base."
The fallout of Freaky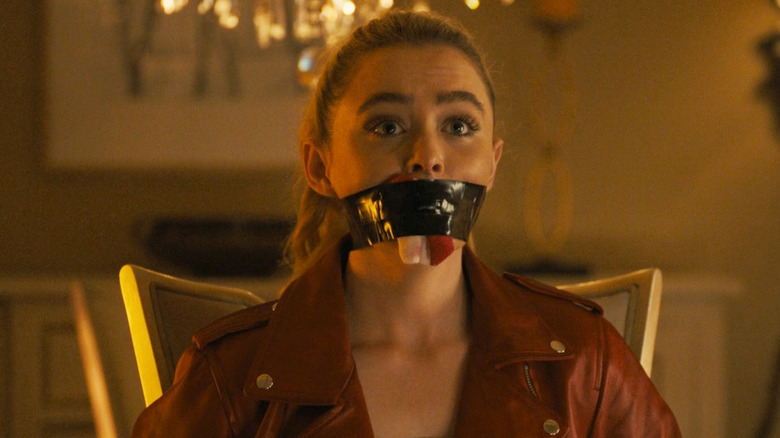 Universal Pictures
Another big reason that "Happy Death Day 3" might never happen is that there have been some underlying frustrations expressed by Christopher Landon over how Universal handled his last movie with them. "Freaky" was one of the many victims of the COVID pandemic and was essentially used by Universal for their same-day streaming/theatrical release strategy. This caused the film to have a very poor box office performance — much to the frustration of Landon.
When Universal tried to do the same release strategy with "Halloween Kills," Landon took to Twitter to advocate for studios to stop trying this risky strategy. He said, "Studios: stop gambling with filmmakers and their movies to try and prop up your fledgling streaming services. This happened to me on 'Freaky' and it destroyed us." Even a year later, Landon was still harboring some frustrations with how Universal treated "Freaky," so there could be some unresolved tensions between the two parties that are keeping "Happy Death Day 3" from being made. Perhaps it's also why Landon hasn't made a film with Universal since "Freaky."
Is Landon ready to take on Happy Death Day 3?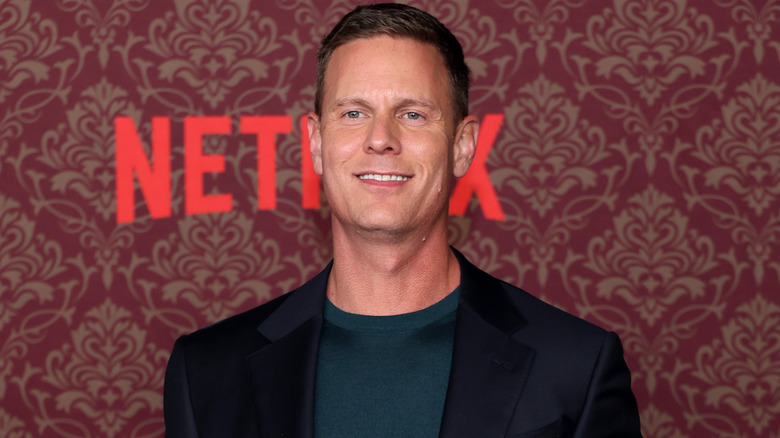 Monica Schipper/Getty Images
While it would be nice to think that Christopher Landon could simply jump right into making "Happy Death Day 3," he is very busy with some other exciting upcoming projects. Landon's latest film, "We Have A Ghost," was released on Netflix in 2023, delivering some fun family ghost antics akin to "Casper" and classic Amblin films. Next, Landon is tasked with a huge endeavor — to write and direct a remake of "Arachnophobia."
It was reported last year that Landon would be coming onto the remake of the 1990 horror-comedy classic, and there have been some signs that production on the film is set to start soon. When speaking with Discussing Film about the status of his "Arachnophobia" remake, Landon said that "We're getting super close. The script's done. I've been working on that for a while now. So now it's just really about getting it together." He even mentioned that he met with a spider wrangler recently so it seems like he's about to jump onto that project. With this in mind, it might be a little while until Landon has the time to jump on "Happy Death Day 3."
Blumhouse's recent success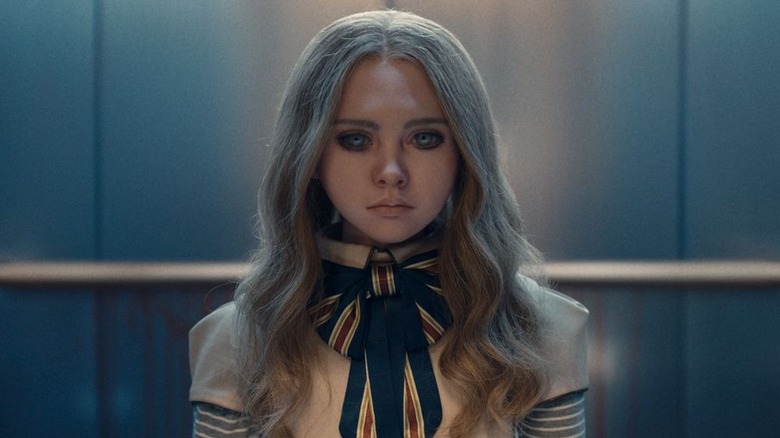 Universal Pictures
At one point, "Happy Death Day" was a big original franchise for Blumhouse thanks to its financial success and wide acclaim within the horror community — fitting in nicely alongside their other franchises such as "Sinister" and "Insidious." Now though, Blumhouse has started to evolve and it may be that they have already outgrown the need for another "Happy Death Day" film.
Blumhouse has some new original horror tentpoles forming, like the wildly successful "M3GAN" and "The Black Phone" — both of which have sequels coming in the near future. They're starting to take on bigger, already established franchises with films like their upcoming requel of "The Exorcist," the long-awaited "Five Nights at Freddy's" adaptation, and Todd MacFarlane's "Spawn" reboot. While Blumhouse is not against giving their older franchises new entries — such as "Insidious: The Red Door" and "Paranormal Activity: Next of Kin" — it's becoming increasingly hard to believe that they'd do the same for "Happy Death Day." The disappointing box office performance of "Happy Death Day 2 U" seems to be a real sticking point for Universal executives, and if Blumhouse can find more financially successful avenues with new films, it's doubtful that they'll feel the need to come back to "Happy Death Day."
Fitting into the horror space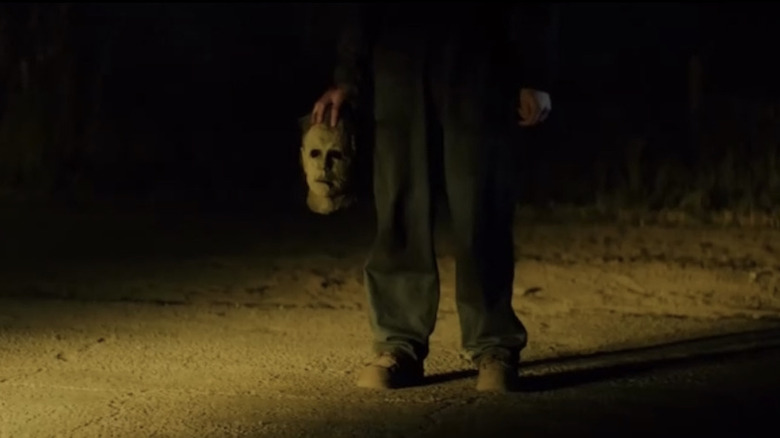 Universal Pictures
The horror landscape has changed quite a bit since the pandemic and a new trend is starting to emerge — requels. There are a lot of nostalgic horror franchises making a return, delivering movies that bring the legacy of the franchise together with a mix of old and new. Franchises like "Scream," "Halloween," and "Texas Chainsaw Massacre" have already found a resurgence through requels, and horror fans can likely expect many more to come in the near future. With so many big-name franchises finding new footing in the modern era of horror, it's tough to see how "Happy Death Day" can find a place for itself — since it's not old enough to feel nostalgic yet, or new enough to be top of the pile anymore.
Even on the indie horror front, there are a lot of emerging horror films that could easily pose some strong competition, or take the spotlight further away. Just look at what happened with "Smile" last year — a seemingly innocuous horror movie that absolutely killed it at the box office. Aside from Blumhouse, indie film giants like A24 and NEON have unleashed some big-time horror hits of their own. The horror space is more competitive and diverse than ever before and it could cause a mid-tier horror franchise like "Happy Death Day" to get lost in the shuffle.
Why Blumhouse should make Happy Death Day 3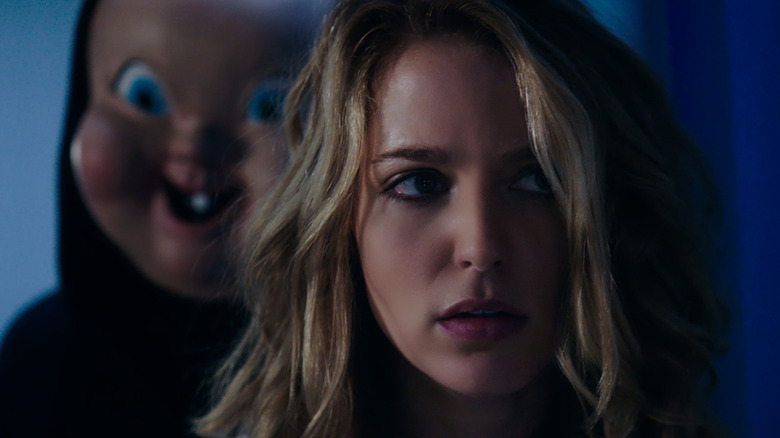 Universal Pictures
On paper, there are plenty of reasons why Universal and Blumhouse wouldn't want to do a third "Happy Death Day" film. The poor box office performance of the previous film, Christopher Landon's ambitious vision, and strong genre competition would make it a risky venture. Yet, it could still be a worthwhile way to pay their respects to one of their franchises, as well as the cast and crew that brought it together. It's clear that Landon, Jessica Rothe, and likely the rest of the cast are ready to send this franchise out on an ambitiously high note that'll surely reignite interest from more than just the core fanbase. As a character, Tree has definitely earned herself a trilogy of her own and fans would be thrilled to see her return to the big screen one last time. 
Plus, there are options outside of a simple theatrical release that Landon has said that he's open to. In an interview with The Hollywood Reporter, Landon mentions that he'd even be willing to make "Happy Death Day 3" for Peacock if it meant that it could see the light of day. "We could do it for Peacock, said Landon, "It doesn't have to be theatrical. I'd prefer it, but it doesn't have to be." After screwing up the theatrical release of "Freaky," Universal and Blumhouse kind of owe Landon, and his willingness to put "Happy Death Day 3" on streaming could set up a fair compromise.
A Freaky crossover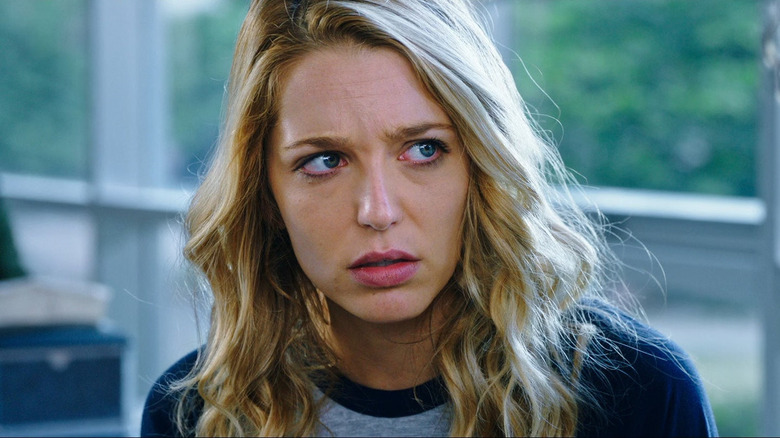 Universal Pictures
If the dreams of "Happy Death Day 3" being made can't come true, then Universal and Blumhouse could try to make the rumors of a "Happy Death Day" and "Freaky" crossover a reality. For quite some time there have been rumors swirling about a crossover film for Christopher Landon's two most prominent horror films, and Landon has actually addressed the possibility of the film's existence. In his interview with The Hollywood Reporter, Landon said "Look, Jason Blum is the puppet master. He's pulling all the strings. So if anybody knows, it's him." 
He went on to say, "I know that Jessica, Kathryn, and I would love to get together and make something absolutely ridiculous. So it's possible, but we really haven't had an actual creative conversation about doing something like that." While actual plans haven't been made yet, the idea of a crossover film is out there and it could be an incredible horror event if it did come about. More importantly, it could be the pseudo "Happy Death Day 3" that'll surely satisfy fans.