Guardians Of The Galaxy Vol. 3: What You Missed If You Skipped The Holiday Special
Contains spoilers for "Guardians of the Galaxy Vol. 3"
"Guardians of the Galaxy Vol. 3" is now in theaters, bringing a satisfying conclusion to James Gunn's cosmic superhero trilogy. While the Guardians have always been their own entity within the MCU, there's a good bit of required viewing before sitting down to see "Vol. 3." Although it may not seem like it, "The Guardians of the Galaxy Holiday Special" sets the stage for Gunn's final film, and those who didn't watch it may find many confusing moments in "Vol. 3."
First and foremost, "Vol. 3" opens with the Guardians fixing up their newly-established headquarters on Knowhere, where they met The Collector in the first movie. The "Holiday Special" reveals that they took it off his hands sometime after "Avengers: Endgame." Similarly, the Special introduces Cosmo (Maria Bakalova) as a vital member of Knowhere.
However, the biggest reveal in the "Holiday Special" is that Mantis (Pom Klementieff) is the half-sister of Star-Lord (Chris Pratt), both sharing the same father, Ego (Kurt Russell). "Vol. 3" quickly mentions this when Drax (Dave Bautista) suggests Mantis should cheer up her brother, Peter, who's drinking away his depression.
More ways the Holiday Special set up Guardians of the Galaxy Vol. 3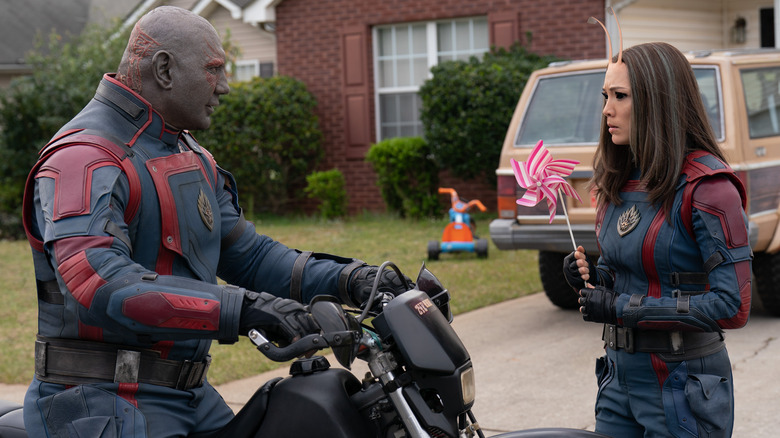 Disney/Marvel Studios
Although "The Guardians of the Galaxy Holiday Special" is pretty much one big Kevin Bacon joke, it's required viewing to get the most out of "Guardians of the Galaxy Vol. 3." While we've covered the essential information, there are still plenty of smaller details sprinkled through James Gunn's MCU finale.
In "Vol. 3," Cosmo and Kraglin host a star-studded poker game of cameos from the Guardians' previous adventures. While it features Howard the Duck (Seth Green) and The Broker (Christopher Fairbank), it also includes the lead singer of the band from the "Holiday Special," played by Old 97's Rhett Miller.
Although Kevin Bacon doesn't appear in "Vol. 3," his impact on the Guardians is present. In the "Holiday Special," Drax and Mantis are disgusted to learn that Bacon isn't the hero they expected, as actors repulse them. However, in "Vol. 3," Drax tests his acting chops, reciting Mantis's lines to Peter and putting on a show for the scared children, bringing his thoughts on actors full circle. The duo also kidnaps Bacon in the special, which "Vol. 3" reveals to be mainstream MCU news, as the post-credits scene shows Peter's grandpa (Gregg Henry) reading a newspaper with the alien abduction as the headline.