Why Ellie Bishop From NCIS Looks So Familiar
Hard as it might be to wrap your mind around, CBS' military procedural "NCIS" is now airing its 20th season of episodes. And the way the show keeps chugging along, it doesn't seem likely to get the axe anytime in the foreseeable future. Of course, turnover amongst the cast is a pretty common thing for shows that stand the test of time the way "NCIS" has. The series has naturally seen its share of departures over the years, with even longtime headliner Mark Harmon bidding a fond farewell to his castmates of late.  
While "NCIS" will likely never fully replace Harmon's Leroy Jethro Gibbs, series bosses have done a better-than-solid job of filling other holes left by the departure of major characters. That includes the Season 11 arrival of analyst Ellie Bishop, who'd go on to become a major player in the "NCIS" realm after essentially taking over the slot vacated by Ziva David (Cote de Pablo). During her own seven-season stint by Gibbs' side, Bishop proved an invaluable presence in the unit, with the character earning her share of both major and minor plot lines.
It's likelier than not that many "NCIS" fans recognized the actor who played the part when she joined the action. Her name is Emily Wickersham. Here's where you've seen her face before.
The Sopranos found Emily Wickersham romancing AJ
As it was, Emily Wickersham had been a working actor for nearly a decade when she joined the cast of "NCIS." Believe it or not, she actually earned one of her earliest screen credits for a role on a series many viewers rank among the most perfect ever produced. Said series is indeed HBO's lauded mob drama "The Sopranos." And if you're a fan of that program, you no doubt recognize Wickersham for playing Rhiannon Flammer.
Rhiannon made her first appearance on "The Sopranos" clubbing with A.J. Soprano (Robert Iler) in New York in Season 6. They soon begin hanging out, but their relationship changes when fate finds them both in hospital seeking help for serious emotional issues. By the end of the season, the pair were officially an item, with A.J. never looking happier.
Of course, the end of that particular season was also the end of "The Sopranos." Yes, Wickersham's Rhiannon did make an appearance in the series' brilliant, but wildly divisive finale episode. And if you fancy yourself a fan of conspiracy theories, you might be interested to know there are some fans of "The Sopranos" who think she may well have played a part in, well, whatever it is that goes down in the series' final moments. 
Wickersham played a party girl on Law & Order: Criminal Intent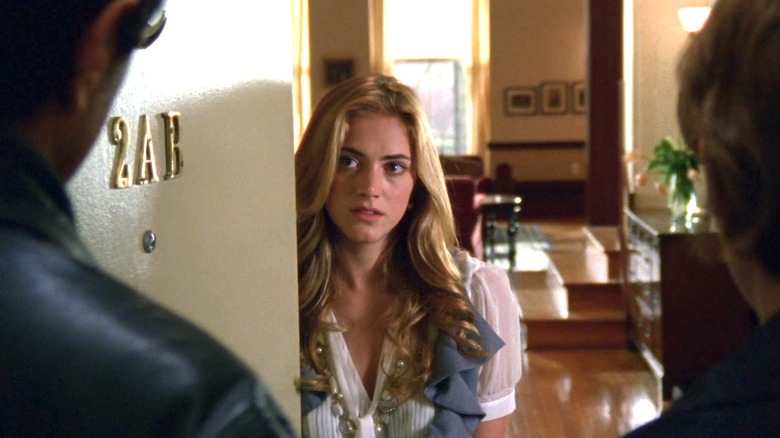 NBC
Though it was a relatively small role, Emily Wickersham no doubt impressed some casting agents with her gig on "The Sopranos." She was, soon enough, booking more minor roles in several film and television projects. In 2009, the actor added "Law & Order: Criminal Intent" to her resume via a small, but notable appearance in a Season 8 episode titled "Major Case." 
Said episode found Wickersham playing Ceci Madison, a New York party girl whose late-night encounter with a soon-to-be slain drug dealer eventually leads to her being questioned by Detectives Zack Nichols and Megan Wheeler (Jeff Goldblum and Julianne Nicholson respectively). As it turned out, Ceci was not the killer. Nor was she the target of a killer. Rather, she was unfortunate enough to have had her wallet confiscated by her dealer friend in lieu of the full sum of cash owed. She was also the one who ultimately told the detectives who the dead girl in the morgue actually was. 
Though Wickersham had two relatively brief scenes in the "Criminal Intent" episode, she maximized her impact on the action with a fully realized performance that ensured her Ceci would not be forgotten. She more than held her own opposite heavyweights like Goldblum and Nicholson too.
Gone found Wickersham the subject of a daring manhunt
Once Emily Wickersham landed her long-running job on "NCIS," the demands of the show may well have limited her ability to book much other work, a fact signaled by her relative lack of screen credits between 2013 and 2021. Still, the actor did sneak one interesting big screen gig in prior to joining "NCIS." That gig came in the 2012 Amanda Seyfried-starring thriller "Gone."
If you missed out on "Gone," the film follows Seyfried's Jill Conway who, after narrowly escaping the wrath of a serial killer a year before, is convinced the madman has returned when her sister Molly is kidnapped. With little help from the police, Jill sets out to find Molly and the killer on her own. If you did see "Gone," you might still have trouble placing Wickersham's face. That's because she played Molly. While her scenes with Seyfried bookend "Gone," Wickersham did spend the bulk of the movie off-screen. 
As for "Gone," let's just it was not well-received upon release and leave it at that. The film remains notable, however, for fronting a seriously impressive cast of supporting players, including Sebastian Stan, Wes Bentley, Jennifer Carpenter, and Joel David Moore. And it might be worth a view just to see that crew in action.