Better Call Saul: Bob Odenkirk Might Have Saved This Character From Being Killed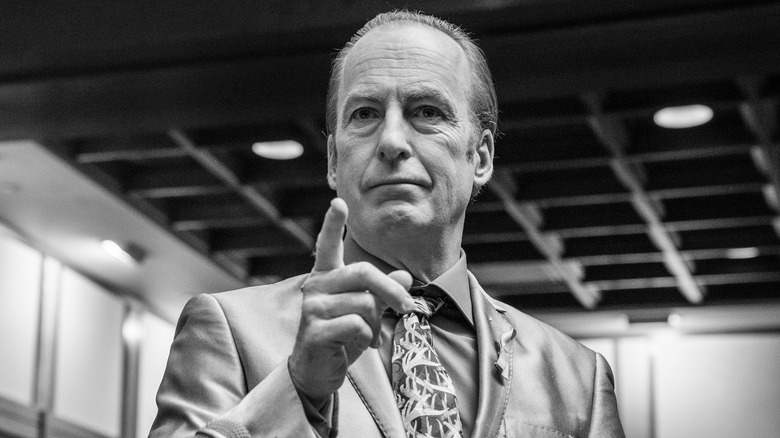 Greg Lewis/AMC
When "Better Call Saul" hit the airwaves back in 2015, it did so amid serious debate as to whether a "Breaking Bad" spinoff series even needed to exist. But by the time "Better Call Saul" aired its finale, some were ready to proclaim it better than its iconic predecessor. While Emmy voters may disagree, anyone who's watched both series knows the argument is not without merit. 
As for the series' final run of episodes, they were as thrilling and unflinchingly brutal to endure as anything Vince Gilligan conjured for "Breaking Bad." They were also bolstered by a brilliant dramatic turn from legendary comedian Carol Burnett, who portrayed Marion, the elderly mother of one of Saul Goodman's criminal cohorts. It's Marion who finally puts the law on old Jimmy/Saul/Gene in his post-"Breaking Bad" life. But before she did, Saul seemed more than prepared to stop her by violent means if necessary.
Though he doesn't cross that particular criminal line, according to Bob Odenkirk, Gilligan initially had other plans for the scene. Odenkirk made that claim during Burnett's recent 90th birthday celebration event, claiming the only reason Marion lived long enough to press that Life Alert button is because he wouldn't shoot the scene as scripted. "They rewrote this scene exactly how I wanted it," Odenkirk said, adding, "But not how your so-called good friend Vince Gilligan had written it." He'd later add, "But I refused, and I told him I'd walk."
Odenkirk didn't want to TV fans to remember him as the guy who killed Carol Burnett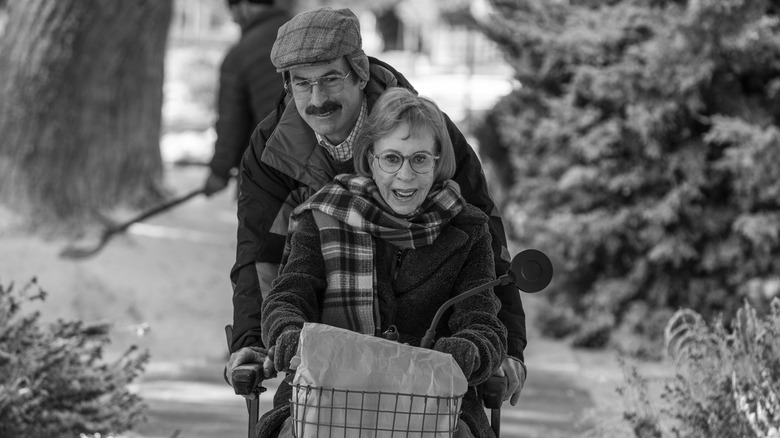 Greg Lewis/AMC
As Entertainment Weekly notes, Bob Odenkirk's "Better Call Saul" claim was surely an elaborate gag he conjured for the jovial occasion. That seems even more likely, as his longtime friend and collaborator Vince Gilligan was actually in attendance and laughing it up. Still, as Odenkirk ran down the confrontation, he claimed, "Vince wanted my character to kill you in that scene." After pointing out Gilligan was still denying the fact, Odenkirk kept the ploy going: "His exact words to me were, 'Saul ends up killing Carol Burnett.'"
The "Breaking Bad" alum asserted he refused mostly because he didn't want to be known as the guy who killed Carol Burnett, quipping, "I didn't want little children who watched our show — and I hope many of them did — to see me on the street and say, 'Mommy, that's the man who killed Carol Burnett.'" Odenkirk then closed his set with a final, loving jab, saying, "That's all I wanted to say. That I'm your real friend and Vince is not. And one more thing: Vince and I — and everybody on our show — we think you're the greatest."
Gilligan has, of course, spoken openly about why he kept Saul from harming Marion in that fateful moment, naming a myriad of other reasons for going that route. But given his penchant for knocking off characters on "Breaking Bad" and "Better Call Saul," it seems likely he at least thought about it.