How Many Episodes Are In Queen Charlotte: A Bridgerton Story?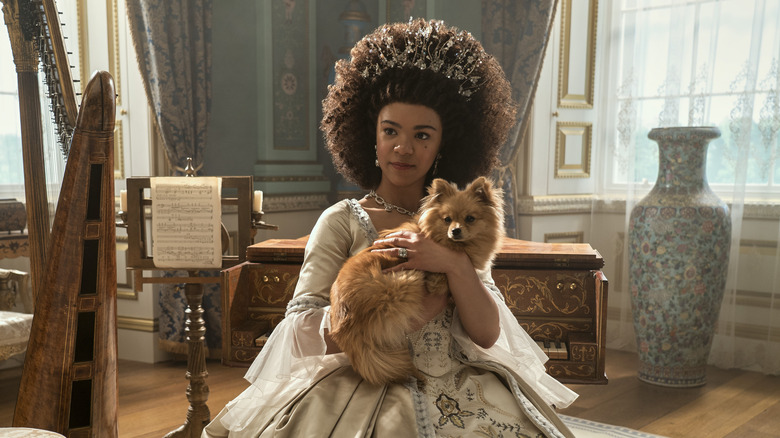 Liam Daniel/Netflix
The world of "Bridgerton" is expanding.
Netflix found itself sting atop a goldmine when it debuted Shonda Rhimes' historical romance-drama "Bridgerton" during the tail end of 2020. Based on the series of novels of the same name, "Bridgerton" quickly rose to the top of Netflix's charts, emerging as one of the streaming platform's most popular shows. The impact of the series can't be understated, with it quickly becoming a cultural phenomenon that captured the minds of several generations. Naturally, a second season of the subversive historical drama followed in 2022, continuing the story of the prestigious and illustrious Bridgerton clan.
But Rhimes (and Netflix) didn't want to end there. With "Bridgerton," the possibilities of spin-offs and prequels were abundant. "I'm never going to be satisfied with anything," Rhimes said in a chat with Variety, foreshadowing her plans for streaming domination. "Because frankly, if I was satisfied with something, I should probably retire."
Just over a year after the release of the drama's sophomore season, Rhimes, Netflix, and director Tom Vireca have debuted "Queen Charlotte: A Bridgerton Story." A spin-off series centered on the fan-favorite Queen Charlotte (Golda Rosheuvel), the miniseries boasts six episodes, each over 50 minutes long. Released on May 4 2023, "Queen Charlotte" is the perfect binge for both casual and hardcore "Bridgerton" fans. 
Shonda Rhimes says Queen Charlotte is a more intimate story than Bridgerton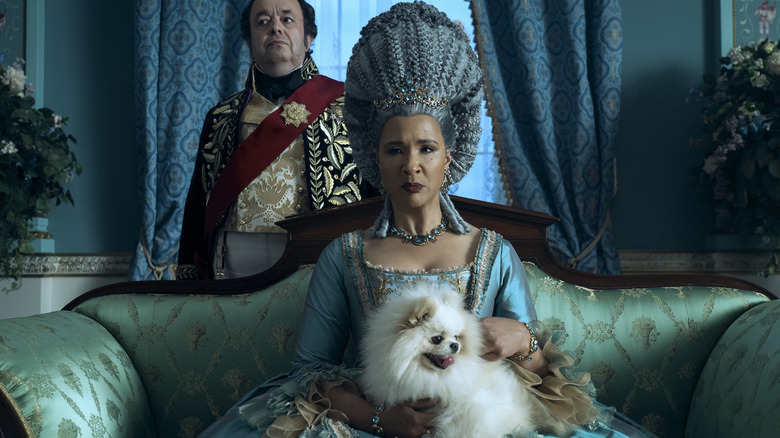 Liam Daniel/Netflix
The first two seasons of "Bridgerton" each boast eight episodes or 16 in total. With "Queen Charlotte: A Bridgerton Story," it's clear that Shonda Rhimes and team are going for a leaner season that puts the emphasis on Charlotte. Not a fan of Queen Charlotte? You'll still find something worth binging with the latest miniseries as it's not just a prequel series that puts the magnifying glass on her origins.
"Queen Charlotte" oscillates between present-day "Bridgerton" and the royal's early days, when she marries King George (Corey Mylchreest). There are, however, differences between "Charlotte" and "Bridgerton" that Rhimes wants to make explicit. While speaking with Hello!, Rhimes opened up about how her latest miniseries for Netflix is a more complex and involved story. "To me ["Queen Charlotte"] was a much more intimate story and about much more," Rhimes discussed. "It's about a husband's illness, it's about race, it's about a lot more things than we do in 'Bridgerton,' which is supposed to be a much lighter show."
While "Bridgerton" isn't all peaches and cream, it's interesting to see how Rhimes has labeled her latest as a more darker and intimate show. Critics, like Looper's Audrey Fox, were particularly captivated by the mature and thoughtful depictions of complex relationships in the miniseries. "With thoughtful writing and strong lead performances, it is a bittersweet and heartbreaking romance that has an emotional weight beyond the steamy period romps of "Bridgerton" — in part because it makes no attempt to make its central relationship a fairy tale," wrote Fox in an 8/10 review.
All six episodes of "Queen Charlotte: A Bridgerton Story" are streaming on Netflix.