Queen Charlotte: A Bridgerton Story Review: A Bittersweet Period Romance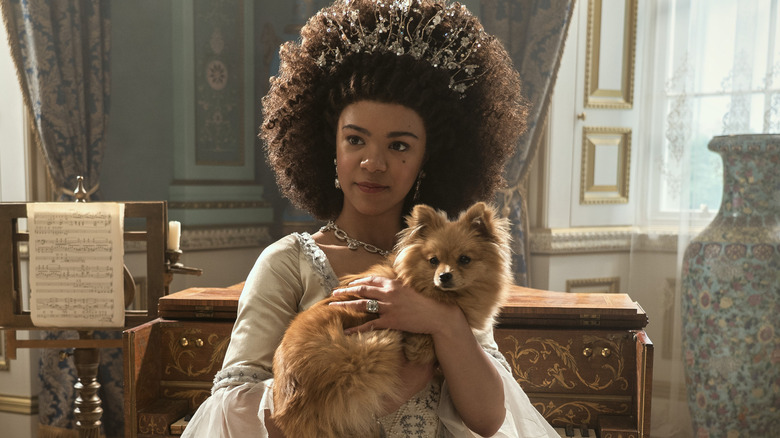 Liam Daniel/Netflix
With "Bridgerton" coming along and single-handedly revitalizing interest in Regency romance, it was only natural that Netflix and Shondaland would churn out a spin-off series as quickly as possible. "Queen Charlotte: A Bridgerton Story" revolves around the young marriage of one of the original show's peripheral characters: The imperious Queen Charlotte herself. But she was not always the confident ruler of England's aristocratic society, as we quickly learn. When this show went into production, there was one lingering question about its prospects for success: Would the miniseries attract viewers without the larger-than-life presence of the sprawling and intensely charismatic Bridgerton family? 
While "Queen Charlotte: A Bridgerton Story" only features some of the older characters from the original series in a limited capacity, it's more than capable of standing on its own. With thoughtful writing and strong lead performances, it is a bittersweet and heartbreaking romance that has an emotional weight beyond the steamy period romps of "Bridgerton" — in part because it makes no attempt to make its central relationship a fairy tale.
The story of Charlotte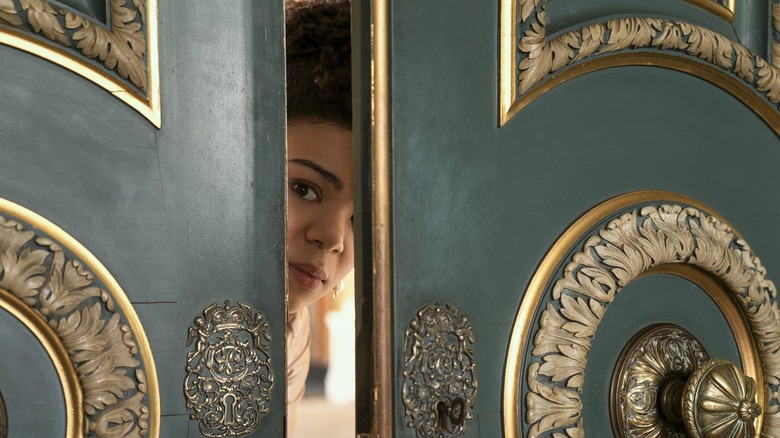 Liam Daniel/Netflix
Charlotte (played by India Amarteifio as a young woman and Golda Rosheuvel reprising her role as the older queen in flashforward sequences) is only 17 years old when she is shipped off from Germany to be the wife and queen of King George III (Corey Mylchreest), a man she has never met and knows nothing about. No one can quite explain why the King of Great Britain and Ireland would seek as a bride a young woman from the small duchy of Mecklenburg-Strelitz. Nor are they particularly forthcoming with information about the king who, despite Charlotte arriving in England, she has let to lay eyes on. It's only when she attempts to flee the palace on her wedding day, climbing up the side of a garden wall, that she inadvertently meets her future husband, King George III. They have an immediate spark, and Charlotte willingly returns to her wedding. But just as she begins to think she might have stumbled into her very own happily ever after, the king's peculiarities mean that they're built on shifting sands.
Meanwhile, in the "present day" of the "Bridgerton" series, Queen Charlotte faces a different crisis. Her granddaughter dies in childbirth, leaving Great Britain without a legitimate heir of the next generation to continue the royal line. Determined to keep her husband's legacy alive, she pressures her children (many of which have been happily engaged in illegitimate relationships for years) to marry properly and begin the process of producing the next king of England. Between these two storylines, we see a brave, intelligent woman yield her iron will, first to help her husband face the challenge of ruling England, and then to ensure that his bloodline will be able to continue to do so.
A different kind of love story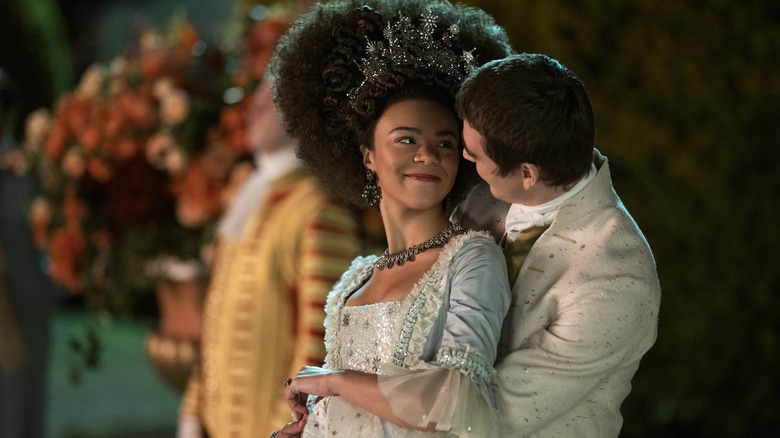 Nick Wall/Netflix
Unlike many Regency romances (although this is technically pre-Regency, at least the parts of the show during Charlotte and George's young marriage), "Queen Charlotte: A Bridgerton Story" doesn't feature a conventional fairy tale ending for the characters once they fall in love. We know from both "Bridgerton" and history itself that there are dark days ahead for these two. Love isn't enough to rescue George from his struggles with severe mental illness, but it is enough to help him endure it. What we see here is a more mature depiction of marriage than what was featured in either of the two previous seasons of "Bridgerton" — the fact that their love for each other flourishes in spite of seemingly endless adversity is presented as a decision that they both make not to give up on one another.
At times, it can be difficult to reconcile the Charlotte featured in this series with the often childish, gossip-obsessed queen from the original show. "Queen Charlotte: A Bridgerton Story" certainly accomplishes the goal of adding layers to the character, but it's hard to imagine this Charlotte blackmailing teenagers into tracking down someone who happened to write something mean about her — the version we see has a backbone made of iron and has gone through much worse than a little bad press. Perhaps it can be explained away by her viewing the gossip as a threat to her husband's legacy and, by extension, the crown itself. Regardless, it's still a little bit jarring.
Transitioning between youth and middle age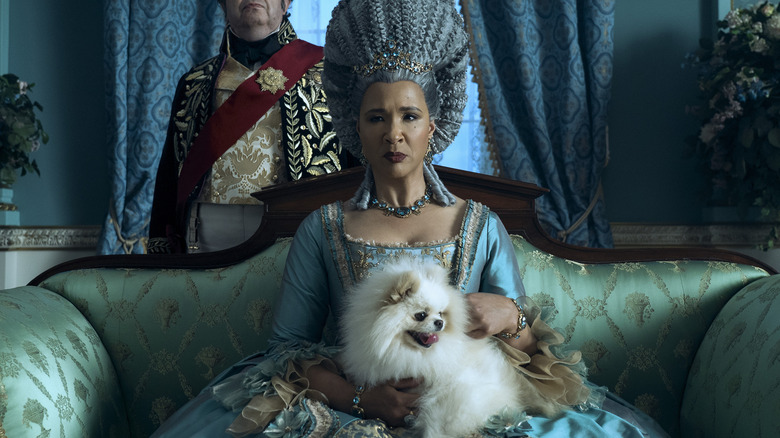 Liam Daniel/Netflix
The show succeeds much better in the sequences set when Charlotte first becomes queen. The dynamic between her and Corey Mylchreest's George is fascinating to watch, full of attraction and warmth — but also complicated by George's mental illness and his insistence that it is his burden to bear (and perhaps even cure) alone. Arsema Thomas' depiction of Lady Danbury as a woman freed from a loveless marriage, grappling with both her newfound agency and her responsibility to the newly titled Black aristocrats, is a particular delight. And the two aides to Charlotte and George, Brimsley and Reynolds (Sam Clemmett and Freddie Dennis), are clearly having the time of their lives as a Rosencrantz and Guildenstern-style double act.
The efforts to shoehorn in a storyline between now-elderly Lady Danbury (Adjoa Andoh) and Violet Bridgerton (Ruth Gemmell) is a bit less well-executed (the garden metaphor for female sexuality is particularly clumsy), but they do serve a purpose. The three characters — Queen Charlotte, Lady Danbury, and Viscountess Bridgerton — have all experienced different kinds of love throughout their lives, and they can be seen most clearly in contrast to one another. "Queen Charlotte: A Bridgerton Story" may not be the steamiest entry into the "Bridgerton" universe, but it's incredibly thoughtful in its own way, brought to life by a troupe of talented young actors. And it may just be the most emotionally satisfying story we've gotten from this creative team yet.
All six episodes of "Queen Charlotte: A Bridgerton Story" will premiere on Netflix on May 4.