Star Trek: Picard's Sidney La Forge Was Originally A Smaller Role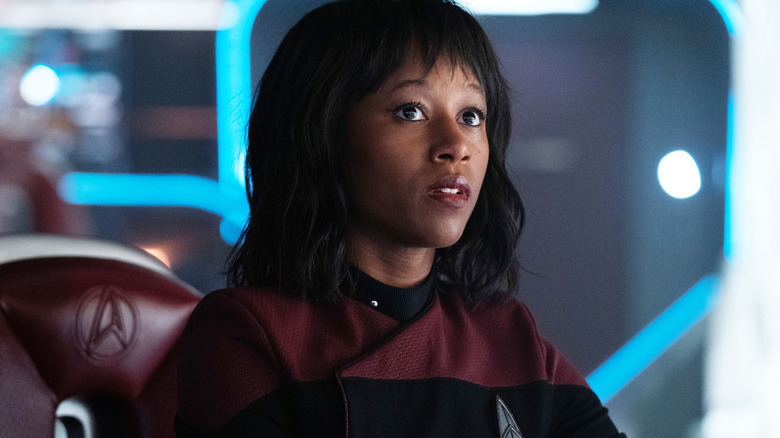 Trae Patton/Paramount+
During New York Comic Con 2022, a "Star Trek: Picard" teaser revealed new La Forge family members, who fans soon learned were "The Next Generation" engineer Geordi La Forge (LeVar Burton)'s daughters. La Forge becomes a father on "Star Trek" in the "Next Generation" finale, during a scene in which Captain Jean-Luc Picard (Patrick Stewart) visits the future. "Picard" gives these daughters, who La Forge only mentions in this scene, faces for the first time — Burton's real-life daughter Mica Burton plays Alandra La Forge, and Ashlei Sharpe Chestnut is Sidney La Forge.
In an interview with Decider, Chestnut discussed what it was like to portray Sidney at length, sharing at one point that her role, which lasts for 10 episodes in total, was originally going to be limited to just a few episodes. "I initially signed up for this, and I was told that I would only be in like two to three episodes at the time," she said.
According to a rumor, she revealed, Sidney was going to die midway into Season 3. "I remember talking to Levar, and him being like, 'There's just no way, Geordi is finally getting the chance to have this family that he's always wanted. It wouldn't be a good move to kill one of his children off.' And so I think, Levar specifically advocating for me and Sidney's character to stay on was a huge part," she continued, explaining just how her role in every episode of Season 3 came to be.
Sidney La Forge might play a significant part in the Star Trek franchise going forward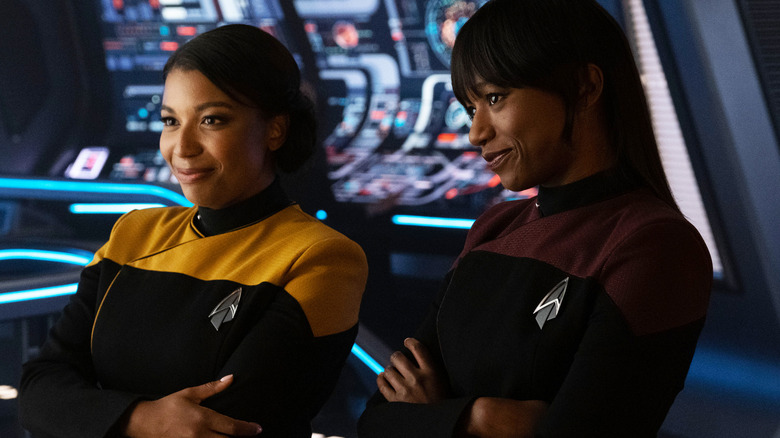 Trae Patton/Paramount+
While the "Star Trek: Picard" Season 3 finale may mark the end of this particular incarnation of the series, it ends on a cliffhanger that sets up a spin-off, focused on the show's younger crew members led by Jean-Luc Picard's son Jack Crusher (Ed Speleers) and including Sidney La Forge. Showrunner Terry Matalas has referred to this project as "Star Trek: Legacy," but the franchise's owners at Paramount have yet to confirm whether or not it will come to fruition. Ashlei Sharpe Chestnut, unsurprisingly, is among those hoping that Paramount will greenlight "Legacy" will keep the stories of the younger characters on "Picard" alive.
"I'm not gonna lie to you. I'm just hoping that this isn't the last time that we see Sidney. I mean, like we've just said, 1000s of fans don't want this to be the end. I just would hope that for the younger kids who are being introduced to 'Star Trek,'" she told Decider. "I was tagged in so many DMs about like little kids and little girls watching the show. I've been amazed by the fans' response. I just would hope that the powers that be would allow this story to continue."
While Sidney's "Star Trek" future may currently be in flux, the explicit cliffhanger at the end of the "Picard" finale seemingly would have never been allowed were Paramount not at least considering a sequel series.