Who Are The Two New Members Of The La Forge Family In Picard's Season 3 NYCC 2022 Teaser?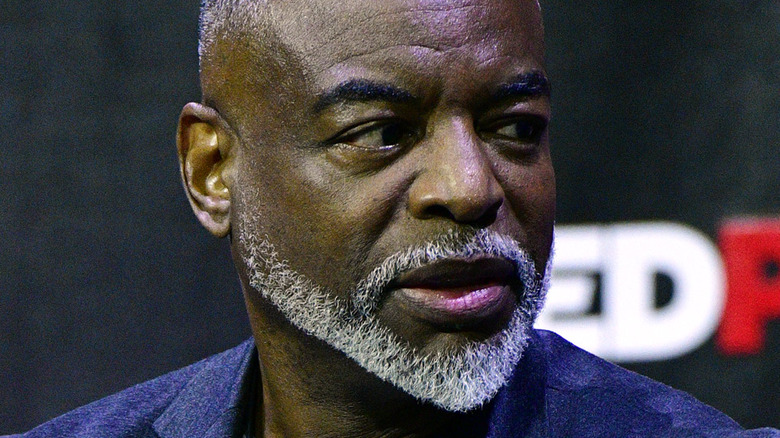 Eugene Gologursky/Getty Images
The final season of "Star Trek: Picard" on Paramount+ may end up being the final chapter for several of the most iconic characters from "Star Trek," but it also might be the jumping-off point for several new characters in the universe. The show has brought back many of the franchise's most popular characters, like the show's namesake, Jean-Luc Picard (Patrick Stewart), his former first in command, William T. Riker (Jonathan Frakes), and the engineer with the cybernetic eyes, Geordi La Forge (LeVar Burton).
The Season 3 trailer for "Star Trek: Picard" dropped at the NYCC 2022, and with it we learned some very interesting new information about the show. The character of Geordi La Forge has always been close with Picard, dating back to his time with him on the Enterprise in "Star Trek: The Next Generation." So, it's quite an interesting turn of events in the trailer when Admiral Picard says, "La Forge, gun it," and it is a young woman who responds instead of Geordi.
Who is this new La Forge and what is her relation to one of the series' most famous characters?
Geordi La Forge's two daughters carry on the family legacy
There will be two new members of the La Forge family appearing in "Star Trek: Picard" Season 3 as the daughters of Geordi La Forge. In the trailer, Ensign Sidney La Forge (Ashlei Sharpe Chestnut) takes the command from Admiral Picard and prepares to carry out his order. Additionally, LeVar Burton's real-life daughter, Mica Burton, will be playing the role of Ensign Alandra La Forge, though she doesn't appear in the trailer. Both actors have not revealed the extent their characters will be featured in the final season of the series. 
The La Forge family has a history in Starfleet with both of Geordi's parents being revealed as Starfleet Officers in episodes of "The Next Generation." The addition of Geordi's daughters to "Star Trek: Picard" is a nice touch that adds to the lore of the La Forge family in the "Star Trek" universe, and gives future showrunners the opportunity to include the family without having to have LeVar Burton reprise his role as Geordi La Forge yet again. But we will have to wait and see how much these new characters are utilized in the show.
The final season of "Star Trek: Picard" will debut on Paramount+ on February 16, 2023.