The Mandalorian's Emily Swallow Wants To Redo Her Last Of Us Part II Game Role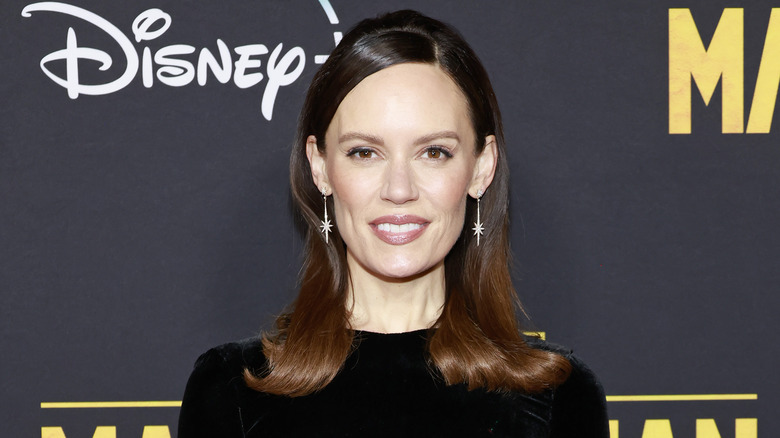 Emma Mcintyre/Getty Images
Pedro Pascal's career has jettisoned into the stratosphere as perhaps the most popular actor on the planet. This is partly because he is on two of the most popular shows of the year: Season 3 of "The Mandalorian" and "The Last of Us." The other part of that popularity is simply because he may be the most likable man in all of Hollywood. If "Celebrity Deathmatch" was still a thing, he would be in the ring with Keanu Reeves, with both guys trying to nice each other into submission.
But even someone like Pedro Pascal can't do it alone. He is surrounded by a cast of characters — some allies and some not so much. One of those characters that guided him (and the audience with background information) is the armorer, played by Emily Swallow. While she began as someone holding some of the secrets of the order and served as an ally who forged armor for Din, she eventually was able to get her hands dirty. Of course, she has another connection to Pascal and revealed in an interview with Nerdist that she would be open to linking up again.
While Pascal may have elevated his career with his role as Mando, he solidified his rising status as the lead in "The Last of Us" on HBO Max. While Emily Swallow wasn't connected to the first game, which the series followed, she appeared in the second game and would love to reprise the role again. Of course, that is only if she gets to live longer.
She was a short-lived antagonist
As fans of the games (and new fans of the series) found out quickly, dying in the post-apocalyptic world of "The Last of Us" is straightforward. What the first game set up with The Fireflies and Fedra, they built on even more in the second game with the Washington Liberation Front — The Wolves — and the Seraphites. The WLF, a paramilitary group that rose up against Fedra, is at war with the Seraphites, a primitive religious cult, for control of the Seattle area.
Emily Swallow appears by voicing Emily, a Seraphite who captures and tries to kill Abby and her new allies. In the scuffle, she comes to a quick end at the hands (or legs, we should say) of Abby. Now that fans are chomping at the bit for "The Last of Us" Season 2, Swallow has addressed whether or not she would reprise her role. "I would certainly be open to it — or to doing a new role as a character who maybe doesn't die quite so quickly. That would be nice because, I mean, Emily went out like a chump and deservedly so. But I'd like to be around for a little while longer and maybe actually have a scene with Pedro."
With Melanie Lynskey's role as Kathleen in Season 1 as a template, the showrunners could absolutely expand on Emily's role and make her more of an antagonist in Season 2. As for having a scene with Joel (Pascal), that may require some impressive rewrites.