Succession: The Dark Meaning Behind Matsson's 'Doderick Macht Frei' Tweet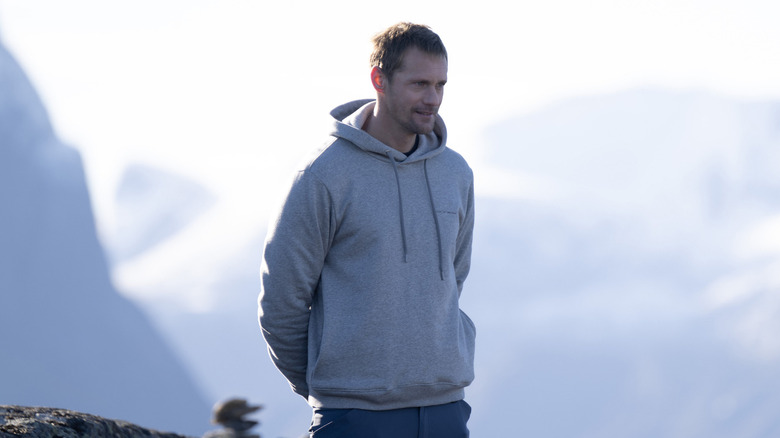 Graeme Hunter/HBO
Contains spoilers for "Succession" Season 4 Episode 6 — "Living+"
Ever since he first showed up on "Succession" in Season 3, Alexander Skarsgård's Lukas Matsson has been a complete agent of chaos. Whether he's confusing the late Roy patriarch Logan (Brian Cox) with bizarre Snapchat filters or revealing to Shiv Roy (Sarah Snook) that he sent several blocks of frozen blood to his head of communications after they had a fling, the guy is totally unpredictable. As usual, this was true in the Season 4 episode "Living+," where Matsson only briefly appears on screen... but still manages to make waves.
Ahead of the impending sale of Waystar Royco to Matsson, Kendall (Jeremy Strong) and Roman (Kieran Culkin) Roy are getting cold feet about selling their dad's company, which they're pretty sure Matsson will dismantle and use for parts. It's thanks to this that Kendall comes up with a probably not viable plan to raise Waystar Royco's stock value so much and so fast that Matsson will just back out — and improbably, Kendall's presentation is so strong that Waystar Royco's stock starts rising on the spot.
It's not long after Kendall woos the investors, though, that Matsson fires off a tweet referencing Living+, the planned futuristic retirement home that Kendall's pitching, with the caption "Doderick Macht Frei." This is, alarmingly, a reference to the front gates of Auschwitz as well as Doderick, the Waystar Royco amusement park mascot.
Matsson's missive is incredibly dark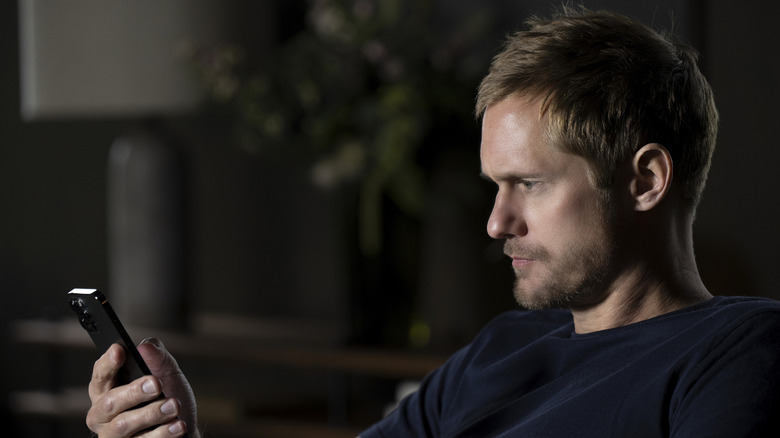 Graeme Hunter/HBO
Notably, "arbeit macht frei" adorned the gates of the Nazi concentration camp of Auschwitz, and roughly translates to "work makes you free" in German. As for the Doderick part, the cartoon dog is Waystar Royco's answer to Mickey Mouse, and in case you forgot, Cousin Greg (Nicholas Braun) donned a Doderick costume in the first season... and then threw up through its eyeholes in front of a group of terrified kids.
Aside from the clever rhyme, this joke is, obviously, incredibly gross — but Matsson has basically no boundaries, and he's eager to get Living+ off of his plate, as he tells Shiv earlier in the episode. (He keeps asking if she can halt the announcement and she demurs at every turn, potentially siding with her brothers on the issue.) As Matsson sees it, his only move is to go nuclear right in the middle of Kendall's presentation... but it backfires onto the Swede when all is said and done. Kendall handles it in the moment with aplomb, and after he responds calmly and doesn't melt down in front of the investors, Matsson quietly deletes the tweet. For now, it seems like Kendall has him beat, but everything still has time to change completely.
What is Matsson's endgame?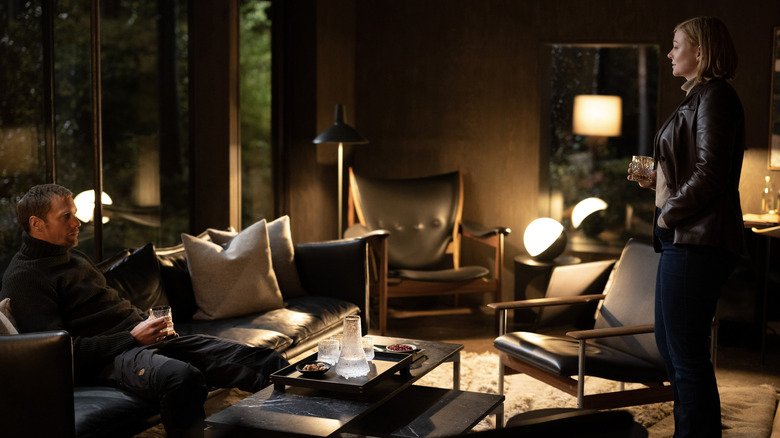 Graeme Hunter/HBO
Throughout the past two seasons, it's been really difficult to pin down what exactly Mattson's whole deal even is. He's hesitant to buy Waystar Royco at first, and even as the deal gets more and more real, he always seems like he's a moment away from calling the entire thing off. Then the situation pivots when Kendall and Roman start getting sentimental about the sale when the Waystar Royco crew visits the GoJo staff during a company retreat in Norway, and the brothers try and tank the deal themselves, with Roman unloading his grief and rage onto Matsson. The next time we see Matsson, though, he raises his bid on the company, calls Shiv, and asks for a photo of her brothers and they dejected faces, which she provides without hesitation.
Clearly, there's some sort of alliance between Matsson and Shiv; when he invades her private jet (and insults its interior) at the beginning of "Living+," they trade information without anybody else knowing. What does Matsson really want with Shiv, and vice versa? Will the deal ultimately even go through, or will Kendall and Roman succeed, outwit the Swede, and keep their father's questionable legacy going?
The final season of "Succession" is currently airing on HBO on Sunday Nights at 9 P.M. EST.