Succession: Elon Musk Inspired Kendall Roy's Living+ Presentation Outfit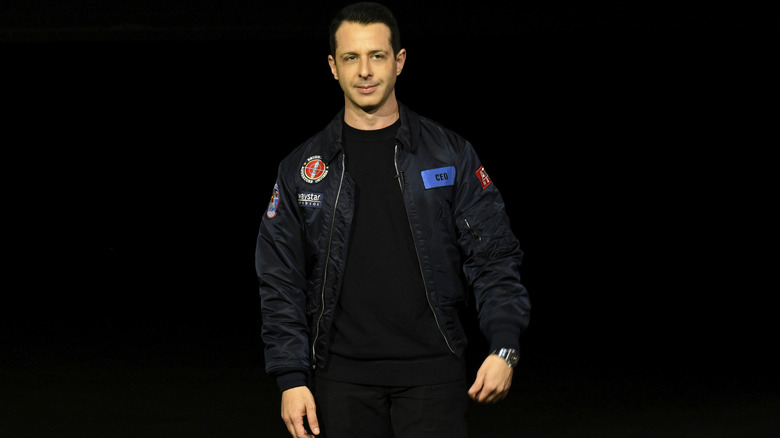 David Russell/HBO
"Succession" is, undeniably, a brilliant show; every single choice made on the series is made with considerable and careful thought, adding layers to everything you see on-screen. Apparently, Kendall Roy's (Jeremy Strong) insane outfit choice in the most recent episode, "Living+," is no exception.
Speaking to Matt Zoller Seitz at Vulture after the sixth episode of the final season aired, Strong revealed that the absurd flight suit — complete with a "CEO" patch — Kendall wears for a presentation in front of Waystar Royco investors was not only his idea, it was based on a real-life billionaire tech bro that everyone thinks is kind of a moron. As Strong told Zoller Seitz, as soon as he read the script, he immediately suggested the costume: "The first thing I did when I read the script was text the costume designer and the director from Norway and say, "I need a flight suit to wear for the product launch."
Zoller Seitz was pretty impressed that Strong came up with the idea, and the actor continued, explaining the outfit's inspiration. "Yeah! I started doing some research, and there was this costume designer named Jose Fernandez who designed a flight suit for Elon Musk. It was a 'Chief Twit' thing I wanted to embody."
Jeremy Strong turned to Elon Musk for inspiration for this Succession costume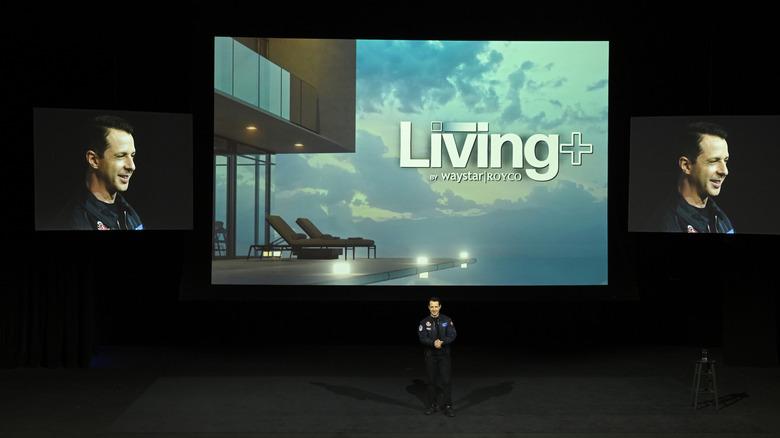 David Russell/HBO
Strong continued, noting other inspirations for the look: "And I had read about [media executive] Shari Redstone doing a ViacomCBS product launch where she rode in one of the 'Transformers' cars. It was Bumblebee — this yellow car. I went off with costume designer Michelle Matland and designed the flight suit and put these patches on it — we wanted to make, like, a Maverick jacket, and that element really unlocked something for me. The way Lorene [Scafaria, who directed the episode] was shooting it, the Chief Twit almost felt like a Leni Riefenstahl thing."
Invoking Elon Musk is a particularly apt choice here, considering that the CEO of Tesla, SpaceX, and Twitter has made plenty of headlines throughout the past few years for suggesting — and sometimes implementing — particularly far-fetched ideas. Let's use Twitter as an example: after buying the social media staple for $44 billion, he fired most of its staff (causing a barrage of technical issues) and removed the verified "blue check" from accounts proven to be public figures, instead allowing anyone who wants one to simply pay $8 a month. Completely changing what a blue check mark even means definitely feels like a Kendall Roy move, so using the "Chief Twit" as inspiration for this scene is pretty perfect.
What wild, Elon Musk-style plan does Kendall pitch to the investors?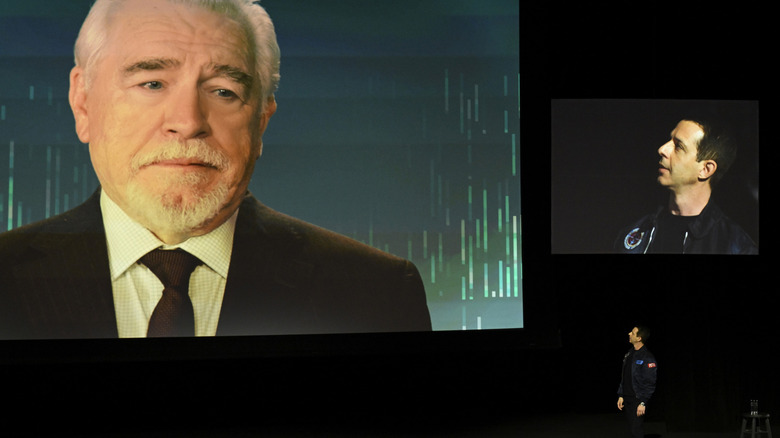 David Russell/HBO
To really drive the point home, the plan Kendall pitches to Waystar Royco's investors sounds eerily like something Musk would try and sell in real life. As he and his siblings Roman (Kieran Culkin) and Shiv (Sarah Snook) look towards selling Waystar Royco to fellow billionaire bro Lukas Matsson (Alexander Skärsgard), Kendall takes a special interest in a real-estate project dubbed "Living+." See, Kendall and Roman aren't necessarily wild about selling to Matsson, and as they try to prevent the deal from going through as planned, Kendall comes up with an unbeatable idea, or so he thinks: if Waystar Royco's value rises at an extraordinary rate, Matsson will give up and back out.
So how will Kendall make this relatively unrealistic goal happen? According to the pitch he offers up to investors, Living+ would be more than an assisted living site or, as the Roy kids put it in private, "warehouses for the elderly." Using the recent loss of his father Logan Roy (Brian Cox) to score sympathy points, Kendall screens a doctored video of Logan saying Living+ could "double the earnings" (this is not guaranteed or true) and essentially says that Living+ will promise longer life for its residents. As Kendall puts it while brainstorming with Roman, they'd "live... not forever, but more forever."
What does the rest of the season hold for Kendall Roy?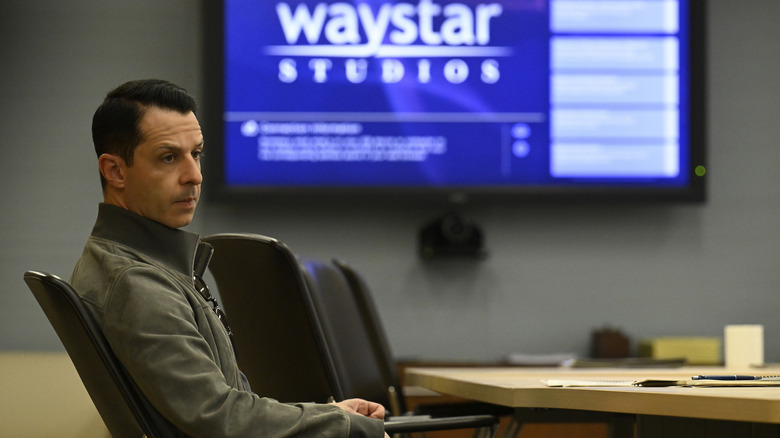 David Russell/HBO
Kendall's presentation is outright ridiculous and seemingly impossible in practice — plus, he's very likely writing checks he literally won't be able to cash for these investors — but in the moment, it works. The stock of Waystar Royco rises and Kendall is praised for his uncharacteristically poised yet heartfelt performance in front of the investors, and for now, he's riding high on his success. That said, there's still four episodes to go before the final season draws to a close... so can Kendall stay on top?
Realistically? Probably not. The information Kendall provides to the investors is, put simply, made-up nonsense, and the manic way he approaches every single moment of the prep for his Living+ presentation seems like a pretty bad sign. The final moments of the episodes see Kendall floating face-up in the Pacific Ocean, which is important to note; his previous experiences with water in the Season 1 finale "Nobody is Ever Missing" and Season 3's penultimate episode "Chiantishire" were, uh, not so great. This feels triumphant in the moment, but Kendall certainly seems poised to crash and burn, and "Succession" still undoubtedly has a few tricks up its sleeve.
"Succession" airs new episodes on Sundays on HBO and HBO Max at 9 P.M. EST.