Who Did Jamie Foxx Play On Dave Chappelle's Show?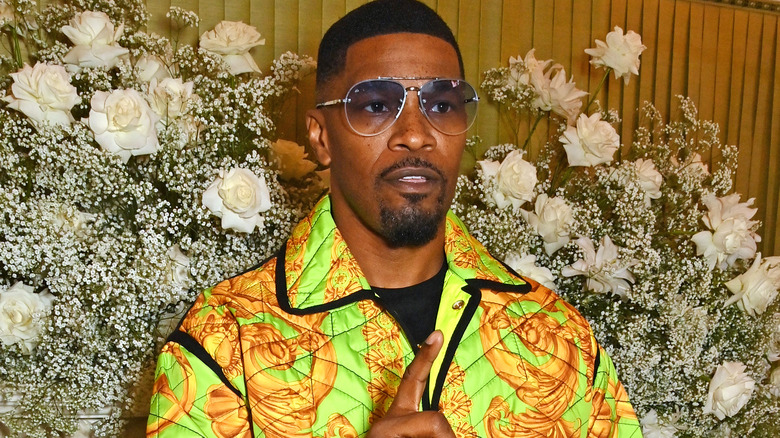 David M. Benett/Getty Images
Jamie Foxx has an impressive resume, starring in everything from intense legal dramas to superhero movies. However, his career started as a performer on the sketch comedy series, "In Living Color." It holds up as one of the most influential sketch shows of the 1990s and set up Foxx as a comedic actor capable of so much more. But over the years, even as he's gravitated toward other genres, he's always held a soft spot for comedy. 
Case in point: he went back to the world of sketch comedy many years later for a one-off part in "Chappelle's Show." Also known for its irreverent humor, Foxx popped up unexpectedly in one of the best sketches Dave Chappelle and crew came up with: "Black Bush." The sketch contains a series of scenes of how President George W. Bush would have handled various international incidents had he been Black. This included a meeting with Black Tony Blair, played by Foxx, sporting a British accent. 
It's a small part, but Foxx makes the most of it, adding just another layer of hilarity to the bit. And it wouldn't be the last time Foxx lent a hand to his buddy, Chappelle. 
Jamie Foxx would later help Dave Chappelle when he was attacked during a show
There's a quote from another "Chappelle's Show" sketch that goes, "We Black actors, man. We got to stick together." It appears Jamie Foxx has maintained that ethos many years after his "Chappelle's Show" appearance. In 2022, Dave Chappelle was doing a show at the Hollywood Bowl as part of the Netflix is a Joke festival. As reported by Entertainment Weekly, a man rushed the stage and tried to attack the performer. Security guards managed to chase and overpower the attacker, but Foxx was also on the scene to help Chappelle fight off the man. 
While it sounds like a scary situation, Chappelle maintained a good sense of humor about the whole ordeal. Once the incident was over, Chappelle got back onstage and joked, "Whenever you're in trouble, Jamie Foxx will show up in a sheriff's hat." Foxx himself didn't even know what to make of the situation, saying, "I thought that was part of the show." It was also a who's who of celebrities on the stage who had fun at the attacker's expense. Chris Rock was also there, and seeing how the event took place not long after the infamous Oscars slap, asked if the attacker was Will Smith. 
Ultimately, everyone made it out of the scenario all right, and it's safe to say if Foxx ever needs a favor, Chappelle would pretty much be obliged to repay it.