Who Plays Amber On Abbott Elementary?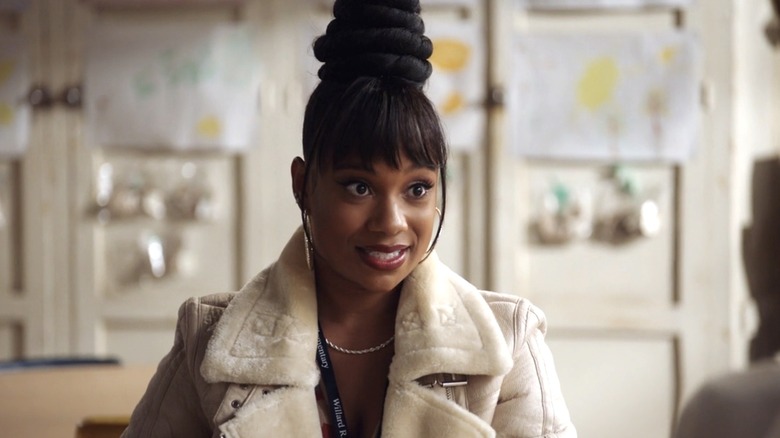 ABC/Hulu
"Abbott Elementary," like most sitcoms, features a will-they/won't-they storyline between two of the titular school's teachers, Janine (Quinta Brunson) and Gregory (Tyler James Williams), who are easily on their way to becoming one of TV's iconic couples. And like any will-they/won't-they couple, plenty of hurdles have been thrown their way, many in the shape of other love interests — such as Amber, played by Naté Jones.
Amber comes into the mix in Season 1's "Light Bulb," in which Gregory has to confront her about bringing her son late to school everyday. Then, in Season 2, Amber returns — and this time expresses interest in dating Gregory, leaving a bag of candy for him with her phone number attached in the Halloween episode "Candy Zombies." The two begin to date, much to the chagrin of a jealous Janine, but eventually break up due to personality differences. For example, Amber is not a fan of Gregory's Valentine's Day gift; she saw the flower Lego set he gifted her as a toy for kids.
They finally break up when Amber reveals that she doesn't like that Gregory is trying to plan every minute of their romantic getaway weekend, leaving the door open for Janine. But who is Naté Jones, and where have you seen her before?
Jones is a relative newcomer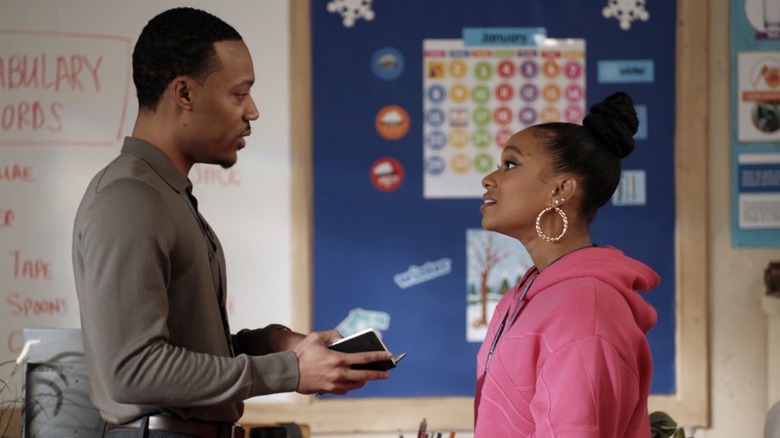 ABC/Hulu
Naté Jones, the actor who plays Amber on "Abbott Elementary," is relatively new to the acting industry. She cut her teeth making short films in the late 2010s and got her big break when she landed a role in the FX crime drama series "Snowfall." She appeared in four Season 3 episodes as Shon-Shon, a former friend of Melody Wright (Reign Edwards). The pair fell out after Melody's father Andre (a sergeant in the Los Angeles Police Department) took part in a crackdown on drugs that led to the arrest of Shon-Shon's cousin.
Following "Snowfall," Jones appeared in one episode of the Bounce TV sitcom "Family Time" in 2020 and the anthology film "Tell It Like a Woman" in 2022. A comedy drama that was nominated for an Oscar in the best achievement in music written for motion pictures category for Diane Warren's "Applause," the film features the likes of Cara Delevingne and Eva Longoria, with each story centered on a female protagonist. In another notable role, Jones appeared in an episode of "Atlanta" in 2022, playing London in the Season 4 finale "It Was All a Dream."
Jones is an up-and-coming star with several projects currently in pre-production, the biggest of which is "The Wood." Based on Rick Famuyiwa's coming-of-age film of the same name, the show will take "an honest look at friendship and dating from the perspective of three young Black males born and raised in the gentrifying L.A. suburb of Inglewood," per Deadline.