Who Plays Fraser On Magpie Murders?
The PBS Masterpiece series "Magpie Murders" aired in 2022, a six-part murder mystery story based on the book of the same name by Anthony Horowitz and adapted by the author himself. It features Lesley Manville as book editor Susan Ryeland and Tim McMullan as the world-famous detective Atticus Pünd. It has been critically lauded as a cozy, enjoyable series — "I am happy to say it is extremely good," said Paste magazine. It was soon acquired by the BBC and a sequel series was set for 2024.
While the two leads have been widely praised, the supporting cast also turn in memorable performances. Because the complex tale includes a story within a story, several actors play "real life" people as well as the fictional counterparts of those characters in the novels of author Alan Conway (Conleth Hill). Matthew Beard plays James Taylor, Conway's young boyfriend. In the world of the novel, he portrays James Fraser, the devoted and dim assistant to Atticus. But who is Beard, anyway?
The Brit got his big break in the 2007 film "And When Did You Last See Your Father?" when he was 17, because the casting agency was looking for "a young Colin Firth," he told Women's Wear Daily. "That changed everything." However, you may know him best from "The Imitation Game," the best picture-nominated 2014 film about real life codebreaker Alan Turing. He plays one of Turing's fellow codebreakers, Peter Hilton. It was a role that Beard relished — he was always a high achiever in school and even became "the resident mathematician while we were filming," he told Broadway World.
Matthew Beard wants to play a realistic James Bond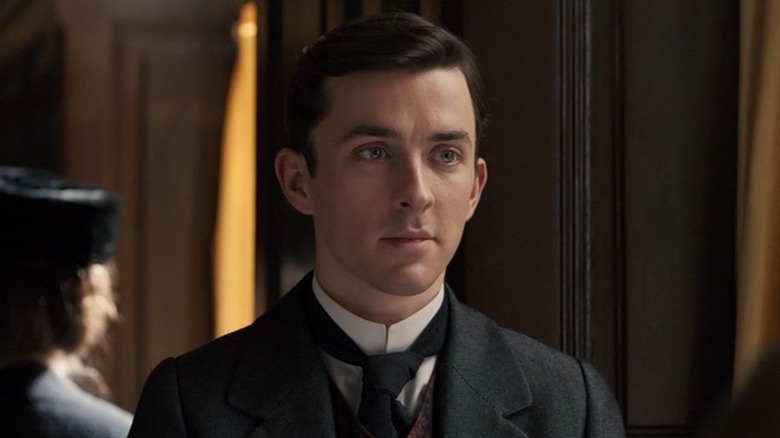 BBC
Matthew Beard was just a toddler when he made his acting debut, appearing in three episodes of "Soldier Soldier," a British military drama set in the aftermath of the Cold War. "At that age if you're well behaved and you don't cry and you don't trash the set, you get asked back quite a lot," the Sheffield native told Women's Wear Daily. "I was always told, 'This will end and you'll get a proper job.' I just never got that proper job. I just kept going."
Following his big break in "And When Did You Last See Your Father?" he landed roles in the films "An Education" (a best picture-nominated coming-of-age drama), "Chatroom" (a horror-thriller from "The Ring" director Hideo Nakata), and "One Day" (a time-hopping romance starring Anne Hathaway and Jim Sturgess). In 2014 and 2015, Beard appeared both in the West End and on Broadway in David Hare's revival of "Skylight" — he received a nomination for best featured actor in a play at the 2015 Tony Awards.
He later made appearances in the comedy film "Johnny English Strikes Again," the miniseries "Dracula" from Mark Gatiss and Steven Moffat, and the BBC psychological thriller series "Vienna Blood," in which he plays the co-lead character Max Liebermann. Beard says his dream role would be as a super-spy, but someone more along the lines of his character from "The Imitation Game." Pointing out that no MI6 agent really looks like Daniel Craig, he told The National, "They're actually skinny desk workers who are geniuses, more like a Bletchley Park kind of guy. So I'm just waiting for the realistic James Bond to happen — I'm here, I'm ready when the call comes."