Why Martha From Silo Looks So Familiar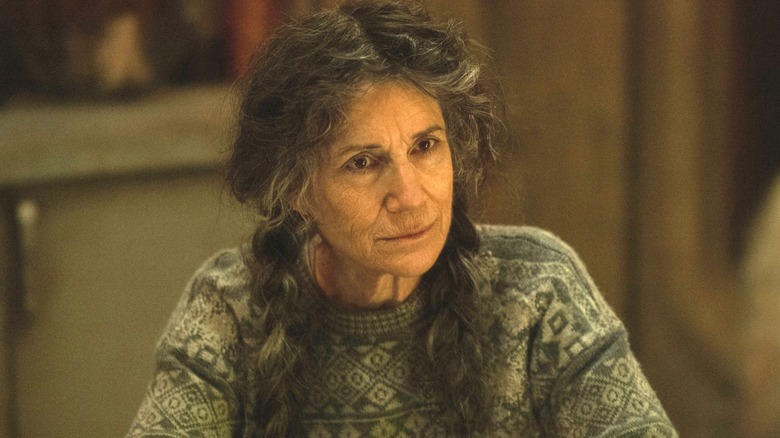 AppleTV+
Apple TV+ is just days away from releasing its post-apocalyptic mystery series "Silo," which follows multiple generations of survivors protected — or trapped — within a gargantuan subterranean silo over a mile deep. It is based on a series of books by writer Hugh Howey and has been one of the most anticipated book adaptions of 2023.
"Silo" brings together an ensemble of instantly recognizable talent, including Rebecca Ferguson (the "Mission Impossible" franchise, "Dune," "The Greatest Showman"), Rashida Jones ("Parks and Recreation"), David Oyelowo ("Selma"), popular musician and actor Common ("John Wick: Chapter 2"), and Academy Award winner Tim Robbins. Yet, even among this star-studded cast, there are still a few familiar faces that may not be known to fans, despite being prolific performers themselves.
One such actor is Harriet Walter, who recurs on "Silo" as the character Martha Walker. Though her transformative skills make the actor something of a chameleon, you may very well recognize her name — after all, she's played major roles in the most lauded contemporary television shows, been nominated for two Emmys in the same year, and even appeared in one of the highest-grossing films of all time.
Harriet Walter appeared in Star Wars: The Force Awakens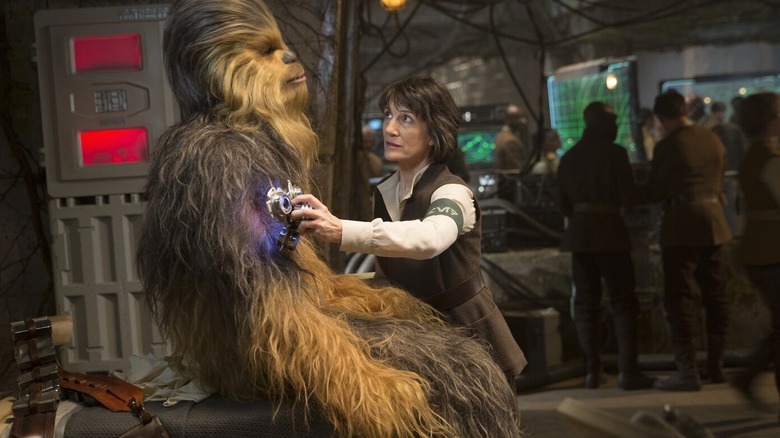 Lucasfilm
Walter joined Disney's revamped "Star Wars" universe with the 2015 J.J. Abrams film "The Force Awakens." In a handful of scenes, she appeared as Dr. Harter Kalonia, a Resistance medic and physician said to have worked closely with General Leia Organa (Carrie Fisher) for years.
In the film, she is primarily remembered for tending to Chewbacca after the Wookie sustained wounds during a scrape with the enemy. She also receives Finn (John Boyega) toward the film's end, as he had barely escaped his duel against Kylo Ren (Adam Driver) with his life.
Since appearing in the film, Dr. Kalonia's lore has (of course) been endlessly expanded upon in "Star Wars" books and comics — even though she's pretty sure she was only onscreen for seven seconds. She relayed to The AV Club, "Somebody told me, 'You will have been seen by more people in those seven seconds than in everything you've done to date added up together.' I don't know how they calculate that, but that's pretty extraordinary."
She played a historical figure in The Crown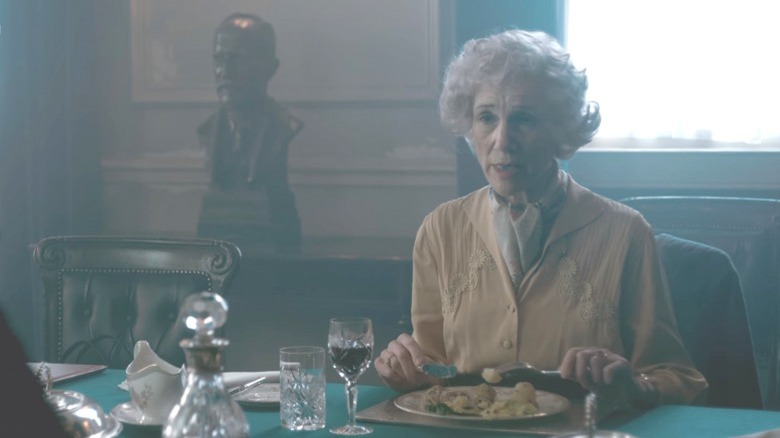 Netflix
During its freshman season on Netflix, the political period drama "The Crown" became an instant sensation. It was created by Peter Morgan, an English screenwriter with a special interest in the reign of Queen Elizabeth II, which he had previously explored in his film "The Queen" and his play "The Audience." The latter heavily inspired the first season of "The Crown," as both examine the vital relationship between a young Queen Elizabeth (played by Claire Foy in the series) and Prime Minister Winston Churchill (played by John Lithgow, who was awarded an Emmy for Best Supporting Actor) during the Second World War. Walter played Churchill's wife, Clementine.
Speaking to the Evening Standard, Walter felt that Clementine's impact on her husband's historic decision to step down from the prime ministership was significantly reduced in favor of making the story tighter, saying, "I think [Clementine] had a more direct effect on things that [are] seen in the show, but you know, drama has to make things short and direct." During this same interview, Walter expressed her deep respect for the real Clementine Churchill and even speculated that she could have been a powerful politician in her own right if she had been born in the modern era.
She continues to guest star on HBO's Succession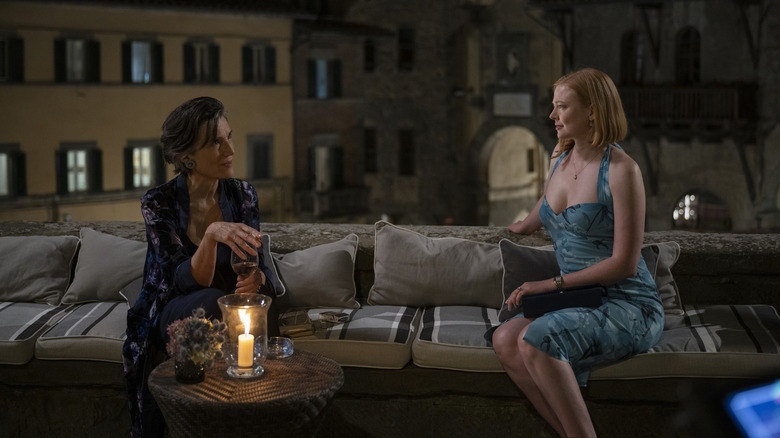 In 2018, Walter joined the cast of the HBO drama series "Succession," which follows a powerful family-run media empire on the brink of implosion. The series is currently in its fourth and final season and has earned widespread acclaim throughout its run.
Walters plays Lady Caroline Collingwood, a wealthy English aristocrat and socialite once married to Brian Cox's Logan Roy. Together, they raised Logan's firstborn, Connor (Alan Ruck), and three more children of their own — Kendall (Jeremy Strong), Shiv (Sarah Snook), and Roman (Kieran Culkin). She first appears in the episode "Pre-Nuptials," wherein her relationship with her children (especially her daughter) is revealed to be strained by her own insecurities and feelings of abandonment. She last appeared in the Season 3 finale, which saw her undercut her young Roys to secure her and her husband's wealth.
As she explained to Vulture, she sees Caroline's situation with more nuance than the audience, who spend most of their time empathizing with the three Roy children (and occasionally their father). "The audience gets to know the siblings and Logan over many detailed episodes," she said, "and so I hope they'll appreciate what it might be like to be the mother or the wife of any of those people. Rather than thinking of Caroline as the cause of all that, you could also think of her as the person who has to hold her own with them." She is currently set to appear in an upcoming episode of Season 4.
She had an arc on Season 3 of Killing Eve
During the third season of the BBC's acclaimed crime-thriller series "Killing Eve," Walter joined the core cast as Dasha Duzran (at this time, Suzanne Heathcote served as head writer). Based on a series of spy novels by Luke Jennings, "Killing Eve" follows two women on opposite sides of the law as their game of cat and mouse slowly morphs into something far more complicated.
As is the fashion, "Killing Eve's" world of assassins and spies is structured around a secret order known as The Twelve. Dasha was a prominent member of this organization, having served as an assassin, a mentor, and a confidant to the dangerous Villanelle (Jodie Comer). When she arrives in Season 3, however, Dasha is estranged from the life she once knew and attempts to use her former protege as a means of returning to the fold.
"Part of the appeal of Villanelle and Dasha [to the audience] is that sometimes they do things that people in their darkest imaginations want to do but can't," she explained to Harpers Bazaar. "If a baby is crying, you might think, 'I want to put him or her in the bin,' but of course, you don't for obvious reasons. In 'Killing Eve,' it amuses people because audiences know that there have been times that they wanted to do the same thing."
She plays Rebecca's mother on Ted Lasso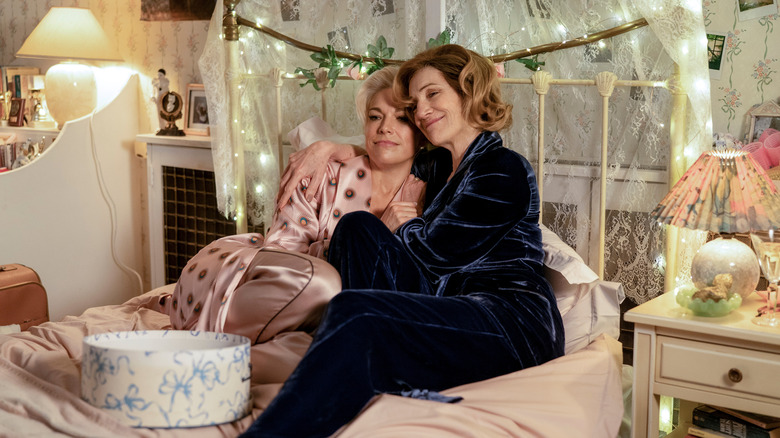 AppleTV+
Walter then went on to play a similar — if drastically more light-hearted — character in the beloved Apple TV+ comedy series "Ted Lasso." Currently in its third and final season, the series follows an American high school football coach (Jason Sudeikis) who is spontaneously hired to lead a Premiere League Soccer team in England.
Walter played Deborah Welton, the mother of A.F.C. Richmond owner Rebecca Welton (Hannah Waddingham). Their relationship is greatly hampered by shared trauma, with Deborah commonly leaving and reuniting with Rebecca's emotionally abusive father, Paul, during her childhood. When Paul passed away, Rebecca's grief is further confused by painful memories of his infidelity and disrespect, which she partly blames Deborah for. The two manage to reconcile, and Deborah has recently convinced Rebecca to book an appointment with a psychic therapist.
In 2022, Walter became only the tenth person to receive two Emmy nominations within the same year — one for "Succession" and one for "Ted Lasso."