Saturday Night Live Won't Be Live Again Until The Writers' Strike Ends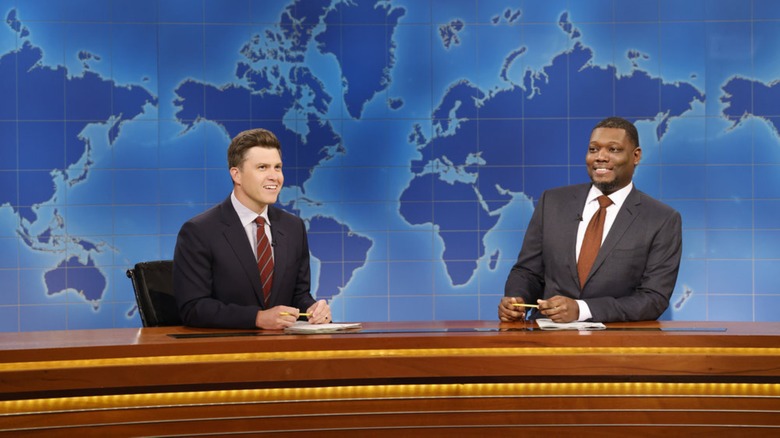 Will Heath/NBC
Live from New York, it's a writers' strike! "Saturday Night Live," currently in the middle of Season 48, will not air a new episode this week, and may not return until the newly declared work stoppage by the Writers Guild of America (WGA) ends, Variety reports.
At the stroke of midnight on May 2, 2023, the WGA failed to reach an agreement with the major union of Hollywood producers and a strike was immediately in effect. Today, striking writers have put down their pens and picked up picket signs to march for a more favorable contract.
Because of the long timelines of Hollywood productions, many movies and TV shows won't be immediately affected by the WGA strike since their scripts have already been written and turned in. "Saturday Night Live," on the other hand, is written anew each week, meaning that its writers have stopped working in the middle of writing this week's episode. Twice before has a season of "SNL" been curtailed by a strike. Similarly, last-minute shows, including late-night programs such as "The Late Show with Stephen Colbert" and "Jimmy Kimmel Live!" will also go dark. Starting Tuesday night, both will air repeats (via CNN).
Former "SNL" star Pete Davidson was slated to host this Saturday, May 6, with musical guest Lil Uzi Vert.
Less than a day into the writers' strike, its effects are showing in SNL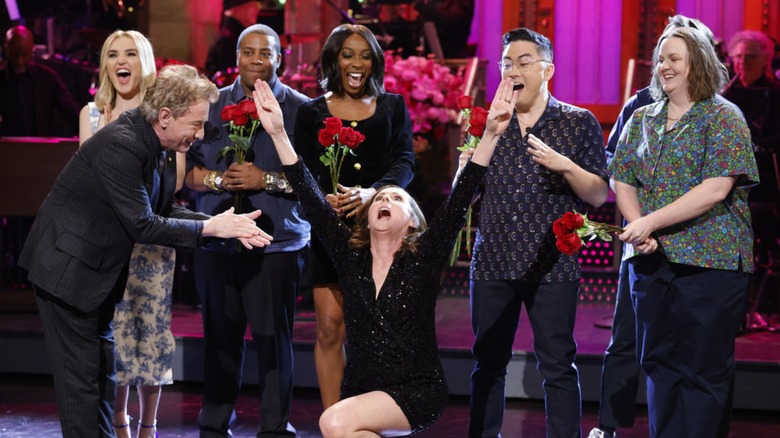 Will Heath/NBC
Pressures have been mounting in Hollywood for years as the rise of the streaming era rewrote the rules of engagement between studios and creatives. As outlined by the Associated Press, the Writers Guild of America formally declared its intention to strike on April 17, 2023. Negotiations ran until 11:59 p.m. on May 1, with the WGA demanding, among other things, higher minimum pay, shortened exclusivity contracts, and a promise not to replace them with AI, among other items. For their part, the Alliance of Motion Picture and Television Producers, representing the majors, claims to have offered higher minimum wages and more streaming residuals. However, those appear to have been the sole concessions offered among the much broader package of WGA demands.
Today's strike marks the first WGA strike since 2007, during which late-night shows either went dark or hosts began writing their own shows. During that time, "Saturday Night Live" was off the air until more than a week after the strike ended in February 2008 (via The Hollywood Reporter). "The Late Show" host Stephen Colbert, whose previous Comedy Central show "The Colbert Report" also felt the effects of the 2007 strike, told the Associated Press today, "Everyone, including myself, hope both sides reach a deal. But I also think that the writers' demands are not unreasonable."