The Jaden Smith Sci-Fi Flop Defying Odds And Killing It On Netflix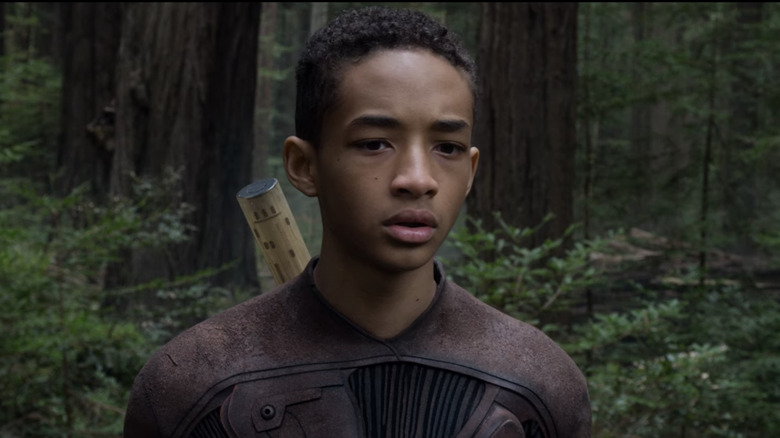 Sony Pictures Releasing/Netflix
While Jaden Smith's acting career may not be as prolific as that of his father, Will Smith, the award-winning musician has still appeared in a wide variety of high profile films and television series over the years. Though Jaden's acting career dates all the way back to 2003 with his appearance on the UPN sitcom "All of Us," his true breakout role came with the 2006 biopic "The Pursuit of Happyness" — which saw Jaden playing Christopher Garner Jr., opposite his father in the lead role.
The father-son duo would reunite once again with the release of "After Earth" in 2013, a post-apocalyptic science fiction film helmed by M. Night Shyamalan and based on a story from Will Smith himself. Despite receiving abysmal reviews upon release, the film has recently achieved a new level of popularity after joining Netflix on May 1st 2023. In just one day, "After Earth" has already entered the Top-10 Movies in the U.S. on Netflix, showing that (in spite of the horrific reviews) the film is defying the odds and achieving a whole new level of popularity all these years later.
The film centers around two members of a futuristic` space colony named Kitia Raige (Jaden) and Cypher Raige (Will), who are forced to survive after they accidentally crash land on Earth –- which had been reduced to a post apocalyptic wasteland in an environmental disaster that occurred a thousand years prior.
After Earth was universally panned upon release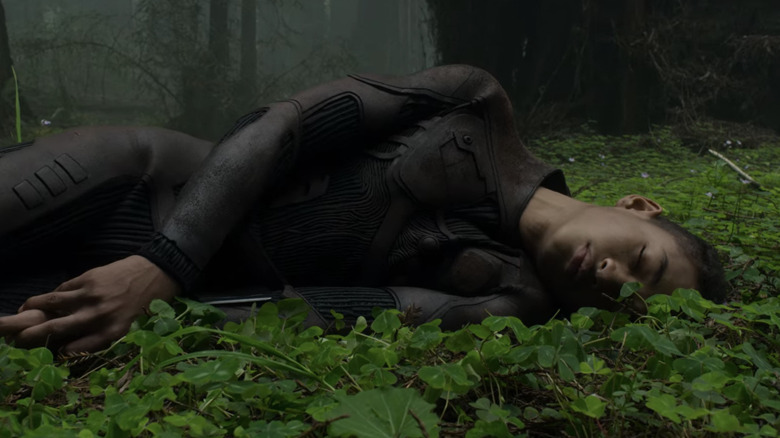 Sony Pictures Releasing/Netflix
Initial reviews for "After Earth" were nothing short of devastating. To this day the film still holds an atrocious 12% Critical Rating on Rotten Tomatoes, as well as a putrid 36% Audience Score, indicating that neither fans nor audiences could find much good to say about this high concept sci-fi adventure.
Most critics seemed to agree that the film is slow, boring, and far too sentimental for their taste; with Doald Clarke of The Irish Times placing blame for the latter solely on Will Smith himself, writing: "'After Earth ' is dragged down by, yes, Will Smith's apparent desire to share his boring concerns about parenthood with a blameless audience."
Others criticized the films subpar special effects, with Anthony Quinn of The Independent saying "The effects are second-hand stuff from 'Alien' and 'Star Trek,' spliced with Shyamalan's regular homilies on Personal Growth." Nearly every top critic listed on Rotten Tomatoes lambasted the film for being so incredibly boring despite its intriguing premise, while throwing occasional scorn at the directing, acting and story of the film on top of its dull pacing.
The incredibly pessimistic response to this film scrapped Will Smith's plans for an "After Earth" franchise, and cemented the film as one of the worst in M. Night Shyamalan's entire career.
Fans online have reaffirmed their love for the movie despite poor reviews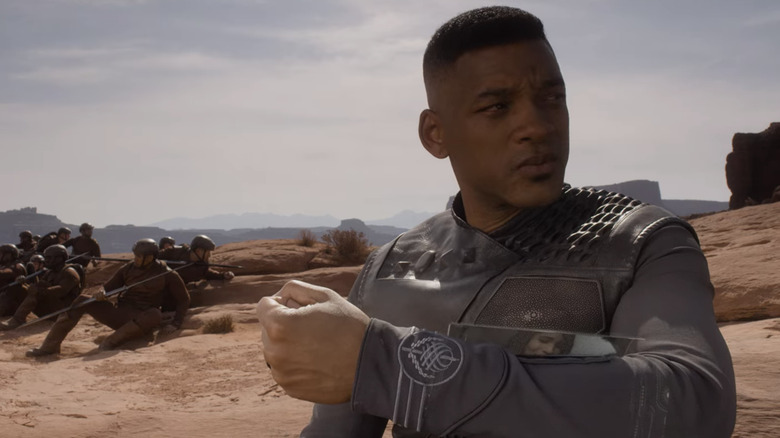 Sony Pictures Releasing/Netflix
Regardless of all the online vitriol that has been thrown at the film, it's obvious that some have still found "After Earth" appealing enough to watch it now that it's arrived on Netflix. Following its arrival on May 1, the film experienced a meteoric rise into the Top 10 of United States Netflix, currently sitting at #7 ahead of other popular films like "Sing 2," "The Lorax," and "Minions: The Rise of Gru."
Many fans online have been very vocal about their love for the film since it was added to Netflix, making it clear that the film still has plenty of admirers despite its horrendous critical reception. "Don't care what none of y'all think about will smith ," wrote @710kiitty on Twitter. "I started off my morning watching 'AfterEarth' & I just love that movie so much can't believe rotten tomatoes did them dirty." 
"'After earth' with Will and Jaden was actually a pretty cool movie, and ppl out here treated it like it was trash... and like i don't appreciate that," echoed @DAYlightsayings. Others like @deeestiiiny said the film made them cry, and @Kamal97ncountin praised the numerous inspirational quotes that came from this film.
Although the number one spot is currently held by "Pitch Perfect" (also added on May 1), there's always a chance that "After Earth" could continue to climb the rankings throughout the week. Considering all of the newfound positivity flooding the internet now that the movie has hit streaming, it's possible that "After Earth" will continue to climb even higher as May continues – defying the odds and terrible reviews more than a decade after its release.