The Staggering Number Of Times Jaden Smith Had To Audition For The Pursuit Of Happyness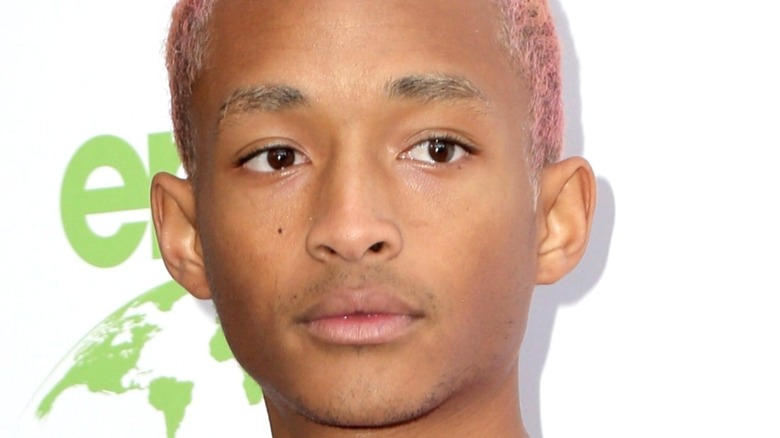 Kathy Hutchins/Shutterstock
The 2006 drama "The Pursuit of Happyness" tells the real-life story of Chris Gardner and his son, Christopher Jr., as they face a year of homelessness. Directed by Gabriele Muccino and co-written by Steven Conrad and Quincy Troupe, the feature is based on Gardner's memoir of the same name. After being evicted from their home, Chris lands an internship at a high-end brokerage firm, but because the position doesn't pay, Chris and his son still have nowhere to go and are forced to spend nights in shelters. Chris must compete with the other 19 unpaid interns for a paid position, all the while struggling to keep himself and his son afloat (via Oprah.com).
Chris Gardner is played, of course, by Will Smith, who received an Oscar nomination for his leading performance (via IMDb). Making the film a family affair, Christopher Jr. is played by Smith's real-life son, Jaden Smith, in his debut feature film role (via IMDb). In a movie that centers on a father's relationship with his son, it makes sense to cast an actual father-son duo — and, many would argue, the decision paid off with the heartfelt film.
But, as it turns out, casting the younger Smith was not a straightforward decision. In fact, he still had to audition, just like other young actor actors in contention for the part. Here's how many times the youngest Smith son had to audition for his career-changing role in "The Pursuit of Happyness."
Jaden Smith auditioned nine times for his Pursuit of Happyness role
In his memoir, titled "Will," Will Smith explained that director Gabriele Muccino was having some trouble casting the role of Christopher Jr., having auditioned close to 500 child actors (via Insider). Around that time, his son Jaden Smith had begun expressing interest in acting, so he and his wife, Jada Pinkett Smith, allowed their son to audition for the role of the elder Smith's on-screen son.
Even though Muccino was on board to cast the young Smith, there was some pushback. Smith wrote that the "Pursuit of Happyness" director told him, "I wanted Jaden for this role from the first moment I met him, but the studio forbade me from asking you. The studio felt like it was a death sentence for the film from a marketing standpoint. They felt that people wouldn't be able to suspend disbelief seeing Jaden and you on camera as father and son." Additionally, according to Smith, the studio didn't want the decision to appear as nepotism.
Finally, Jaden was allowed a screen test alongside Smith, which led to Jaden auditioning a total of nine times — something his father said he hadn't seen happen before. Smith wrote, "The studio simply didn't want the problems that came along with casting him. But audition after audition, in all of his innocent, 6-year-old glory, he proved himself the right actor for the role."
The casting decision paid off, according to critics and audiences
Despite the fears of the studio that casting Will Smith's real-life son may be too distracting, the decision actually paid off. Critics, for the most part, enjoyed the casting decision. In fact, Jeff Vice of Deseret News thought the real-life father-son duo is what made the film so successful. Vice wrote, "As you might expect, the two Smiths have a natural, believable father-son chemistry, and that character dynamic helps fuel this surprisingly involving and moving drama." Vice also noted that the younger Smith gives a performance that stands out from that of other child actors.
Further, Paul Byrnes of the Sydney Morning Herald was in agreement that the casting was beneficial to the film. Byrnes wrote, "The American film also has the benefit of blood — the two Smiths have an appealing and largely unsentimental rapport on screen. The father's devotion is obvious but not superhuman. Jaden Smith is allowed to be natural."
Overall, "The Pursuit of Happyness" received positive reviews all around. Today, it has a 67% Tomatometer score on Rotten Tomatoes, alongside an even higher 87% audience score. Thus, the nine auditions for Jaden Smith definitely paid off.