Pitch Perfect: Anna Kendrick And Director Jason Moore Stole Cups Left And Right While Filming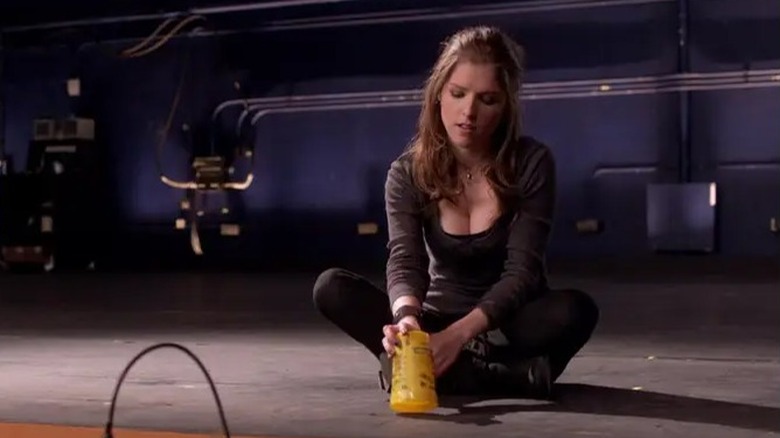 Universal Pictures
"Pitch Perfect" is a cult classic for a lot of reasons — the pitch perfect (sorry) performances, the wildly fun mash-ups, the infamous "riff-off." One of the things that catapulted it into the pop culture lexicon, though, is definitely the "cups" song that Beca performs for her Barden Bellas audition; reluctact to audition for the acapella group in the first place, the wannabe music producer hastily grabs a cup and performs. Beca's initial attitude is pretty bad, but she warms up to the rest of the girls after the audition is good enough to admit her to the Bellas, and the rest is history.
According to Kendrick, the cup for the cups scene, unbelievably, has a much more intense backstory than you could possibly imagine. In a career retrospective with Vanity Fair, Kendrick recalled, "The director Jason Moore and I, everywhere we filmed, if we saw a cup, we would just steal it. We had this like weird collection to like try out once we got to this stage. We don't know what the surface of the stage is really gonna sound like."
Here's how Kendrick and Moore worked the cup into the scene naturally
Beyond which specific cup could work for the scene, there was another weird problem that Moore and Kendrick had to face. Why would Beca even have a cup available to her to use? She doesn't care about the audition at all, so she certainly wouldn't bring one. After finding a cup they liked that worked on the stage, Moore and Kendrick then had to find a natural justification to work it into the moment in the first place.
"Then we had to justify that the cup was there. So yeah, someone came in with the pencils and pens thing. I did think it was funny to just like dump it out in front of them. It feels very much like when a cat is like testing you and is like, 'What if I knocked this over? What would you do?'"
In the end, this makes the moment work perfectly; Beca's irreverence and initial lack of interest in the Bellas means she'd definitely upend the cup, and the reaction shot that comes from Anna Camp's uptight Audrey makes the scene sing, so to speak. It's funny to think, though, that such a short, simple scene required this amount of thought.
The Cup song became a massive hit on its own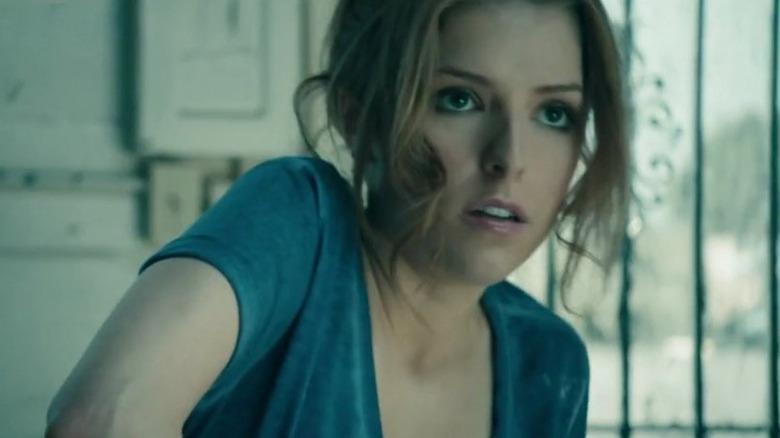 Republic/UME/YouTube
The scene in question is definitely short and simple, but it ended up spawning a phenomenon. Kendrick — an extremely talented singer who has appeared in several musicals and scored her first Tony nomination at the age of twelve — released the single in the wake of the film's release, complete with a music video, and it ended up hitting the Billboard Top 10 after it came out in March 2013.
In case you thought this was a totally original song, think again; Kendrick suggested it for the film after stumbling across it on Reddit and was originally supposed to sing "I'm a Little Teapot" instead. The song started out its life as "When I'm Gone" by the Carter Family in 1931 and then became an Appalachian folk song thanks to J.E. Mainer in 1937. Decades later, British group Lulu and the Lampshades added in the percussion beat — also using a cup — and put it on YouTube in 2009, which was then covered by Anna Burden... and eventually, Kendrick came upon it.
For Kendrick's part, she actually really hates watching the original scene, mostly because she was so nervous. In the same interview, she says she had "no idea" it would get so big, saying, "Now when I watch it, I can see I'm like rushing the back half of the phrase each time. I'm being nitpicky." In the end, she concludes that it's "a weird nails on chalkboard thing" for her to watch.
What has Anna Kendrick been doing since Pitch Perfect?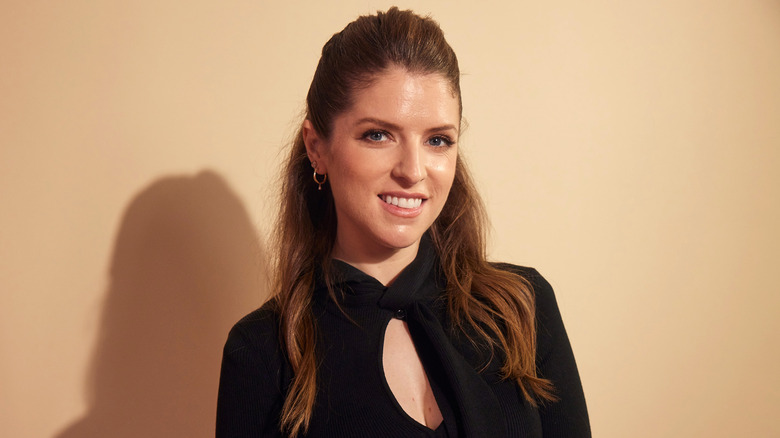 Corey Nickols/Getty Images
After the first "Pitch Perfect" movie, Kendrick lent her vocal talents to another musical with the film adaptation of Stephen Sondheim's "Into the Woods" in 2014 as well as the movie version of Jason Robert Brown's "The Last Five Years." This was a busy time for her, as she also found time to appear in indie flicks "Drinking Buddies" in 2013 and both "Life After Beth" and "Happy Christmas" in 2014. 
In 2015, Kendrick returned for "Pitch Perfect 2," and she'd later also come back for "Pitch Perfect 3" in 2017. Before that, in 2016, she showed up in the raunchy comedy "Mike and Dave Need Wedding Dates" (alongside her "Life After Beth" co-star Aubrey Plaza), voiced a character in the first film of the "Trolls" franchise (and would later return for more "Trolls" movies), and the thriller "The Accountant," alongside the release of her book "Scrappy Little Nobody." Pivoting to total camp, she starred alongside Blake Lively in 2018's "A Simple Favor," and she's appeared in movies like "Stowaway," "Alice, Darling," and "Self Reliance."
"Pitch Perfect" is available to stream on Netflix now.