The Star-Studded Dramedy Flop Defying Odds And Killing It On Netflix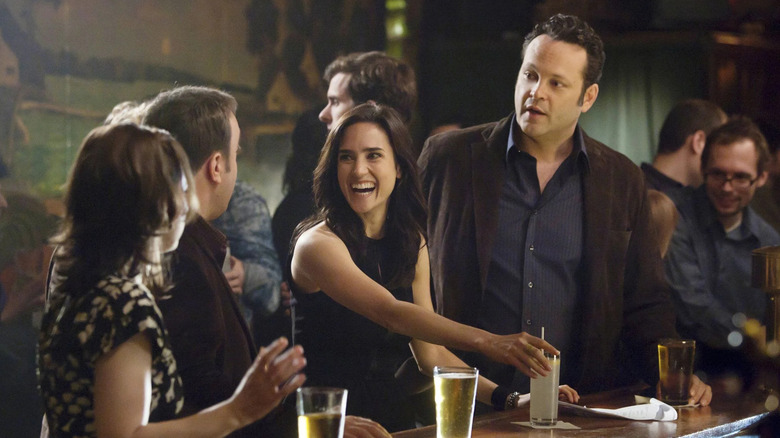 Universal Pictures
Thanks to directors and writers like Judd Apatow, the 2010s ushered in a new age of comedies chronicling the struggles of middle aged men — including 2011's "The Dilemma." Featuring an excellent cast that includes Vince Vaughn, Kevin James, Winona Ryder, Jennifer Connolly, Queen Latifah, and Channing Tatum, the movie focuses on business partners Ronny Valentine (Vaughn) and Nick Brannen (James) trying to finalize a ptich for an eco-friendly car to a huge company. Everything's going to plan... until Ronny catches Nick's wife Geneva (Ryder) kissing another man, Zip (Tatum). Ron Howard, who's worked on acclaimed films like "A Beautiful Mind" and "Frost/Nixon" as well as franchise fare like "Solo: A Star Wars Story," directed the film, with a script by Allan Loeb ("21," "New Amsterdam").
If you've heard of "The Dilemma" but haven't had a chance to check it out yet, you can join the Netflix fans helping bring this movie back into the public eye. Recently, the movie has been crushing it on the Netflix charts, and this story of one man's reluctance to betray his best friend — no matter the personal cost — is making a surprising comeback.
What happens in the rest of The Dilemma?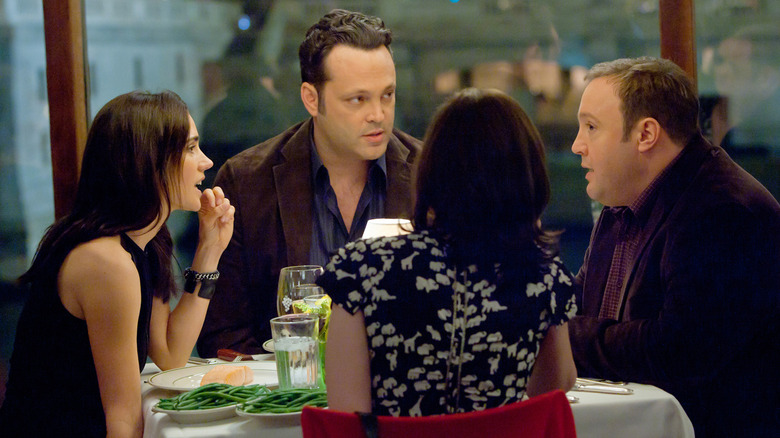 Universal Pictures
Stuck with this information, Ronny ends up lying to his own girlfriend, Beth (Connolly), who thinks that he's the one up to no good instead of Nick. See, Ronny has a serious gambling addiction and is in recovery, so as he keeps hiding the truth from his friends and family, they just think he's gambling again. This doesn't do Ronny any favors, but he's nervous to tell his best friend about his wife's infidelity, especially because they really need to secure this deal for their auto design firm.
The real problem in all of this is Geneva, who keeps manipulating Ronny to keep her secret; not only does she keep her fling going with Zip even when she tells Ronny it's over, she also says she'll spill the beans to Nick about the time she and Ronny had a brief tryst in college. Backed into a corner by Geneva and his friendship with Nick, Ronny eventually faces an intervention from his friends and family over his gambling, and that's when he comes clean — luckily, Geneva confesses and Nick gets out of his marriage unscathed, and Ronny and Beth get engaged.
If you or anyone you know needs help with addiction issues, help is available. Visit the Substance Abuse and Mental Health Services Administration website or contact SAMHSA's National Helpline at 1-800-662-HELP (4357).
What did critics think of The Dilemma?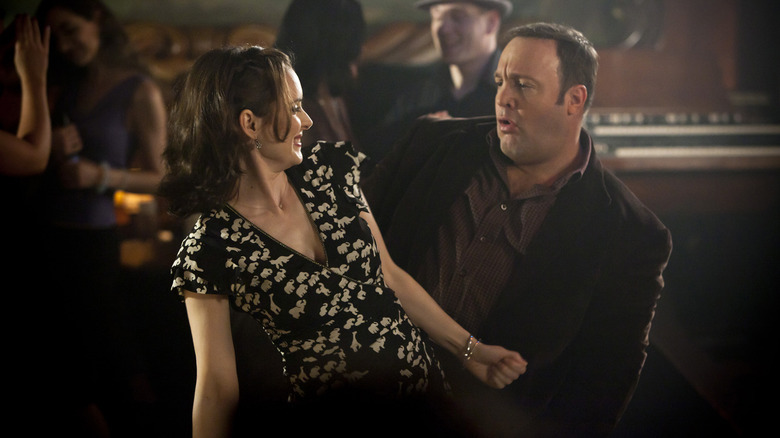 Universal Pictures
So what did critics think of "The Dilemma" when it first came out? Not much, as it turns out. With a rating of 24%, it's clear that critics weren't exactly keen on Howard's dark comedy. Philip French at The Guardian was quite blunt, writing, "Rather less fun than a badly executed coronary bypass." Peter Travers of Rolling Stone lamented the movie's fate — "The January movie burial ground claims another victim. RIP." Over at USA Today, Scott Bowles pinpointed the movie's biggest, well, dilemma: "Dilemma rests on the same structural foundation as episodes of Three's Company, when Mr. Roper thought he heard shenanigans through the kitchen door. A simple conversation would clear things up."
Well, according to fans today, critics were totally wrong about "The Dilemma," and they're bringing it back to life on Netflix. If you're interested in checking it out or you're on some sort of mission to watch every single film in Vince Vaughn's oeuvre, the movie is streaming on Netflix now.