Modern Family: ABC's Network Head Called Elton John For That Lion King Scene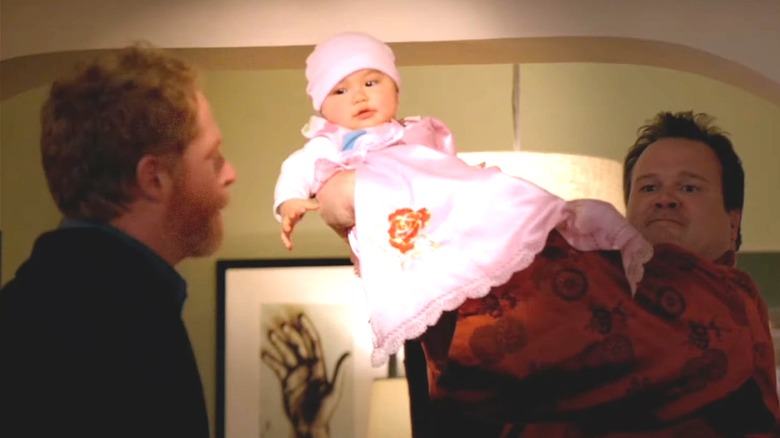 ABC
In September 2009, fans got their first taste of the hit series "Modern Family" when the pilot aired on ABC. For co-creator Steven Levitan, the possibility of contacting one of the greatest musicians of our time was probably the last thing on his mind when he initially wrote the script, but when it came time to produce the sitcom's initial chapter, he and his team had to do just that.
In this first episode, Cameron (Eric Stonestreet) and Mitchell (Jesse Tyler Ferguson) introduce their adopted baby, Lily, to the family. The moment, which mirrors a famous scene from "The Lion King," truly works because the producers had managed to get the rights to the song "Circle of Life."
In 2012, Levitan visited the University of California, Santa Barbara's Carsey-Wolf Center to screen this initial episode and talk to a live audience about the show. "The 'Lion King' moment gets me every time," he told UCTV. "They're presenting this new baby to their family, and that image popped into our heads." Of course, when it comes to using a song as popular as that, the head of ABC needed to get a hold of the rights from both Walt Disney Studios and Elton John. Luckily for Levitan, the network is owned by Disney.
Having the song Circle of Life made the scene that much more special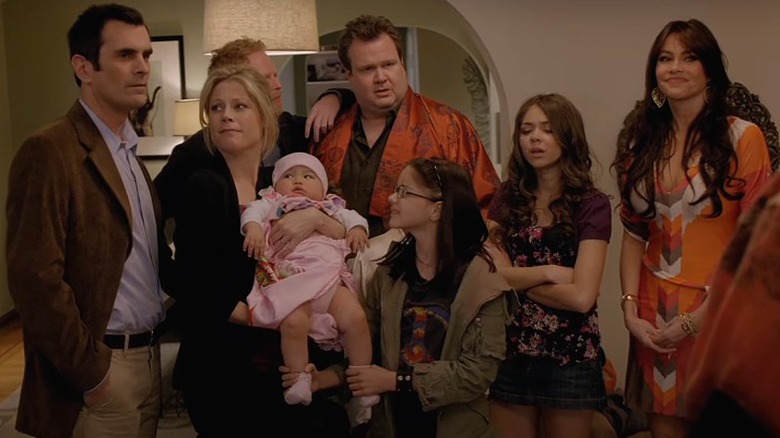 ABC
The first episode of "Modern Family" serves as the perfect introduction to the extended Pritchett clan, with each character getting their own moment in the spotlight. This is where fans get to meet Jay (Ed O'Neill), who seems to be having difficulties keeping up with his much younger wife, Gloria (Sofia Vergara), and her son Manny (Rico Rodriguez). Another branch of the family has Claire (Julie Bowen) frustrated with her husband, Phil (Ty Burrell), who thinks he is much cooler in the eyes of his kids than he really is. But the storyline that brings them all together is surely Cam and Mitchell's adoption of Lily.
In this part of the episode, Cam and Mitchell invite the family over to make a big announcement, and fans get their first taste of Cam's dramatic side as he enters the room holding baby Lily up like Simba in "The Lion King." What makes the scene all that much better is that "Circle of Life" is playing in the background. And according to Steven Levitan, this all came to be thanks to not only Elton John himself but also the network. "Had it not been an ABC show, they never would've let us do it," he revealed.