Whatever Happened To Bottle Breacher After Shark Tank?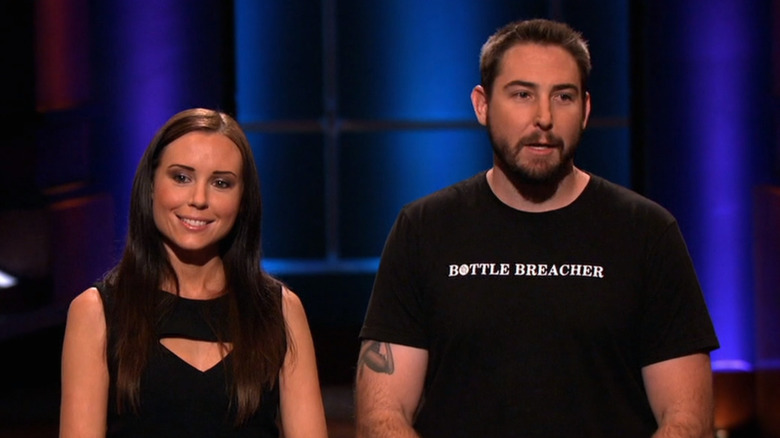 ABC
"Most guys like drinking beer. Most guys think that large caliber bullets are very cool." That's the inspired essence of Bottle Breacher, a company that makes bottle openers out of .50 caliber bullets. In 2014, husband-and-wife duo Jen and former Navy SEAL Eli Crane appeared on a Season 6 episode of "Shark Tank" in search of $150,000 for a 10% equity stake in their business. Their pitch — plus a couple of free beers — impressed Mark Cuban and Kevin O'Leary, who offered a joint deal of $75,000 each for 10% equity.
With "Shark Tank" publicity comes great responsibility, and after the Bottle Breacher episode aired, the company ramped up production from 175 bottle openers a day to roughly 1000. Within three months, the company skyrocketed from $500,000 in sales to $2.5 million, despite some initial backorder issues, and became a "Shark Tank" success story. "I consider us very blessed and fortunate to be around 5 years later and listed within the Shark Tank Top 20 Selling Companies of all time," Crane told CNBC in 2018.
The Bottle Breacher founder is now a member of congress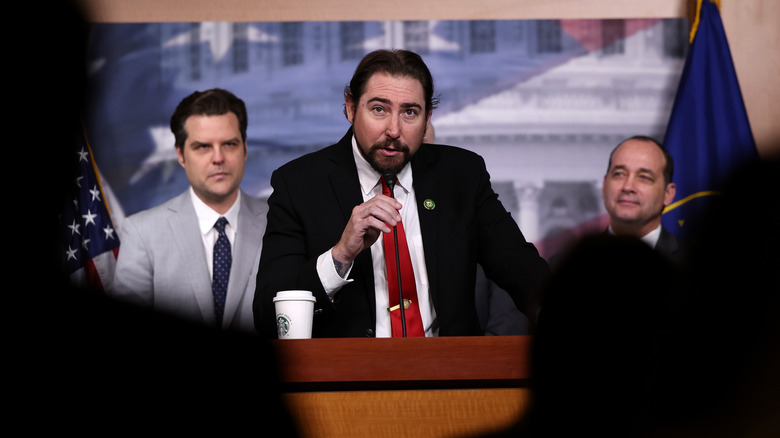 Kevin Dietsch/Getty Images
A quick visit to the Bottle Breacher website shows that the company is thriving nearly ten years after its "Shark Tank" episode aired. Since debuting its flagship bottle opener, Bottle Breacher has expanded into all manner of jingoistic bar accessories, including coolers, coasters, and a grenade-shaped bottle opener that'll set you back a cool $49.00. American flags, military and police iconography, and punisher logos abound, making Bottle Breacher a neat gift for bachelor parties or that special Proud Boy in your life (that's to say nothing of all the products etched with "Let's Go Brandon" insignia).
Founders Jen and Eli Crane are conspicuously absent from the website, and the "Our Story" page reveals that Mike and Amber Wall purchased the company in April 2022 — the same month that Eli announced he was seeking the Republican congressional nomination in Arizona's newly redrawn Congressional District 2. During his campaign, Crane called upon his home state to decertify the 2020 election results. With the help of Donald Trump and far-right State Senator Wendy Davis' endorsements, Crane won the congressional seat, defeating Democrat incumbent Tom O'Halleran.
For Crane, operating Bottle Breacher was pivotal to his success as a politician. "I learned a lot about small business, manufacturing, and learning to work with my wife, which is a challenge in itself," the congressman told C-SPAN. He currently sits on the Committee on Small Business.