Why Blue Bloods' Tom Selleck Didn't Want Larry Manetti To Guest Star At First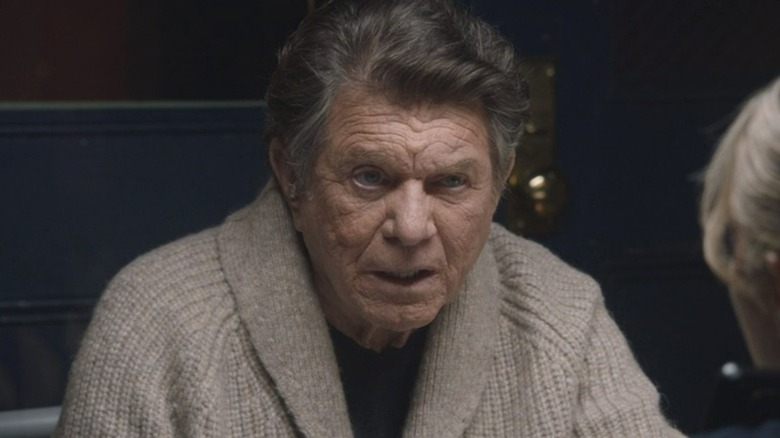 CBS
It's been more than 40 years since "Magnum P.I." hit the primetime airwaves and made a household name of series star Tom Selleck. Though the beloved actor has carved out a seriously impressive career in film and television over the ensuing decades, it's safe to say the role of Thomas Magnum ranks among his most legit professional calling cards. Still, "Magnum P.I." legacy aside, when all is said and done, Selleck's current role as Frank Reagan on "Blue Bloods" will likely rank just as high on the actor's list of career highlights. 
Those fictitious small screens worlds collided in a major when a Season 13 episode of "Blue Bloods" featured an appearance from Selleck's longtime "Magnum P.I." co-star, Larry Manetti. The actor played Magnum's smooth-talking partner in crime-solving, Orville "Rick" Wright, throughout the 1980s. "Blue Bloods" finds Manetti playing Sam Velucci, a vengeful, retired NYPD officer. And as Manetti recently told TV Insider, his "Blue Bloods" guest spot was a long time in the making, largely because Selleck was hesitant to make it happen. 
"First of all, Tom did not want to put me on the show because he thought it would confuse the audience because of 'Magnum,'" Manetti said, adding that Selleck started to come around on the idea pretty recently. Manetti went on to note Selleck, himself, tasked "Blue Bloods" writer-producer Kevin Wade with finding a spot for him. And after Wade saw Manetti in a few non-"Magnum P.I." roles, he quickly agreed.   
Blue Bloods fans didn't quite get the Magnum P.I. reunion they wanted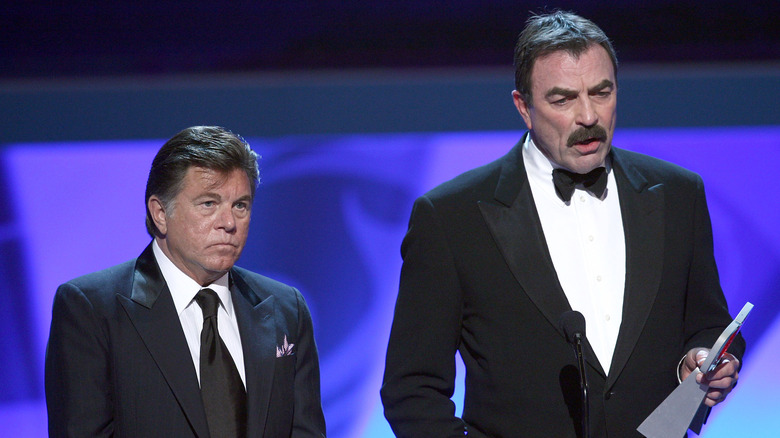 Alberto E. Rodriguez/Getty Images
As Larry Manetti told TV Insider, Tom Selleck's hesitation about casting his old "Magnum P.I." co-star on "Blue Bloods" had nothing to do with any bad blood. In fact, Manetti claimed quite the opposite is true, as he and Selleck became close friends before they even appeared on "Magnum P.I." "I first met Tom when we were cast on the same episode of James Garner's show, 'The Rockford Files,' in 1978," Manetti said. He then added, "Tom's character beat me up at the end of the show. Tom and I are like brothers, we speak once a week."
Manetti even went on to note he and Selleck dined out together every night he was in New York to shoot his "Blue Bloods" scene. It seems Selleck still had one stipulation before finally bringing his old pal into his "Blue Bloods" family, which was that they shouldn't appear in a scene together.
That bit is surprising given the undeniable goodwill such a fan-servicey reunion would've garnered from viewers who've stuck with Selleck since his "Magnum P.I." days. But as Manetti told TV Insider when asked why they didn't share a scene on "Blue Bloods," the enduring legacy of their past series informed Selleck's decision. "Again, he thought it might confuse the audience because of our relationship on 'Magnum P.I.,'" Manetti said.
Nonetheless, Manetti said he couldn't have had a better experience on "Blue Bloods," admitting, "Selleck and everybody on the show...treated me like a king."