Is HBO Max's Love & Death Based On A True Story?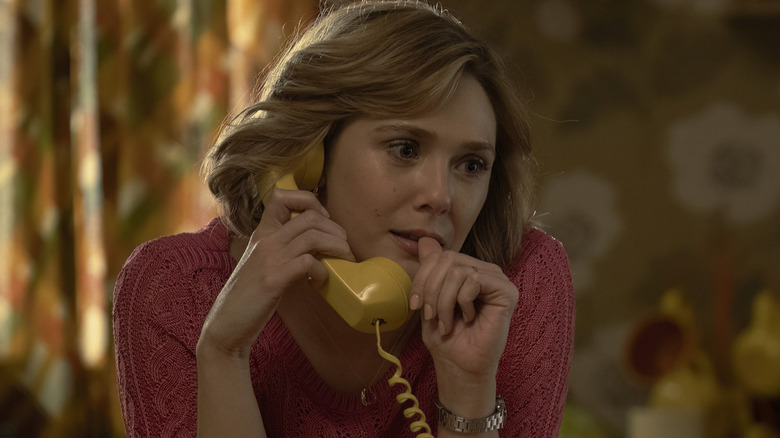 Jake Giles Netter/HBO Max
If there are two things that go hand in hand, it's HBO and true crime stories.
The latest miniseries to hit HBO Max is "Love & Death," which features Marvel's Elizabeth Olsen as Candy Montgomery, a suburban housewife who is accused of murdering her lover's (Jesse Plemons) wife with an axe. So far, the series has been praised for its complex and rich performances, with particular kudos hurled to Olsen and the supporting cast, which also includes "Breaking Bad" alum Krysten Ritter. Looper critic Audrey Fox said as much in a positive review of the series, describing "Love & Death" as "undoubtedly a showpiece for Olsen, who carries the lion's share of the emotional lifting."
What's particularly inviting about "Love & Death" is how real and palpable it feels, which makes the fact that it's based on a true story all the more terrifying. The HBO Max miniseries is based on the real-life events that haunted the idyllic Texas suburb of Wylie in 1980. To make the series a reality, creator David E. Kelley and director Lesli Linka Glatter based their work on a two-part Texas Monthly report from 1984 and the book "Evidence of Love: A True Story of Passion and Death in the Suburbs." Official court transcripts were also utilized to make the series as authentic as possible. 
"The fact that if this story wasn't true, you couldn't make out the circumstances around the story [was] so unusual," Glatter told The Wrap, opening up about how it was important to stick to the facts while also making the miniseries a compelling character piece.
Love & Death is more than just true crime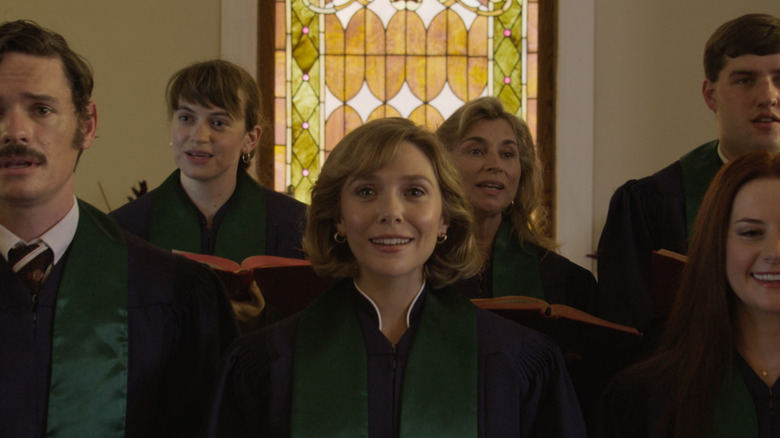 HBO Max
Candy Montgomery's true story is just as confounding and arresting as it is in "Love & Death." Montgomery is presented as a cheery and infectious member of her suburban community. A mother of two, she ends up having an affair with Allan Gore (Plemons), the husband of one of her dear friends Betty Gore (Lily Rabe). Despite leading a so-called picture-perfect life, Montgomery kickstarts the affair because of her displeasure with her husband Pat, played by Patrick Fugit. All four go to the same church, frequently crossing paths.
Eventually, Betty realizes that Candy and Allan are having an affair. Per the Texas Monthly's second report, dubbed "The Killing of Betty Gore," Candy arrived at Gore's house to grab a bathing suit for her daughter. This event transpired on June 13 1980, when Betty confronted Candy about the affair. Later, Betty's body was found with 41 axe blows. The article states that 40 blows happened while Gore's heart was still beating. Candy quickly became the prime suspect and publically confirmed the affair.
She was found not guilty, telling the jury that the act of violence was committed in self-defense.
Since then, Candy Montogemery's story has become a worldwide fascination. Hulu even tapped Jessica Biel to play the suburbanite in their miniseries "Candy," which debuted in May 2022. While the particulars of the story are compelling, it was important for director Lesli Linka Glatter to focus on the characters and community that led to the tragic murder. "This is about a Texas town and its characters," Glatter told D Magazine. "I fell in love with all of them, but there's also a deep hole inside of those characters. It was a mile wide and unfulfilled, so that intrigued me." 
Where is Candy Montgomery now?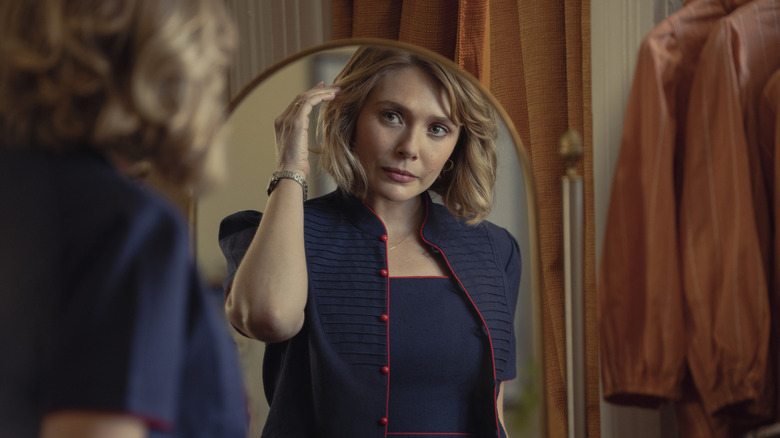 Jake Giles Netter/HBO Max
Where is Candy Montogomery now? Following the trial, which garnered considerable publicity at the time, Candy and her family moved out to Georgia. She and her husband later divorced. Per People, she still resides in Georgia and works as a mental health counselor. In 2000, she refused to speak to a Dallas Morning News reporter about the event, saying, "I'm telling you in big bold letters I'm not interested." There haven't been many updates about her since then, especially in the wake of the renewed public interest in her story. 
While "Love & Death" is an intimate, character-driven look at Montgomery's life, the real-life figure is not involved in it at all. In chatting with Vanity Fair, Elizabeth Olsen expressed the importance of not trying to villainize her. "I think she worked very hard recreating a life after such public humiliation," Olsen expressed. "I was hoping not to add more negative energy towards that, but to try and understand her as best as I could with the information I had."
"Love & Death" airs on HBO Max.