This American Pickers Collector Had A Change Of Heart And Sold Two Shirts For $260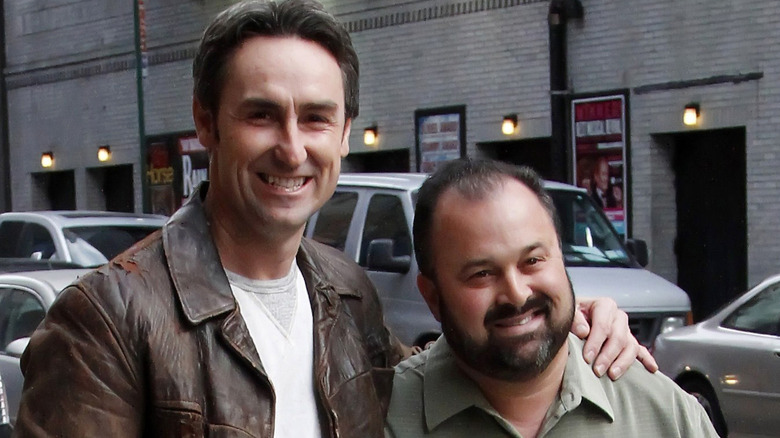 Debby Wong/Shutterstock
Generally, on the hit History series "American Pickers," Mike Wolfe and his fellow antique hunters are searching for items that will either be resold or go on display at the Antique Archaeology facility in Iowa. Once in a while, though, Wolfe finds items that he would like to add to his personal collection, so long as the person who has the goods is willing to part with them.
In a segment of "American Pickers" posted in January 2013, Wolfe and his former fellow picker Frank Fritz met a seller named Earl from Florida, who owned various pieces of motorcycle memorabilia. Two particular long-sleeve shirts — one from the Bushkill Valley M.C. (Motorcycle Club) of Easton, Pennsylvania, and the other from the Hurricane M.C. (Motorcycle Club) of Miami, Florida — were particularly interesting to Wolfe.
Wolfe first offered Earl $200 for the shirt, but Earl acted with hesitation and then apologetically declined. Wolfe then offered $60 for the Bushkill Valley shirt, but Earl said he also wanted to keep that shirt. He explained that he didn't want to sell the shirts because they belonged to his father, but then conceded, "It would be silly to keep all of these" and accepted the $260 offer from Wolfe.
Wolfe called the Miami M.C. shirt a 'full-on Hank Williams, Marlon Brando-type shirt'
Reflecting on Earl's initial rejection of his offer, Mike Wolfe said he understood why the man wanted to hold on to the shirts. "I'm disappointed, but I totally get it," he admitted. "Those were Earl's dad's shirts, and he's just not willing to let go of them yet."
Wolfe admitted he was surprised when Earl changed his mind and decided to part with the shirts. Wolfe was especially thrilled with the Hurricane M.C. article of clothing, which was in the style of a Western shirt. Buzzing about the rare find, the picker exclaimed that it was a "full-on Hank Williams, Marlon Brando-type shirt."
"Earl had a change of heart, man," Wolfe said, noting how the seller must have realized his love for vintage clothing. After he purchased the shirts from Earl, Wolfe said how he was going to wear the shirts going forward proudly.