June 2018 Trailers That'll Blow You Away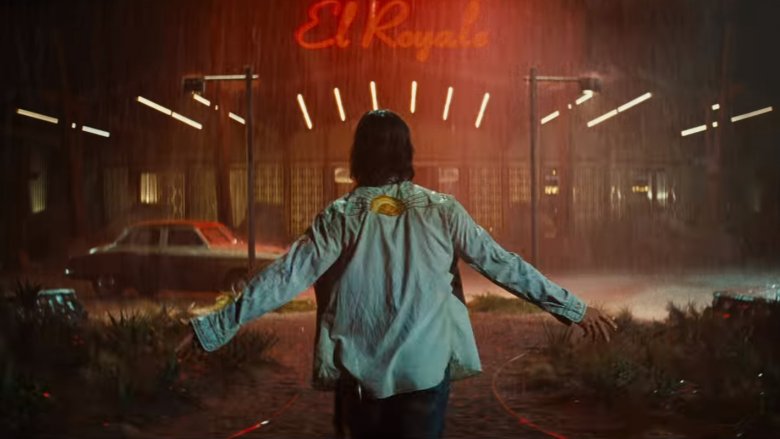 If you need any indication of the direction movies are going in this fall, well, Lego Batman said it best: Darkness, no parents. From a Halloween remake to a Girl with the Dragon Tattoo sequel to a long-awaited first look at The Conjuring's spinoff-slash-prequel The Nun, June is promising a Halloween season that'll have you cowering under the covers.
That said, it's not all doom and gloom on the docket. June also brought us trailers for Ralph Breaks the Internet, the Peter Jackson-produced Mortal Engines, and the Transformers spinoff Bumblebee, to name a few. And speaking of Lego Batman, be sure to check out the trailer for The LEGO Movie 2: The Second Part, which arrives just in time to remind us all that everything is still awesome.
In fact, we're looking at incredible trailers for movies as far out as 2019, which means there are a lot to run through. Let's get started. Here are all the trailers from June 2018 for movies that are sure to blow you away.
Siberia — July 13
Keanu Reeves is front and center in the first trailer for Siberia, a crime thriller about a sketchy diamond smuggler who heads to Russia to look for his missing partner. There, he discovers that his partner was trying to sell fake diamonds to some terrifyingly serious Russian mobsters. Things get even more complicated when he meets and falls in love with a Russian cafe owner in the snowy reaches of Siberia. Will he be able to make it out of Siberia in one piece, or will he find himself on the wrong side of Russian justice?
Produced by Saban Films and directed by Matthew Ross, Siberia looks like a slow burning thriller with a dash of romance. Judging by the trailer, it's sure to build to an epic climax. And with Reeves headlining, you're bound to have a good time with this one. Check out Siberia when it lands in theaters on July 13.
Poor Boy — July 13
To be honest, Poor Boy doesn't look like an instant classic, but it definitely has potential. The story of two hustling brothers who concoct a scheme to finally get out of their nowhere town, the film hit a few festivals in 2016 and then disappeared until securing a 2018 release date. The trailer is full of the low-budget charm of indie crime thrillers, although decidedly more Blue Ruin than Samurai Cop. Lou Taylor Pucci and Dov Tiefenbach star as the misfit brothers, looking for all the world like two lost cowboys who stumbled into the 21st century.
But the highlight of the trailer has to be Michael Shannon in rodeo clown makeup delivering slow, existential quotes while he takes long drags on his cigarette. Hopefully that won't be the only reason to see Poor Boy. But even if it is, well, there are worse ways to spend an afternoon.
Robin Williams: Come Inside My Mind — July 16
Has there ever been a more rounded and amazing comedy icon than Robin Williams? He entertained decades' worth of people, and probably raised a few million children without realizing it. Seriously — children in the '80s had Mork & MIndy, Popeye, and The Adventures of Baron Munchausen. If you grew up during the '90s, there was Hook, Jumanji, Aladdin, and Mrs. Doubtfire. Millennials? Well...okay, RV happened, but that's beside the point. The point is, there are probably people out there who saw more of Robin Williams than their own dad.
Now, HBO is releasing a documentary about Williams' life to twist the faucet on those tear ducts one more time. With a wealth of behind-the-scenes footage, old photographs from his childhood, and interviews with Williams' friends and family, Robin Williams: Come Inside My Mind looks like an intimate glimpse into the life of the legendary comic. Take a look when it premieres on HBO on July 16.
Alpha — August 17
The saccharine story of a dog and his prehistoric boy, Alpha is having no trouble tugging at viewers' heartstrings with its trailers. Full of sweeping music and touching moments between a lost boy and the wolf who befriends him, Alpha's trailers bill it as a movie about the domestication of dogs — think of it as the gritty origin story of your mom's Corgi. And okay, okay, that may not seem like gripping cinema at first glance, but Alpha might just pull it off through spectacle alone.
The trailers reveal rich cinematography filled with gorgeous landscapes and soaring aerial shots, an experience that looks like nothing less than those early IMAX features, the ones that made you feel airsick because they were just cameras flying over mountains and trains. Throw in a story about a sad wolf, and you've got your hands on cinematic gold. Look for Alpha on August 17.
Boarding School — August 31
Directed by Boaz Yakin, the writer of Now You See Me, Boarding School sees a troubled young boy sent to an isolated school to keep him out of trouble. But there may be be more than education happening inside the halls of this boarding school, and he begins seeing more and more signs that there's something sinister about the headmaster and his wife.
To be entirely honest, the trailer plays with some interesting ideas without ever getting too interesting itself, but that could just be chalked up to bad trailer editing. Either way, it looks like this might be a great movie to kick off the Halloween season. Luke Prael stars as the young boy, with Will Patton in the role of the creepy headmaster. You can take a look when Boarding School enrolls in theaters on August 31.
And speaking of movies about creepy, secluded buildings where strange happenings take over the lives of their inhabitants...
The Little Stranger — August 31
With 2015's Room, director Lenny Abrahamson took a unique, gut wrenching story about a mother who would go to any lengths to protect her son, then unraveled it all in a single, cloistered environment where the emotions felt as real as wallpaper and every small change became a world-altering, life-or-death struggle. It was good, is what we're saying, and the first trailer for The Little Stranger looks like another subtle, nerve-jarring ride, this time with a supernatural twist.
The story centers on a small-town doctor, played by Domhnall Gleeson, who's called out to an estate to fix up a sick maid. But once he's there, he gets friendly with the family and soon begins treating the widow's son, who was injured in World War II and never completely healed. It isn't long before the old house begins revealing disturbing secrets, suggesting a supernatural presence. The Little Stranger is based on the 2009 gothic novel of the same name, and arrives in theaters on August 31.
The Nun — September 7
In the golden age of trailers, all the way back in, say, 2013, it wasn't enough to fill a movie with jump scares — you had to put most of them in the trailer to make sure audiences knew what to expect. Now, you can't just put jump scares in trailers and hope people stick around long enough to see them. That would be crazy. No, you have to put a big teaser at the start that says, in all caps, "MAKE SURE YOU WATCH TO THE END." God forbid someone misses the jump scare in the trailer that's teasing the jump scare in the movie.
Anyway, let's talk about the movie. The Nun looks fantastic, regardless of its marketing gimmicks. The creepy demon nun Valak made her first appearance in The Conjuring 2, then showed up again in Annabelle: Creation. The Nun will serve as something of an origin story for the demon, with the main story centered on a Romanian priest and a young nun who are investigating a nun's suicide in a creepy old church. There's plenty of atmosphere in the trailer, and at least one jump scare, but all around it looks like a delightfully eerie popcorn movie to check out this fall. The Nun hits theaters on September 7.
Mandy — September 14
Here's what we figured out from the trailer for Mandy: If losing your mind was a color, it'd be a neon pink glow falling over the handmade battle axe in Nic Cage's hands. In other words, this movie looks downright insane. The story of a man and a girl living in the woods who get targeted by a sadistic biker cult, Mandy is somewhere between an acid trip and a horror movie, the perfect platform for Nicolas Cage to let loose with whatever it is that Nicolas Cage lets loose with.
The movie premiered at Sundance in January 2018, leading to an impressive Rotten Tomatoes score and glowing reviews full of words like "mind-melting genre orgy of cosmic proportions." We're not entirely sure what that means, but if director Panos Cosmatos' previous feature Beyond the Black Rainbow offers any insight, we feel pretty safe in saying that Mandy won't be normal.
The Old Man and the Gun — October 5
Robert Redford headlines this upcoming crime film as an old man who knocks over banks by flashing a gun and a smile, wearing a police scanner plugged into his ear like a hearing aid. The Old Man and the Gun is based on the real life of Forrest Tucker, a career criminal who escaped from prison nearly 20 times, most recently at the age of 70. Sometimes he'd be out for years, other times just hours, but he always used the time to get back to his old hobby — robbing banks.
The events of the film follow Tucker as an elderly man who's still pulling heists, enchanting the bank workers with his gentlemanly smile even as he makes off with thousands in cash. Robert Redford is perfectly cast to play a suave criminal and the leader of a group of elderly thieves known as, no kidding, the "Over the Hill Gang." And with Casey Affleck, Sissy Spacek, and Danny Glover co-starring, The Old Man and the Gun looks like a guaranteed winner. Look for it on October 5.
Bad Times at the El Royale — October 5
When seven strangers show up at a seedy hotel near Lake Tahoe, the meeting kicks off a fateful night where nothing is what it seems. Soon, they're fighting for their lives — and fighting each other — to survive the night. As the hours in the hotel wear on, each of them reveals a dark secret, and it starts to look like none of them are there by chance.
Written and directed by Drew Goddard, who also helmed the genre-twisting Cabin in the Woods, Bad Times at the El Royale is a tour de force of star power. Jeff Bridges, Chris Hemsworth, Dakota Johnson, and Jon Hamm headline the film, and the brief trailer hits all the right beats without giving away any plot twists. And there are bound to be a ton of those. Check in to the El Royale when the movie lands in theaters on October 5.
First Man — October 12
They're not exactly a forgotten story, but you don't tend to think much about how difficult the early Apollo missions were. Reaching the moon wasn't just a long shot — it was something that had been considered impossible just decades earlier. That's the focus of the upcoming historical drama First Man.
Directed by the Oscar-winning director of La La Land, Damien Chazelle, and written by the Oscar-winning writer of Spotlight, Josh Singer, First Man certainly has some storytelling chops behind the scenes. The story centers on a young Neil Armstrong during the lead-up to the Apollo 11 mission to land on the moon.
Of course, it's safe to say that we know how the story will end, but the dramatized version of the momentous event — coupled with Ryan Gosling's portrayal of Armstrong — should be enough to thrill fans of both outer space and Gosling alike. Claire Foy and Jason Clarke costar. Look for First Man to land on October 12.
Serenity — October 19
Don't get too excited — this isn't another Firefly movie, but that doesn't necessarily take points away from this upcoming thriller. Starring Matthew McConaughey and Anne Hathaway, Serenity looks to be a new take on the don't-trust-anyone brand of thrillers, where everyone has something to hide and half the cast is bound to wake up with a knife in their back at some point.
Matthew McConaughey stars as a quiet fishing boat captain who gets an unexpected visit from his ex-wife, played by Anne Hathaway. She has a simple request: Take her current husband out on the water and kill him. After that, the trailer grinds into gear, throwing out tantalizing glimpses of the story while the slow tick of a fishing reel (of all things) drives up the tension. If the movie is anywhere near as good as the trailer, Serenity looks like a sure win when it debuts later this year. Check it out when it reaches theaters on October 19.
Halloween — October 19
Here are four words that nobody ever thought they'd get excited about: Danny McBride's Halloween reboot. It has the same ring of logic as phrases like "iHop's famous fish burrito" or "grandma's sensual workout routine." And yet despite how it all sounds, the upcoming Halloween movie looks pretty great.
McBride has said in interviews that the film will essentially ignore most of the sequels, acting as a soft reboot for the franchise and taking place after the events of the 1978 original. That decision might not sit well with fans of the numerous sequels, but since none of them are that good anyway, it'll probably turn out okay in the end. Judging by the trailer, 2018's Halloween is going to be a straight descent into terror, with original scream queen Jamie Lee Curtis reprising her role from the original.
McBride co-wrote the film with director David Gordon Green, and both serve as executive producers alongside Halloween creator John Carpenter.
Ralph Breaks the Internet — November 2
Out of nowhere, Wreck it Ralph showed up in 2012 and blew everybody away. The story of an arcade villain who decides he wants to become a hero, the animated comedy was both an awesome love letter to video games and a heartfelt adventure tale. Fingers crossed the upcoming sequel manages to capture the same magic that made the first one such a hit. If the trailer's any indication, it's heading in the right direction. Hopefully.
After a worryingly Emoji Movie-esque opening that sees Ralph and Vanellope travel to the internet and gaze out over a sprawling city of product placement, the trailer finds its stride. Vanellope ends up in a room full of Disney princesses, Ralph questions the movie title's accuracy, they escape from stormtroopers, and it all looks like a lot of fun. Plus, it might just have more Easter eggs than Ready Player One. Check it out on November 2.
The Girl in the Spider's Web — November 9
Sony seems to have a plan for their adaptations of the Millennium book series, even if nobody else can figure it out. Trailing David Fincher's 2011 The Girl with the Dragon Tattoo and a complete, critically acclaimed trilogy of Swedish film adaptations, Sony is replacing the entire cast and crew and moving straight to the fourth novel, The Girl in the Spider's Web — which is also the first novel not written by the series' original creator, Stieg Larsson. It's the old adage in show business: if something works, fix it.
To be fair though, this new take looks like it's in good hands. Fede Alvarez (Don't Breathe) is directing, with Golden Globe winner Claire Foy (The Crown) stepping in as antisocial hacker vigilante Lisbeth Salander. David Fincher's even hanging around as an executive producer. Judging by the trailer, The Girl in the Spider's Web is sticking to the dark tones of its predecessors, using a color palette drawn straight from a midnight screening of The Elephant Man.
Creed II — November 21
Michael B. Jordan is returning to the ring this year as Adonis Creed, the son of the Rocky franchise's Apollo Creed, in an all new movie. The trailer for Creed II sees Creed training harder than ever, all while balancing his family life and, ahem, a rocky relationship with his trainer, Sylvester Stallone's Rocky Balboa. It all ends with a tantalizing glimpse of Ivan Drago's son, promising an epic, emotional bout with the son of the man who killed Creed's father.
The first Creed film became a surprise hit when it was released in 2015, resulting in an Oscar nomination for Best Supporting Actor for Sylvester Stallone and a major box office take. Stallone began talking about a sequel barely a month later. If Creed II follows in the same footsteps — and judging by the trailer, that's definitely a big possibility — it could be the beginnings of an entirely new ongoing franchise.
Welcome to Marwen — November 21
For anyone who feels that Hollywood is all out of originality, just take a gander at the first trailer for Welcome to Marwen. Steve Carell stars as Mark Hogancamp, an artist who was nearly beaten to death in a hate crime. With his memory gone and his artistic abilities in shambles, Mark takes to the one creative outlet he can still use: dolls. Through extensive, detailed miniature models, Mark channels his imagination into a new form of art and tries to come to grips with his new life. And sometimes, his imagination takes him straight into the stories of the dolls themselves, giving director Robert Zemeckis a chance to use some of his notorious motion capture techniques.
One part uplifting magic and one part emotional quagmire, Welcome to Marwen looks like one of the most unique movies to hit theaters in 2018. Take a look when it premieres on November 21.
Mortal Engines — December 14
The Oscar-winning screenwriting team behind The Lord of the Rings is taking on another epic adaptation this December with Mortal Engines, a post-apocalyptic tale about wheeled cities that rove around the land preying on weaker cities. Peter Jackson, Fran Walsh, and Philippa Boyens are penning the script as well as producing, with Christian Rivers directing in his first feature-length film.
The story centers on a young woman named Hester Shaw, who becomes a fugitive from the rolling city of London after she attempts to assassinate a powerful man named Thaddeus Valentine. The trailer sets up the premise beautifully while leaving the main meat of the story for the movie itself.
The biggest thing to take away from the trailer is that Mortal Engines is going to be an absolutely jaw-dropping movie in terms of visuals. Weta Workshop, the VFX team behind the epic battle scenes in Lord of the Rings and King Kong — not to mention dozens of other blockbusters — is bringing the effects to life, promising a visual feast and an epic storyline. Look for Mortal Engines on December 14.
Bumblebee — December 25
The disembodied voice of Bernie Mac guides audiences into the first trailer for Bumblebee, reminding us all that there's a mystical bond between man and machine, and maybe also that our first enchilada of freedom awaits underneath the hood of a dusty old car. Eleven years and five movies after kids first fell in love with HD robot toys, the Transformers franchise is getting back to its roots. Or to its...bolts, or something. Look, it's starting over, is the point.
Bumblebee sees the magical beginnings of the yellow car alien known as, well, Bumblebee, back when he was just a humble VW Bug in a dirty scrapyard. Hailee Steinfeld stars as the human girl who discovers him, kicking off a new adventure that sees the unlikely duo on the run from the evil government and eviler robots. Sort of like the first movie, if all the people were replaced with different people. Take a look when Bumblebee transforms and rolls in (!) on December 25.
The LEGO Movie 2: The Second Part — February 2019
Bricksburg is in dire straits in the first trailer for The LEGO Movie 2, which sees the town of Lego people transformed into a post-apocalyptic wasteland. But catastrophic ruins and sewer babies aren't enough to get Emmet down — he's still the cheerful, naive guy he always was, Master Builder or not.
There's a lot to look at in the trailer, and it leaves plenty to guess about. Did Finn and his dad give up on their Lego city, leaving the place in chaos? Did they build the post-apocalypse on purpose, digging on some Mad Max style inspiration? Is Finn's sister behind the alien invasion, and the reason they all went to the "Sistar" System? So many questions, so few answers. And the worst part is, we'll all have to wait until next year to find out. The LEGO Movie 2: The Second Part is scheduled to hit theaters in February 2019.
Dumbo — March 2019
Continuing their ongoing march of live-action remakes, Disney released their first trailer for Dumbo this June. The journey of a little circus elephant who gets picked on by kids until he learns how to fly, it's definitely a story that's enchanted kids for generations. The new trailer doesn't go into much of the story, instead focusing on the essence of the tale, which is nothing short of pure childhood magic.
Things are looking positive behind the scenes as well. Tim Burton is directing, with a cast that includes Colin Farrell, Danny DeVito, Michael Keaton, and Eva Green. Interestingly, while past adaptations like Beauty and the Beast and The Jungle Book were largely shot-for-shot remakes of the original animated versions, Dumbo appears to be going in a different direction. For one, it's rumored that there won't be any talking animals in it — not even Dumbo (although to be fair, he didn't talk in the original, either).
On top of that, Danny DeVito claimed that there were some big changes taking place, telling crowds at CinemaCon: "The [original] movie ends with Dumbo flying. This movie begins with the elephant flying, and takes the story even further."