TV Shows That Were Sued For Stealing Their Premise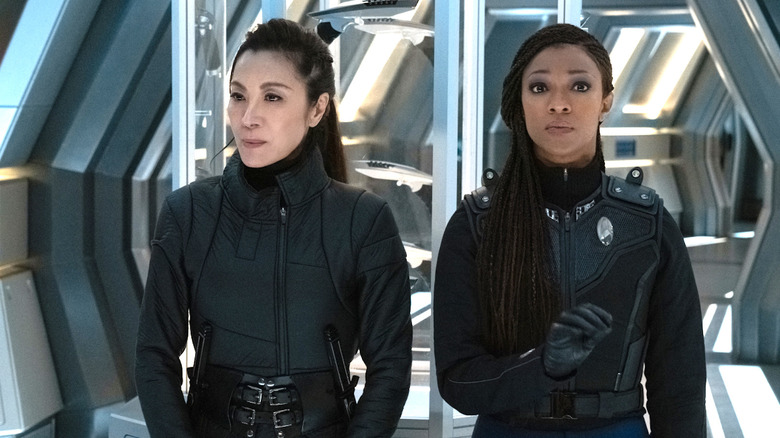 Paramount+
Thanks to the proliferation of streaming services over the past decade, more and more TV shows air each year. With this rapid explosion of new content, though, there's an ever-greater chance that some new series will seem oddly familiar, sharing a premise with a show you've seen before. It's usually just a case of trying to do more of what's already proven successful. There are myriad shows about a brooding loner cop or an intrepid space-faring starship crew, but that doesn't mean they're all ripping off each other.
Sometimes, however, a writer, producer, or production company spots a new hit series that looks a little too similar to something they've created. Unable to shake the thought that they'd been done dirty, they strike back with the law, suing the network with claims that their story was stolen. It may seem unlikely, but shady dealings aren't exactly unheard of in Hollywood. If there's a chance that a network is raking in millions off the back of their idea, a lawsuit is the only recourse.
You might even be surprised by some of the shows that have been accused of copyright infringement. From all-time classics that redefined their genre to acclaimed, award-winning hits, these TV shows were sued for stealing their premise.
12. Ray Donovan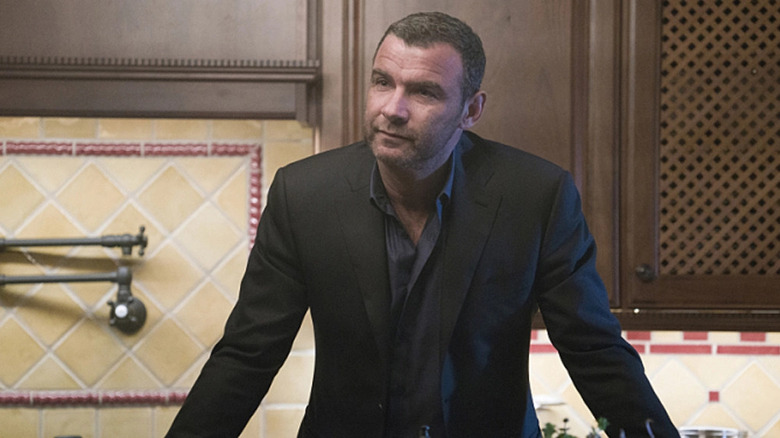 Showtime
"Ray Donovan" is a gritty crime drama that had a successful seven-season run on Showtime beginning in 2013. Liev Schreiber plays the titular Donovan, a Los Angeles "fixer" who serves a variety of high-profile clients around Hollywood. In addition to his job cleaning up after various criminal activities, Donovan is forced to deal with his estranged father (Jon Voight), who is released from prison in the series premiere. Nominated for 10 Emmy Awards, the series came to a close in 2022 with "Ray Donovan: The Movie."
A year after the show's debut, however, a Hollywood writer named Brian A. Larsen laid a lawsuit at the feet of Showtime, insisting that "Ray Donovan" was a rip-off of his own series concept, "The Swissman." According to the paperwork he filed in Los Angeles Superior Court, Larsen had shown his series pitch to Showtime twice in 2010 and 2011, though it wasn't picked up. His series was also centered on a "middle-aged protagonist who is a 'fixer,'" and who also has a difficult relationship with his father, as well as other key similarities to the premise.
"The unmistakable central theme is whether a fixer has a moral obligation to do the right thing or if he is simply supposed to 'do his job,'" claimed Larsen's suit. In addition to looking for financial compensation, Larsen also wanted production on the series halted. That obviously didn't happen, but no resolution was ever publicly announced.
11. Mixed-Ish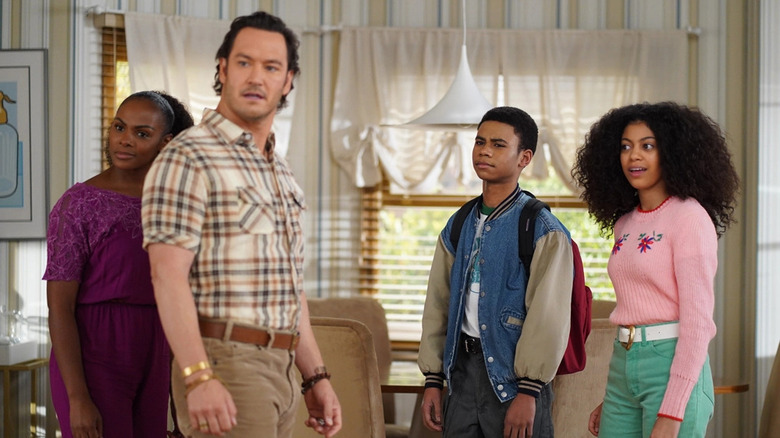 ABC
"Mixed-ish" is a spin-off prequel to the hit sitcom "Black-ish." Set in the 1980s, the series centers on the childhood of Rainbow Johnson (played by Tracee Ellis Ross as an adult), which is shown via flashbacks. Growing up in a mixed-race household, Rainbow's family is led by father Paul (Mark-Paul Gosselaar) and mother Alicia (Tika Sumpter). Airing in 2019, it was the second spin-off of "Black-ish," following the successful launching of "Grown-ish" the year before.
You might be wondering how anyone could sue "Mixed-ish" for stealing the premise when it sounds–at least on paper–like a pretty ordinary sitcom linked to an existing media property. But in 2020, actress Hayley Marie Norman made just such an accusation, filing suit against the network and the show's creators, alleging that she had pitched a similar show in October of 2017 that she believed had become the uncredited basis for "Mixed-ish." Norman said that actress Tracee Ellis Ross had actually spent time developing the series with her, only to turn around and co-opt it into a "Black-ish" spin-off without involving her.
The suit also alleged that Norman's show had been shopped to various networks in 2018, and that she was shocked to discover a year later that "Mixed-ish" was on the drawing board. As of 2023, the suit remains unresolved, though "Mixed-ish" was canceled after its second season in 2021.
10. Stranger Things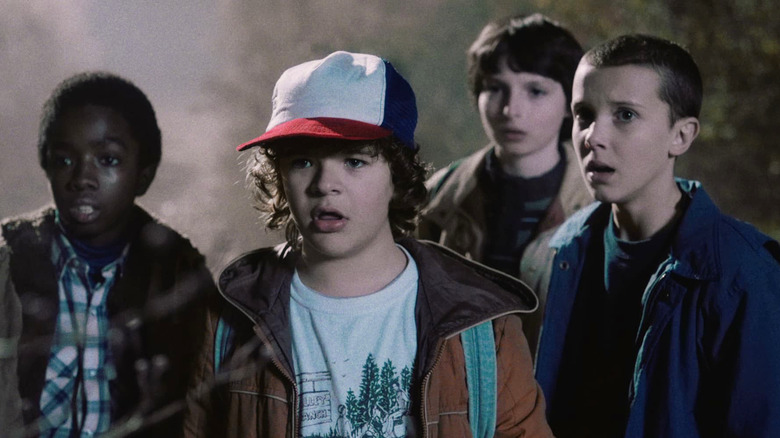 Netflix
The Netflix original sci-fi series "Stranger Things" debuted in the summer of 2016 and quickly became a cultural phenomenon. It follows a group of kids in the 1980s who discover a mysterious girl with incredible powers, and must save their friend Will from a monster in a supernatural realm called "the Upside Down." Often compared to '80s classic "The Goonies," "Stranger Things" was actually the target of multiple lawsuits from different parties all claiming the series had stolen their idea.
The first was in 2018, when a writer named Charles Kessler slapped Netflix with a lawsuit accusing the series' creators, Matt and Ross Duffer, of swiping an idea that he'd pitched to them when they'd met years earlier at the 2014 Tribeca Film Festival. That one went nowhere, though, as Kessler abandoned pursuit of the suit just a day before it was scheduled to hit the courthouse steps. 
That wasn't the end of the accusations thrown at the Duffer Brothers. A couple of years later, a company called Irish Rover Entertainment filed their own lawsuit, this time claiming that "Stranger Things" had stolen from a screenplay that they controlled titled "Totem." Written by screenwriter Jeffrey Kennedy, that script was about a young girl with special powers who learns of another realm and battles demons there. At the last update, an attempt by Netflix to dismiss the case outright failed.
9. Lost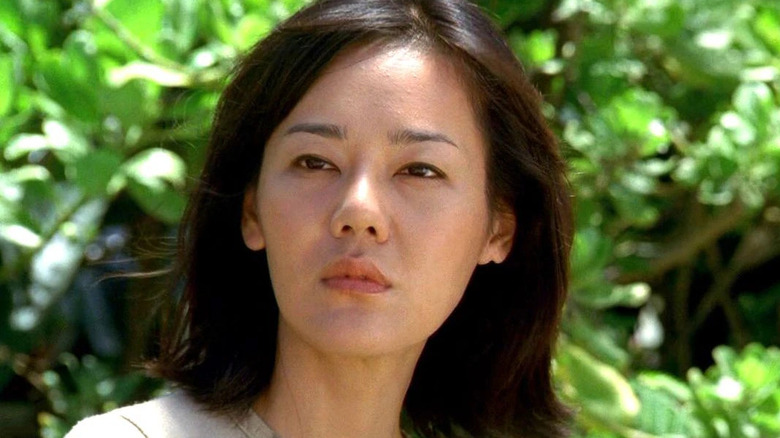 ABC
A groundbreaking ensemble drama full of mystery, suspense, and science fiction, "Lost" helped usher in a new era of television with its big-budget pilot episode in 2004. For those who have been living under a rock, "Lost" was co-created by big screen director J.J. Abrams, and begins with a plane crash that strands a group of passengers on a remote tropical island, where they struggle to survive a series of unseen dangers that lurk all around them. Over the course of the show's six seasons, "Lost" wove a web of conspiracy that wound up involving everything from secret government organizations and spiritual cults to immortal beings, alternate dimensions, and time travel.
Several years after the series launched, though, "Lost" became the subject of a lawsuit alleging the series' starting story had been taken from a TV pilot script written all the way back in 1977. The claims came from accomplished producer Anthony Spinner, whose previous work included "The Man from U.N.C.L.E." and "The Mod Squad." He said he provided the network with a script about a plane that crashed on a tropical island and featured some vaguely similar characters, like a young man suffering from drug addiction and a love triangle involving a pair of rival men. 
Ultimately, ABC came out victorious, with the court declaring that "Lost" had been created independently, and that any similarities Spinner saw were purely coincidental. 
8. New Girl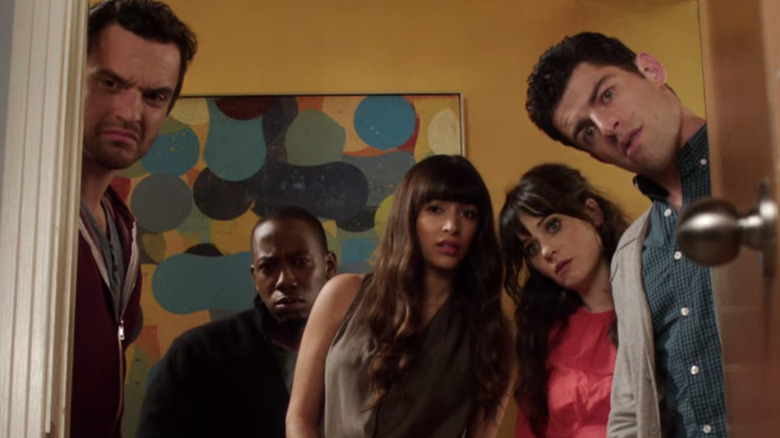 Fox
"New Girl" might be one of the most underrated sitcoms of the last 20 years. A series that seemed to perpetually struggle in the ratings, it somehow grew a fervent fan following and wound up lasting a solid seven seasons, but never seems to get mentioned alongside the best of the genre. The show starred Zooey Deschanel as Jessica Day, a newly single young woman who rents a room in a chic warehouse apartment occupied by three single men: goofy slob Nick (Jake Johnson), snobby executive Schmidt (Max Greenfield), and for most of its run, the uptight Winston Bishop (Lamorne Morris). 
In the middle of the show's third season, however, a lawsuit landed in the laps of "New Girl" network Fox and series creator Elizabeth Meriwether on copyright theft grounds. It was filed in January of 2014 by Stephanie Counts and Shari Gold, who said that the series had stolen its concept from a pitch they'd been showing around for their own similar series, titled "Square One." Believing that someone involved with the series must have gotten wind of their idea, they struck the defendants with calls of plagiarism. 
Just days after filing, though, a judge was unswayed by two writers' arguments. The court dismissed the case in a summary judgment, stating there was no evidence that any of the defendants had seen the script or pitch to "Square One."
7. Timeless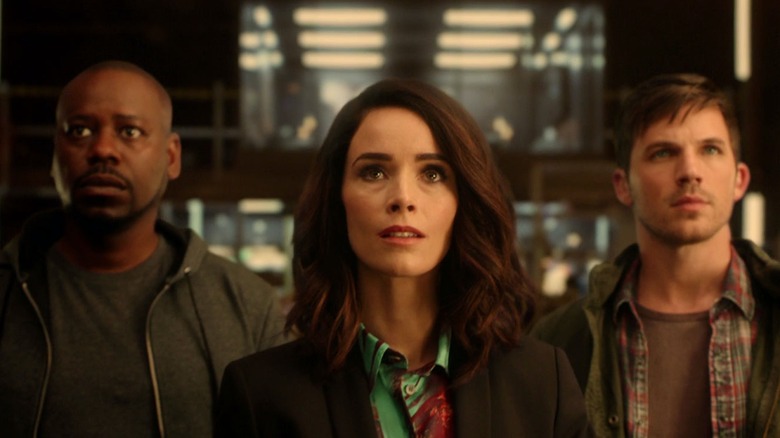 NBC
In 2016, "Supernatural" creator Eric Kripke and "The Shield" mastermind Shawn Ryan teamed up to create the sci-fi procedural thriller "Timeless." The series follows a trio of do-gooding agents who must go back through time to stop a group of diabolical terrorists from altering the past. Each episode sees history professor Lucy Preston (Abigail Spencer), U.S. Army soldier Wyatt Logan (Matt Lanter), and pilot Rufus Carlin (Malcolm Barrett) travel to a different era and get involved in historical events, encountering the likes of Benedict Arnold, Jesse James, and Charles Lindbergh.
But not long after its debut on NBC, "Timeless" creators Ryan and Kripke faced charges of idea theft when Spanish company Onza Entertainment sued them–along with Sony and the network–for stealing the concept of their own show, "El Ministero del Tiempo." Translating to "The Ministry of Time," the Spanish series also involved a trio of time travelers trying to change the past. While Sony and NBC filed a motion to have the case dismissed, insisting that the concept was too generic to have been stolen, the judge disagreed. 
As part of their suit, Onza had made claims that they had actually once met with Sony about bringing their own series stateside. Perhaps sensing a tough trial, NBC decided to settle out of court in May of 2017.
6. Abbott Elementary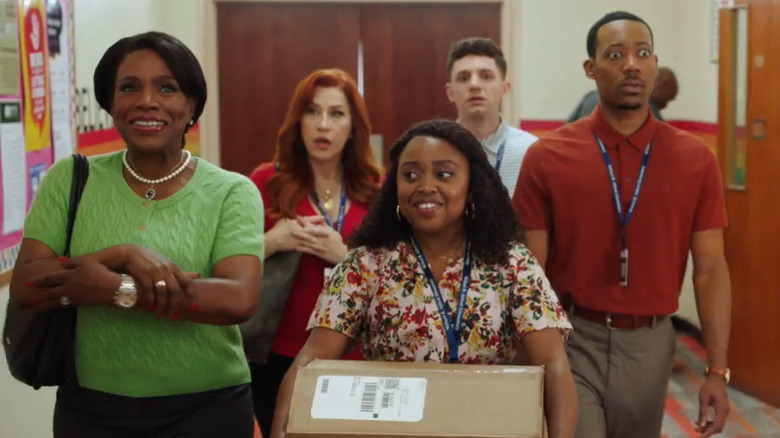 ABC
Renewed for a third season as of 2023, "Abbott Elementary" has been wowing critics and delighting audiences since its launch in 2021, amassing seven Emmy nominations and three wins. A mockumentary-style sitcom created by and starring Quinta Brunson, the series is set at the fictional Abbott Elementary located in Philadelphia, and follows the ups and downs of life for students and teachers at an underfunded public school. An almost all-Black institution that is always up against the odds, Abbott Elementary's teachers compensate for the school's flaws with love for their jobs and commitment to giving their students the education they deserve.
After the show's first season, though, in July of 2022, summer vacation was ruined for Brunson when a copyright infringement suit was brought against her and network ABC by a woman named Christine Davis. As reported by Entertainment Weekly, Davis alleged that the series had taken its premise from a mockumentary script she'd copyrighted in 2020 about a similar inner-city school facing the same kinds of problems. She even believed many of the characters and episode storylines were identical to those in her original script.
Though the case is still pending, a report in April of 2023 revealed that ABC was seeking a dismissal. "Starting with reading the very first page of Plaintiff's treatment, it is evident that the concept and feel of the works are wholly dissimilar," read the network's court filing (per Radar Online).
5. Battlestar Galactica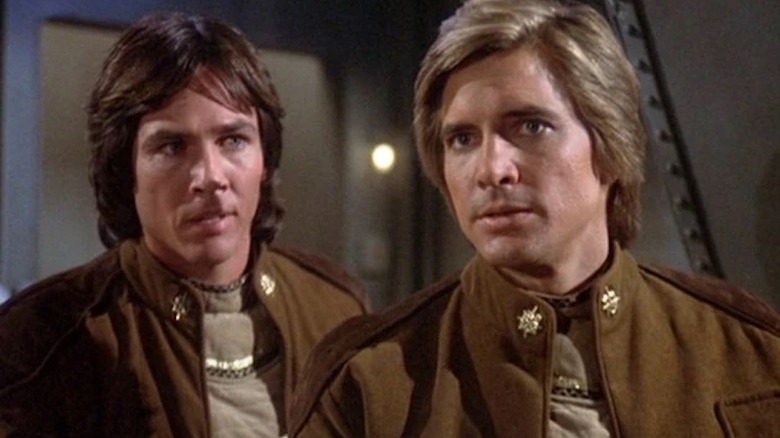 ABC
Though it's arguably more famous today for the gritty 2004 remake, "Battlestar Galactica" started out as a more family-friendly space adventure in the late '70s. Airing just a year after "Star Wars," it was a clear attempt to capitalize on the public's newfound obsession with science fiction in the wake of George Lucas' epic space saga. It successfully captivated sci-fi fans with an otherworldly adventure. It begins with the destruction of an advanced civilization by a race of deadly robots called Cylons, and a small fleet of human survivors who decide to seek out their mythical lost homeworld called Earth.
With top-notch special effects, "Battlestar Galactica" was far from the cheap-looking sets of competing sci-fi shows like "Star Trek" or "Dr. Who," and there was a good reason. Spearheading the visual effects was Jon Dykstra, the former ILM supervisor who had won an Academy Award for his VFX work on the first "Star Wars" film. But what really upset George Lucas and studio Fox was the story similarities, which included a friendly robot sidekick and an evil totalitarian empire, among more than 30 others.  
As a result, Fox filed a copyright infringement lawsuit. Yet the courts weren't convinced that "Battlestar Galactica" was a rip-off. The case was initially dismissed in a lower court, then overturned in Fox's favor before being sent back to the lower circuit. Before going to trial again, the two sides decided to settle their differences out of court.
4. Star Trek: Discovery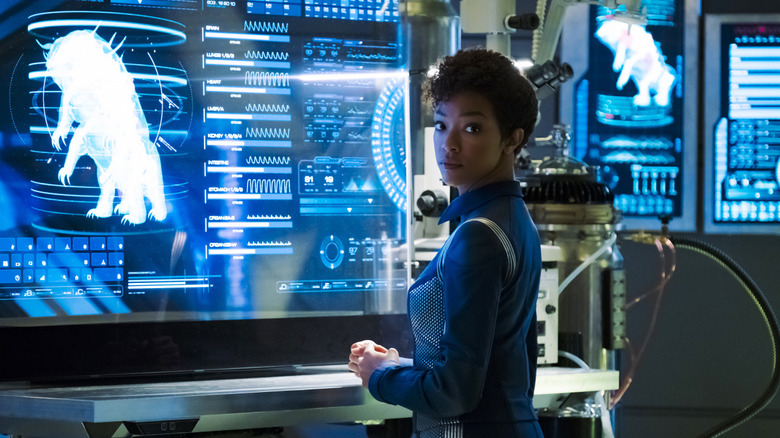 Paramount+
Debuting on the nascent streaming service CBS All Access–which later became Paramount+–"Star Trek: Discovery" was the first new series in the franchise since "Enterprise" went off the air in 2005. With Sonequa Martin-Green, Anthony Rapp, Wilson Cruz, Michelle Yeoh, and Jason Isaacs, it boasted an all-star cast, too. Set just 10 years prior to the original "Star Trek" series with Captain Kirk, it followed the crew of the U.S.S. Discovery at the outbreak of a war between the United Federation of Planets and the vaunted Klingon Empire. 
At the center of the series, though, was the Discovery's experimental propulsion system, the so-called "Spore Drive." It was operated by a giant-sized alien tardigrade that allowed them to navigate a vast unseen web called the mycelial network that connects all of space and multiple dimensions. A controversial element among Trekkies, it was also at the heart of a copyright infringement suit brought by video game developer Anas Abdin, who claimed the concept of the tardigrade-powered starship had been lifted from a game he'd created called "Tardigrades," which he'd been working on since at least 2014.
Unfortunately for Abdin, two courts ruled against him, including appeals court Judge Denny Chin, whose decision dismissed his claims of infringement. "Abdin's space-traveling tardigrade is an unprotectable idea because it is a generalized expression of a scientific fact—namely, the known ability of a tardigrade to survive in space."
3. Outer Banks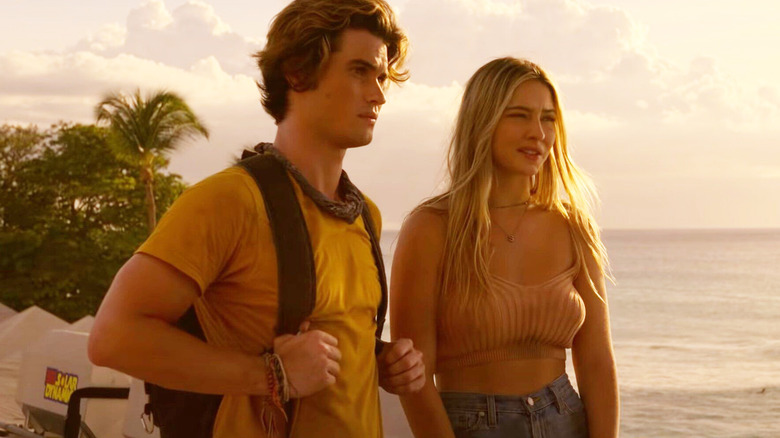 Netflix
Mixing action adventure with teen drama and even a little bit of light fantasy, the Netflix original series "Outer Banks" was created by Shannon Burke and Pate brothers Josh and Jonas. All the action takes place at the Outer Banks in North Carolina, a small coastal town where two groups of rival teens are seeking a hidden treasure, with one group hoping to also solve the mystery of their missing leader. 
With three seasons under its belt and a fourth on the way, "Outer Banks" is a proven hit for Netflix. But it may not be an original idea—at least, not if you ask author Kevin Wooten, who contends the series stole from his book "Pennywise: The Hunt for Blackbeard's Treasure!," which saw print several years before the show first aired. Given Wooten's North Carolina roots, and the fact that copies of his independently published book had been sold in the area, the part-time author and schoolteacher felt he should be enjoying a piece of the Netflix show's pie. 
After analyzing the two works, however, the judge presiding over the case disagreed with Wooten. "To be sure, both works involve shipwrecks and treasure hunts," he noted in his judgment. "But to analyze their plots at such a high level of abstraction would render every work involving a hunt for buried treasure susceptible to copyright infringement." The case was dismissed with prejudice, and Wooten was left to enjoy the story on Netflix at home like everyone else.
2. Ballers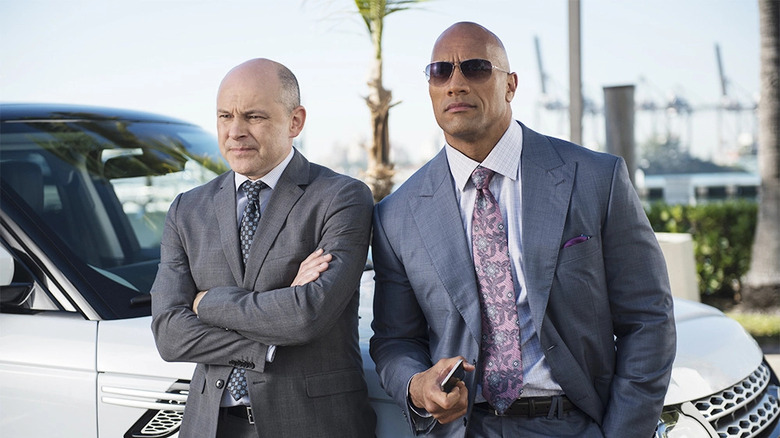 HBO
Before he came to TV to tell the story of his childhood in "Young Rock," superstar Dwayne Johnson starred in the HBO comedy-drama "Ballers" for five seasons. Johnson played a former NFL star named Spencer Strasmore who decides to take advantage of his connections in the NFL and becomes a financial advisor whose biggest clients are fellow football stars. Now on a different side of the game he loves, Strasmore faces a whole host of new problems that he can't just tackle his way through.
Co-produced by Mark Wahlberg and Stephen Levinson, "Ballers" was a spiritual spin-off of Wahlberg and Levinson's previous hit, "Entourage," but centered on the wild world of sports instead of Hollywood. If you asked writers Everette Silas and Sherri Littleton, though, it wasn't all that original. In a lawsuit filed just after it began airing, they said it was stolen from their own idea for a show called "Off Season." Apparently pitched as a football version of "Entourage," the plaintiffs believe that Levinson and Wahlberg had somehow intercepted their idea and taken the ball for a touchdown for themselves.
Less than six months after the suit was filed, in July of 2016, the game was called off: presiding Judge George Wu announced at a hearing that there was nothing on the bench to back the plaintiff's claims of theft. "The themes and concerns of the two concepts are widely different," Wu said, noting that any similarities did not meet the requirements of a copyright infringement claim.
1. Dead Ringers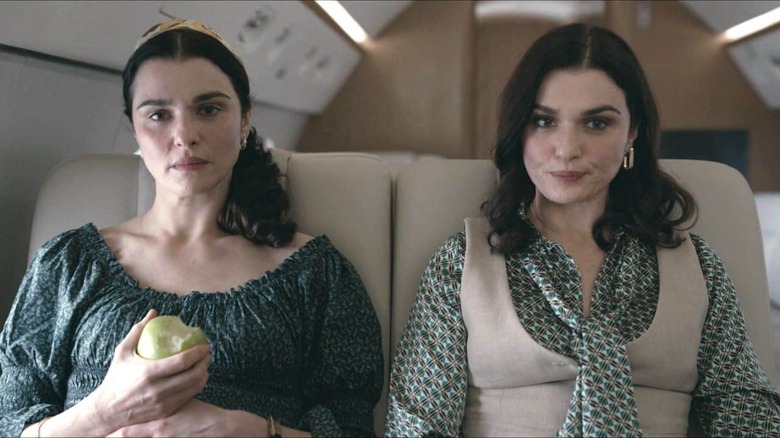 Amazon Studios
The David Cronenberg classic "Dead Ringers" focused on twin gynecologists, both played by actor Jeremy Irons, who have a strange relationship that they use to take advantage of their female patients. The film was remade in 2023, this time as a six-episode series on Amazon Prime starring Rachel Weisz in dual roles as gender-swapped versions of the main characters. Here, Weisz plays both the soft-spoken Beverly and the more menacing Elliot, two identical twins and gynecologists who are opening a revolutionary new birthing clinic.
Lauded by critics for Weisz's remarkable dual performances, "Dead Ringers" is a rare remake that does something new and different with the original material. But despite it being a remake, even "Dead Ringers" found itself being accused of copyright infringement. This time, the accusations came from Renee Tab, a producer who had apparently worked with Morgan Creek Entertainment on developing the series as far back as 2014.
According to the lawsuit served in September of 2022, Tab had been the one to come up with the idea of gender-swapping the protagonist and even suggested Rachel Weisz for the dual lead roles. Her attachment agreement with the company had allegedly promised Tab an executive producer role, but when Morgan Creek went forward with the show behind her back, she was never compensated or given proper credit. As of press time, the matter remains pending.