Cocaine Bear: Social Media Helped Jesse Tyler Ferguson Land His Role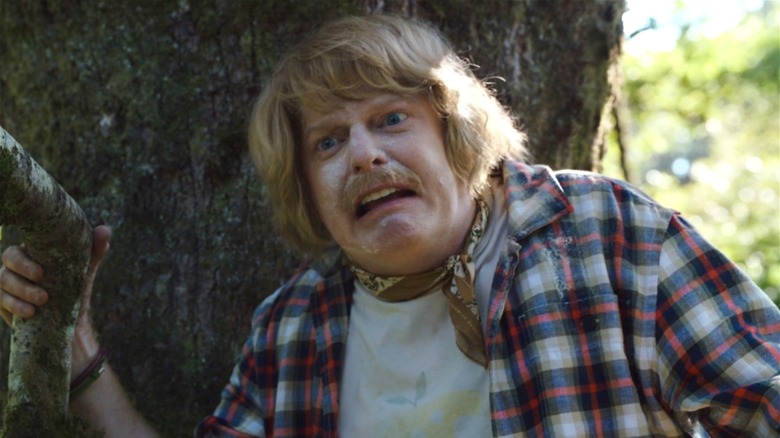 Universal Pictures
"Cocaine Bear" has a great ensemble cast. Of course, there's the CGI-generated bear that is capable of a lot more emotion than the real cocaine bear, which currently sits stuffed in a Kentucky mall. But between Keri Russell, Ray Liotta, Margo Martindale, O'Shea Jackson, and others, there's enough star-power and acting chops to square that circle between comedy and thriller. 
Among this motley crew is one Jesse Tyler Ferguson. He's not on screen all that long, but the actor who spent more than a decade playing Mitchell Pritchett on ABC's "Modern Family" is most definitely there. And according to Ferguson himself, he wouldn't have gotten his role in "Cocaine Bear," if not for his husband. And social media. Or, to be more specific, his husband's control over Ferguson's social media.
While walking the red carpet at the "Cocaine Bear" premiere, Ferguson spoke a bit with Entertainment Tonight. "It's very cool, he actually kind of got me this job," Ferguson said, referring to his husband, lawyer Justin Mikita. Elaborating, Ferguson said that while he doesn't do social media a whole lot, Mikita does, and has access to Ferguson's accounts. So when Elizabeth Banks tweeted that she was directing a movie called "Cocaine Bear" and asked her followers who she should cast, Mikita, without Ferguson's knowledge, volunteered him for a role. 
Ferguson's husband's social media use got him a call from Elizabeth Banks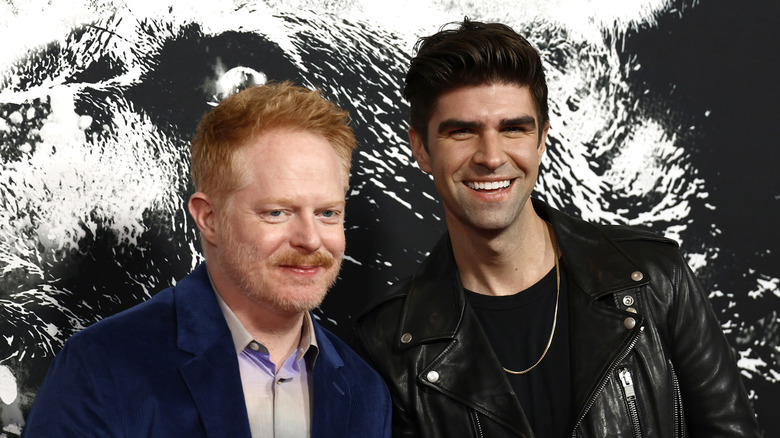 Frazer Harrison/Getty Images
According to Jesse Tyler Ferguson, he and Elizabeth Banks have been friends for around 20 years. Still, he was surprised when he, seemingly out of the blue, got a phone call from her. "She was like, 'You said you wanted to [do the movie], let's talk about it.' I was like, 'Justin must have gotten into my social media!'" Ferguson continued.
Ferguson isn't immediately recognizable in "Cocaine Bear," which can in part be chalked up to the long hair, the mustache, the bandanna, and the accent. But when all is said and done, he's clearly having a very good time playing the role of the ill-fated wildlife activist, Peter. "Cocaine Bear" was Ferguson's first film role since 2016's "Ice Age: Collision Course."
In an interview with Time magazine, Banks said that casting "Cocaine Bear" was both a joy and a challenge. Apparently, Ferguson wasn't the only actor who approached her about being in the movie. Matthew Rhys, who has also known Banks for around 20 years, texted her after his "The Americans" co-star Keri Russell had been cast, asking if he could play real-life drug runner Andrew Thornton. "I immediately was like, 'You don't have to sell me, you're solving a huge problem for me.' I wanted this character to be a cameo. I wanted a known actor to do it so that you wouldn't know he wasn't going to make it through the movie."