Star Trek 4's Famous Kirk Joke Gets Nod In Strange New Worlds S2 Teaser Trailer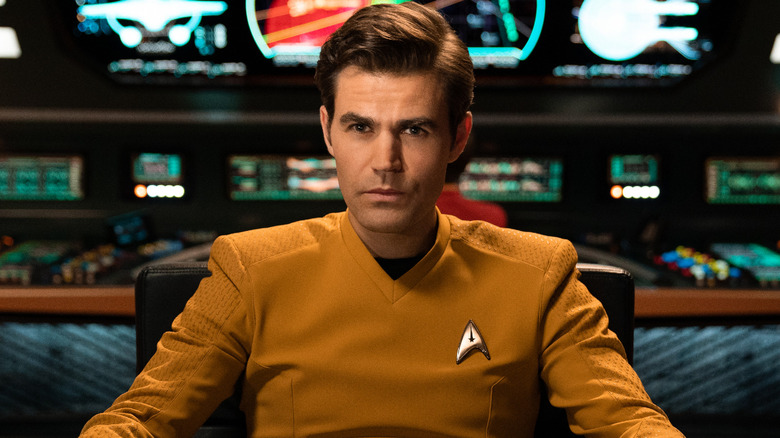 Marni Grossman/Paramount+
Season 2 of "Star Trek: Strange New Worlds" streams on June 15, and the latest teaser promises even more James T. Kirk. The iconic "Star Trek" character is once again portrayed by "The Vampire Diaries" alum Paul Wesley. And in the new footage showrunners Akiva Goldsman and Henry Alonso Myers crack open an Easter Egg when they revisit a nearly 40-year-old joke made by Admiral Kirk (William Shatner) in "Star Trek IV: The Voyage Home." In that classic film, Kirk and Gillian (Catherine Hicks) sit down for dinner, and he tries to convince her to help him save the future of all mankind. That's when the conversation takes a rather comical turn. "Don't tell me, you're from outer space?" Gillian asks. "No, I'm from Iowa," Kirk responds. "I only work in outer space."
"Oh, well, I was close," Gillian glibly remarks. "I mean, I knew outer space was going to come into this sooner or later." Comparatively, in the final scene of the "Strange New Worlds" Season 2 teaser, Jim Kirk (Wesley) and La'an Noonien-Singh (Christina Chong) visit a clothing store, and Kirk finds himself perplexed by a revolving glass door. "Never seen a revolving door?" La'an asks.
"I'm from space!" Kirk exclaims indignantly. The "Strange New Worlds" joke is an obvious nod to the one told by Shatner's Admiral Kirk in "The Voyage Home" 
'No, I'm from Iowa — I only work in outer space'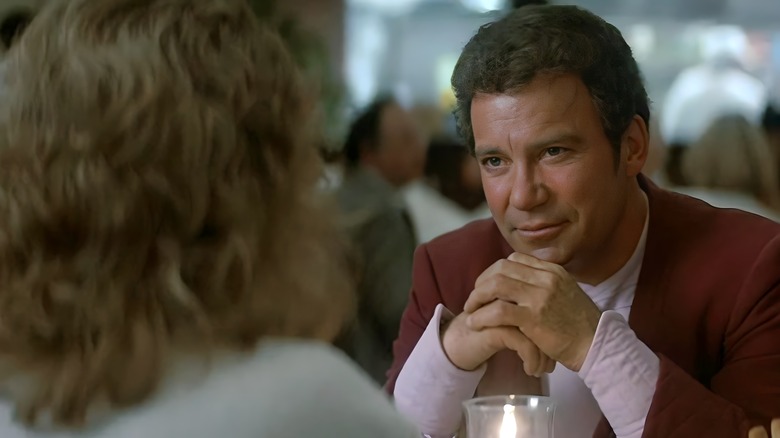 Paramount Pictures/YouTube
During "The Voyage Home," Kirk (Shatner) and his mutinous crew from "Star Trek III: The Search for Spock" seek the help of Dr. Gillian Taylor (Hicks) to save 23rd-century Earth from extinction by using a pair of humpback whales named George and Gracie. It only sounds ridiculous because it is — it's also a good movie, though. And "The Voyage Home" is clearly the source material for the Easter Egg in the new "Star Trek: Strange New Worlds" teaser featuring the return of Paul Wesley as James T. Kirk. 
Wesley made his first appearance as Captain of the U.S.S. Farragut during Season 1, Episode 10, "A Quality of Mercy," but the actor will portray a younger, alternate version of Kirk in Season 2. In "The Vampire Diaries," Wesley played a self-loathing character, so it's nice that Wesley has been given the opportunity to show off his funny bone. Wesley's real-life sense of humor came shining through while promoting Kirk's return in Season 2 at San Diego Comic-Con in 2022.
"First of all, I take full responsibility for the success of Season 1," Wesley joked during an interview with Screen Rant. "My 14 minutes of screen time — thank God I came on screen." Wesley then said that fans can expect to see a different, younger Kirk in Season 2 who juxtaposes the alternate timeline Captain of the Farragut who was briefly featured in Season 1.