How Aubrey Plaza Behaved On The Set Of Operation Fortune According To Hugh Grant & Josh Hartnett
Aubrey Plaza continues to be one of our most impressive and talented stars.
The American actress first rose to prominence after her appearance in NBC's "Parks and Recreation" as the maniacal but warm-hearted April Ludgate. The role allowed Plaza to emerge as one of Hollywood's most captivating rising stars, leading to roles in "Ingrid Goes West," "Emily the Criminal," and the highly-lauded second season of "The White Lotus." Her most recent gig in "Operation Fortune: Ruse du Guerre" sees her teaming up with director Guy Ritchie. While she's known for her comedic and deadpan skills, Plaza has jumped out of her shell time and time again. With "Operation Fortune," the star tried her hand at blending action and comedy together, with surprisingly solid results.
Initially set to release in 2022, the film was pushed back to 2023, barely making an impact at the box office. Despite its less-than-stellar receipts, the spy action-comedy has its fans. Empire critic Catherine Bray was impressed with the flick, particularly praising Plaza for taking on a role similar to a Bond girl, albeit with more thematic and comedic weight.
Joining Plaza in Ritchie's latest are Hugh Grant and Josh Harnett, two heavyweights. In an interview with Collider, the two discussed how multi-faceted and talented Plaza is, which led to some interesting situations. "You really, really don't know which way she's going to go at any moment, not only on the set, but off the set," Grant said about his costar. "I've had dinner with about 10 different Aubrey's. They look the same, but..."
Josh Hartnett and Hugh Grant approve of Plaza's snark remarks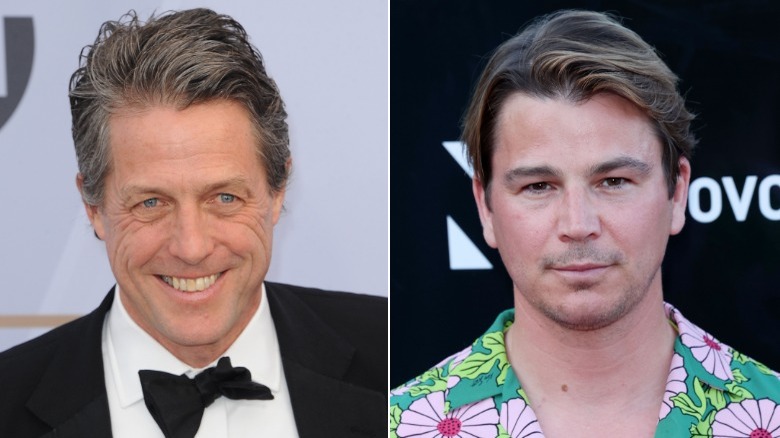 Daniele Venturelli/Getty & Tinseltown/Shutterstock
For "Operation Fortune," Aubrey Plaza channeled her inner snark, sarcasm, and improv skills according to both Hugh Grant and Josh Hartnett. Plaza, of course, has a history of these sorts of roles, ranging from her early "Parks and Rec" days to the semi-recent "Happiest Season." For Grant and Hartnett, it was always interesting to see who would be on the receiving end of Plaza's wit. "I think Aubrey is multitalented, and we had a lot of fun on set trying to figure out exactly who was going to get the snarky remark," Hartnett said. "It was always Hugh, I think."
Plaza is definitely someone who commits to a role. For her gig in the psychological drama "Black Bear," the actor emulated the general paranoia and anxiety expected for the role. "I was losing my mind," Plaza recalled while speaking with Adam Sandler for Interview Magazine. "... I was shooting nights pretty much the entire time ... I think people legitimately thought I was a street person. I really looked insane."
Fans of Ritchie's latest know that Plaza's character is as quick-witted as she is slick. Plaza definitely dedicated herself to the role, which is evident considering just how excited she was to join Guy Ritchie's project. In a separate interview with Collider, Plaza admitted that she was eager to take on the multi-faceted role. "Of course, I wanted the job. I just wanted it very badly," Plaza said. Nervous that Ritchie would scope out other stars, Plaza went knee-deep in appealing for herself and ultimately landed the gig. "I think we started off on a very – we were very much on the same page, but I would say I definitely wanted it and I went for it."