Appearing In Law & Order: SVU Led Bradley Whitford To Meeting His Wife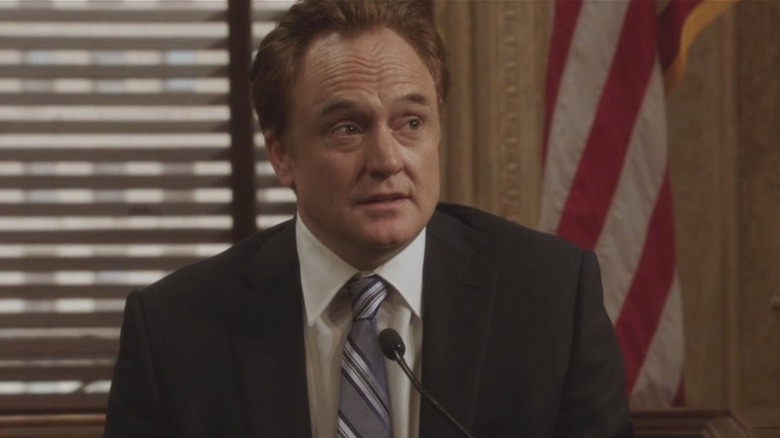 NBC
"Law & Order" has managed to fulfill two television rites of passage. On the one hand, it's a requisite gig for up-and-coming actors, particularly those based in New York. At the same time, the long-running franchise is a friendly stomping ground for seasoned performers. Bradley Whitford — known for his work in "The West Wing," "The Cabin in the Woods," and "Get Out" — fits squarely in the latter category.
In the Season 15 episode of "SVU" titled "Reasonable Doubt," Whitford plays Frank Maddox, a powerful television producer whose ex-wife (Samantha Mathis) accuses him of molesting their daughter. The episode recalls real-life public personae like Woody Allen and Roman Polanski, and Whitford plays a man who's used to getting what he wants.
Whitford shares a number of scenes with Jeffrey Tambor, who plays his lawyer. While the two were chatting on set, Tambor offhandedly mentioned an upcoming project of his that would end up changing Whitford's life. "He came in and said, 'I'm not sure what streaming is, but this show I did a pilot of just picked up.' And that was 'Transparent,' Whitford told Entertainment Tonight. "And he suggested me for a role in that, and that's where I met my wife Amy [Landecker]. So, I have a very warm feeling about ['Law & Order']."
If you or anyone you know has been a victim of sexual assault, help is available. Visit the Rape, Abuse & Incest National Network website or contact RAINN's National Helpline at 1-800-656-HOPE (4673).
Bradley Whitford & Amy Landecker are lucky in love collaborators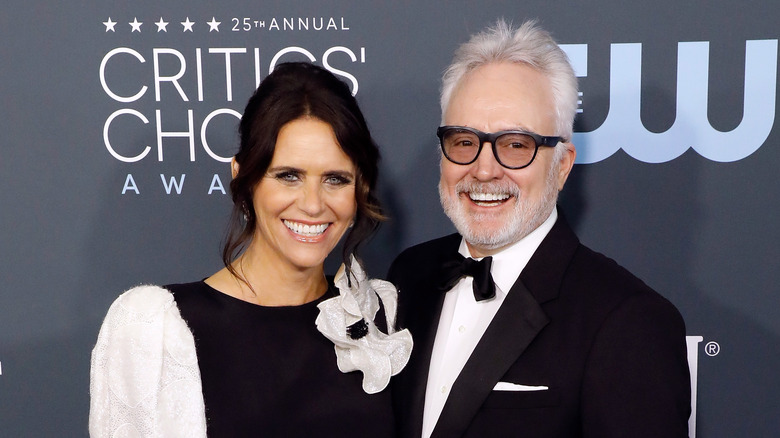 Taylor Hill/Getty Images
Thanks to Jeffrey Tambor's recommendation, Bradley Whitford appeared in eight episodes of "Transparent" between 2014 and 2019. There, he met Amy Landecker, who starred as Sarah Pfefferman, and the couple tied the knot in 2019. Since then, the pair has collaborated both on- and off-screen, whether in projects like "The Handmaid's Tale" or in consulting one another on scripts and auditions.
"I totally trust his opinion," Landecker told The Hollywood Reporter at the 2022 Emmy Awards. "I love reading [scripts] with him. I was in a little bit of an episode of 'Handmaid's Tale' that he directed this year, and I got to watch him direct himself...He was open to me giving my opinion, which is really nice...I trust him 100 million percent."
Whitford still credits "Law & Order" with bringing the two together, and in 2023, he returned to "SVU" for the episode "King of the Moon." Whitford plays Pence Humphreys, a man who is struggling with dementia. The emotional performance paid tribute to his late mother, who similarly suffered from cognitive decline.
"This show is, you know, it's beloved," he told Entertainment Tonight. "It's amazing when you do an episode of this when you realize the sort of fervent nature of the fandom out there."