Star Wars: Visions Volume 2 Review: The Force Is Strong With These Shorts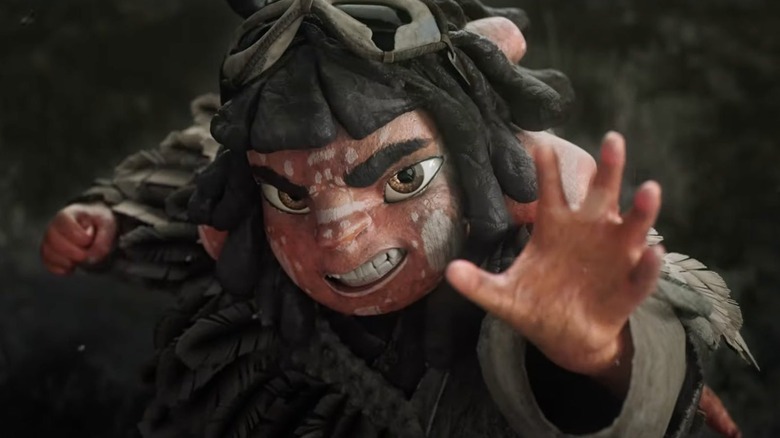 Disney+/YouTube
Between the constant deluge of Disney+ shows and the ongoing fandom war over the sequel trilogy that shows no signs of slowing down, it's become easy for even the most obsessive "Star Wars" fans to feel exhausted with "Star Wars." Two volumes in, animated anthology series "Star Wars: Visions" continues to be a potent cure for this fatigue, simultaneously reminding us why we love the galaxy far, far away and proving this universe has wider potential beyond filling in every detail of the Skywalker Saga.
"Star Wars: Visions" Volume 1, released in 2021, asked seven different Japanese anime studios to offer fresh takes on the franchise. "Star Wars: Visions" Volume 2, dropping on Disney+ May 4, has a broader international focus, with each of its nine episodes made by a different studio in a different country. The range of animation techniques on display has also widened, with more stylized uses of computer animation and stunning stop-motion work in addition to hand-drawn 2D animation in both Eastern and Western styles. As with Volume 1, there's an impressive diversity of story and tone, delivering classic "Star Wars" tropes with unexpected twists. Anthologies are, by their nature, inconsistent, and everyone will have different favorites among the shorts of Volume 2. But the bar of quality is consistently high.
Visions of sadness and silliness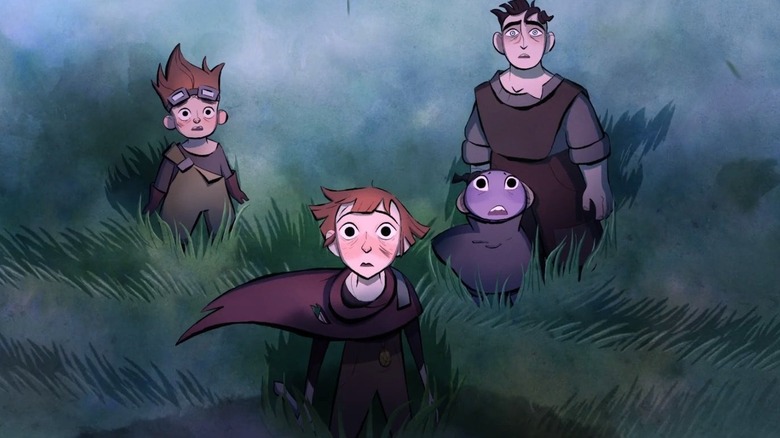 Disney+/YouTube
My personal favorite shorts from "Star Wars: Visions" Volume 2 are "Screecher's Reach" and "In the Stars." The former is directed by Paul Young and animated by the five-time Oscar-nominated Irish studio Cartoon Saloon, whose strong graphic style is instantly recognizable from such great films as "Wolfwalkers" and "Song of the Sea." Essentially an Irish ghost story transplanted into the world of "Star Wars," "Screecher's Reach" answers two questions: What if Force Ghosts were actually terrifying, and just how tragic can Disney allow a "Star Wars" story to get without the promise of a more hopeful sequel?
"In the Stars" was made by director Gabriel Osorio Vargas and Chilean studio Punkrobot, the team behind the Oscar-winning short film "Bear Story." It goes to even more tragic places than "Screecher's Reach" before finding its hard-earned hopeful ending. Animated in a hybrid style combining stop-motion, 3D CGI, and 2D illustrations, this short follows two sisters who are the sole survivors of a genocide as they fight for the health of their planet and the memories of their ancestors. It's a radical story of heroic eco-terrorism, comparable to "How to Blow Up a Pipeline," and it's also the "Star Wars" media that has made me cry the most.
Of course, "Visions" is not all darkness and tears. On the opposite end of the tonal spectrum, "I Am Your Mother" comes from beloved English stop-motion studio Aardman of "Wallace and Gromit" fame. This short, directed by Magdalena Osinska, is a sweet, low-stakes family comedy comparable to Volume 1's "Tatooine Rhapsody" (both also happen to be the only "Visions" shorts to feature characters from the original trilogy).
If "I Am Your Mother" is the funniest episode of Volume 2, then "Aau's Song," from Nadia Darries and Daniel Clarke of South African studio Triggerfish, is the cutest. It features an adorable Force-sensitive heroine designed to look like a literal teddy bear, down to the felt textures. "Aau's Song" is the sort of story that couldn't really be done right in live-action, but is perfect for animation; it also offers interesting contributions to the mythology of lightsabers and the Jedi.
Some of the best animation in the world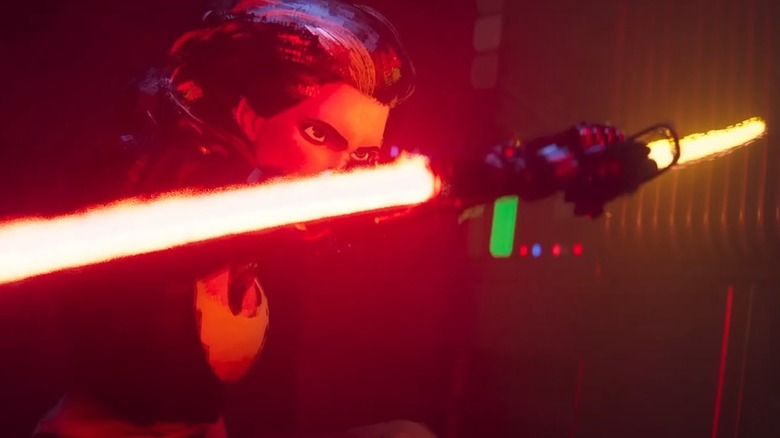 Disney+/YouTube
Volume 2's premiere episode, "Sith," from "Trollhunters" director Rodrigo Blaas and Spanish studio El Guiri, is another one of this season's highlights in terms of animation. Its painterly approach to computer animation, reminiscent of "Puss in Boots: The Last Wish," perfectly suits a story about an artist struggling with her own dark side. Also noteworthy for sheer beauty is "The Spy Dancer," a hand-drawn short from Julien Chheng and France's Studio La Cachette (best known stateside for animating Genndy Tartakovsky's "Primal") that offers a fresh take on the classic "Star Wars" theme of parents and children on opposing sides of the Force.
Those looking for more anime-style shorts will be drawn to the South Korean "Journey to the Dark Head," directed by Hyeong Geun Park and animated by Studio Mir, and "The Pit," animated by the Japan-based studio D'Art Shtajio and directed by Lucasfilm's own LeAndre Thomas and Justin Ridge. Both are relatively straightforward "Star Wars" stories compared to some of the more out-there installments — a Jedi vs. Sith battle and a "rising up against the Empire" story, respectively — but they're done well, and "Journey to the Dark Head" is particularly beautiful to look at. "The Bandits of Golak," from Ishan Shukla and India's 88 Pictures, has less impressive computer animation, but still delivers an outstanding lightsaber battle.
Every episode of "Star Wars: Visions" Volume 2 is, at minimum, pretty good, marking it as an improvement over Volume 1, which had one boring installment in "The Elder." The high points here are just as impressive as the best parts of Volume 1, if not even more so. "Star Wars: Visions" is consistently offering some of the best works of art within the "Star Wars" franchise and the best original animation made for Disney+. I hope Disney and Lucasfilm keep giving brilliant animators around the world the chance to tell their own "Star Wars" stories with more "Visions" volumes. If everything they made was this fresh and exciting, you'd never hear a peep about "Star Wars" fatigue.
Every episode of "Star Wars: Visions" Volume 2 will be streaming on Disney+ starting May 4.