The Pope's Exorcist Will Have 199 Sequels If Director Julius Avery Gets His Way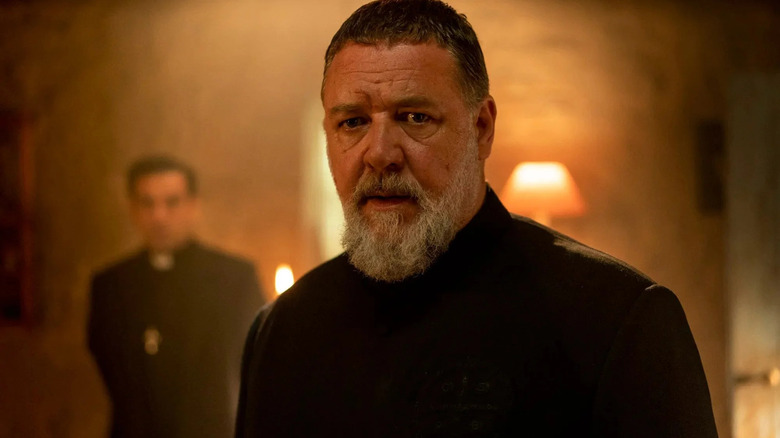 Sony Pictures Releasing
With a title like "The Pope's Exorcist," the public's curiosity was always going to be peaked with the 2023 supernatural horror movie. As of this writing, the film has grossed $53 million off of a budget of $18 million. That gross is only going to get higher, which is why it should come as no surprise that Sony is already in early development creating a sequel with Russell Crowe expected to return to the role of Father Gabriele Amorth. It's great to see another horror franchise take shape, especially with an actor of Crowe's caliber seemingly being game to return to this world of demons.
Horror franchises have greater potential than other genres to have sequels that span decades, and if director Julius Avery has his way, "The Pope's Exorcist 2" will only be the beginning. He spoke with The Hollywood Reporter about the future of the franchise and how the first film left the door open for more excursions. He explained, "As I mentioned, I saw Father Amorth as this badass demon-hunting superhero with his sidekick, Father Esquibel, and personally, I would love to see more of them together."
Hundreds of evil places remain in the world of The Pope's Exorcist
Sony Pictures Releasing
Without giving anything away about the film's ending, it makes it clear there are plenty other demonic spots that would require Father Gabriele Amorth's assistance. Julius Avery even points out how they gave themselves enough leeway to explore other areas, stating, "In the movie, we set up that there's 200 evil places where God is not welcome, and so there's 199 more movies to go." He laughs off the statement, but it certainly wouldn't be out of the question for Father Gabriele Amorth to explore some of these areas to make the world a slightly safer place from the forces of evil.
But even going beyond finding other demons for Father Gabriele Amorth and his comrades to confront, there's another reason why Avery isn't willing to give up this franchise just yet. He concluded, "So that would be fun to see. It'd also be fun to see Russell again on his Lambretta, with Father Esquibel by his side on a Vespa." "The Pope's Exorcist" got a boost of viral marketing when images of Russell Crowe riding around on a Lambretta leaked on social media, with many saying they would see the movie for those shots alone. Twitter user @nicoloperilli jokingly wrote, "PLEASE go see The Pope's Exorcist, even if it's only for Italian Russell Crowe priest on a Vespa shots. The movie surrounding the scooter shots also massively exceeded my expectations."
Exorcism-based horror movies are becoming all the rage, with a reboot of "The Exorcism" on the way. Hopefully, "The Pope's Exorcist" keeps the trend going in interesting directions.