Saw X - Everything You Need To Know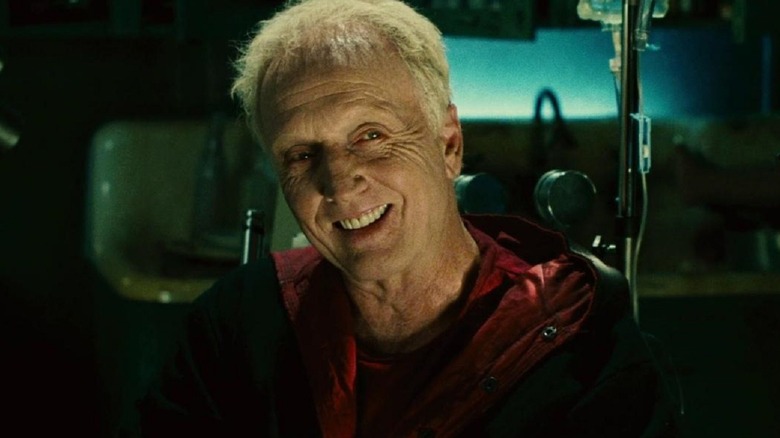 Lionsgate
Like any good horror villain, the "Saw" franchise seems to be indestructible and unkillable. And as any good horror movie ending has taught us, as soon as you think the villain is dead, it comes back for more. With the franchise spanning almost 20 years, we're set for the tenth installment in the "Saw" series: "Saw X." 
At CinemaCon 2023, Collider reported that Lionsgate revealed the logos for multiple upcoming projects, including "The Expendables 4," "The Hunger Games: The Ballad of Songbirds and Snakes," "Ordinary Angels," and "Saw X." The logo for the tenth installment of the popular horror franchise is similar to its predecessors, with a minimalist background and the title scrawled out in bloodlike text — letting us know exactly what we have in store.
While filming for the tenth installment wrapped in February, information has been slow to come out since the movie was announced. However, there is enough to give a little insight into what we can expect, including when the film takes place in the "Saw" timeline, and who will be starring in it. Here is everything you need to know about the latest trip into Jigsaw's twisted world in "Saw X."
When will Saw X be released?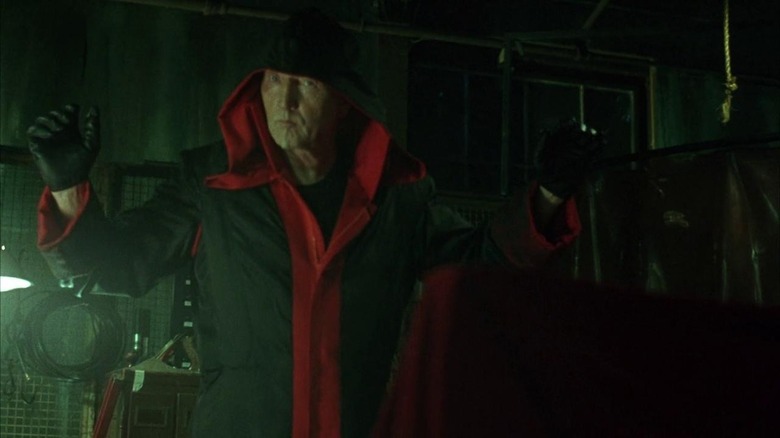 Lionsgate
Horror movies aren't just reserved for spooky season, with films cropping up year-round — amongst the summer blockbusters and festive offerings. But there is something about a horror flick being released on Halloween that gives it a particularly unique feel. 1978's "Halloween" defined the scary movie for that particular holiday, and "A Nightmare on Elm Street" followed suit. Of course, if Michael Myers and Freddie Kruger can hold down Halloween, Jigsaw should have no problem carrying the torch, and "Saw X" is set to release on October 27.
"Saw X" will have some pretty stiff competition when it hits the theaters, however. October 6 will see the arrival of the Spider-Man spin-off "Kraven the Hunter" and the new film from Martin Scorsese, "Killers of the Flower Moon." The following week, fans will flock to the theaters to see the highly anticipated sequel to one of the scariest movies of all time, "The Exorcist," which is bound to draw a crowd. After that, "Dune: Part Two" and "The Marvels" will land, so "Saw X" has a short window to capitalize on some box office success.
There may not be a lot of solid information on the plot details for fans to grasp just yet, but with the franchise remaining consistently scary and popular for almost two decades, there's plenty to be excited about still. We will just have to wait until Halloween to see what the filmmakers have in store for us this time.
What is the plot of Saw X?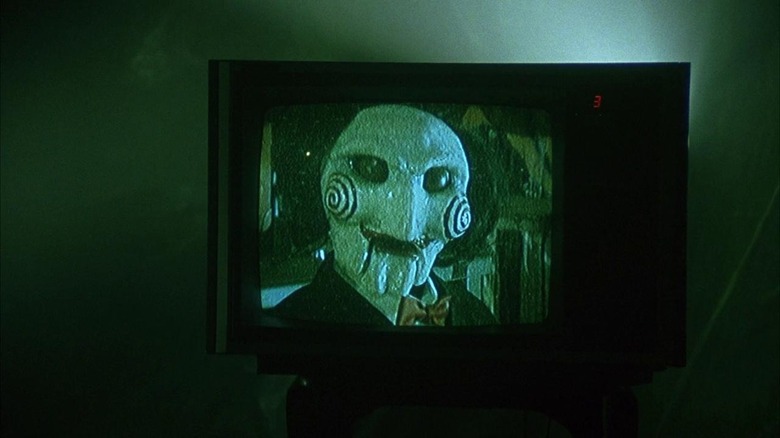 Lionsgate
Learning too much about a horror film's plot can give away key moments that can ruin a climax or a twist. To avoid such issues, many horror films keep the juicy details to themselves while giving us just enough dirt to keep us intrigued. In Collider's report on the happenings at CinemaCon 2023, they mention that the film reportedly takes place between the first two "Saw" films. The director seemed to confirm this on Twitter when he announced that filming had wrapped.
Kevin Greutert's tweet read, "Just wrapped shooting on Saw X, and though the challenges were huge (easy films are rarely worthwhile in the end), it was one of the most rewarding and epic experiences of my life." After praising the cast and crew, Greutert continued "I hope we can use the title 'Saw X' because this chapter really gets back to the roots of what makes 'Saw' special to me and everyone else."
Of course, this tells us virtually nothing about the plot of the film, only that all the characters who have appeared — and even those who have met their grisly ends — are fair game to appear if the filmmakers choose to plant some Easter eggs.
Who is starring in Saw X?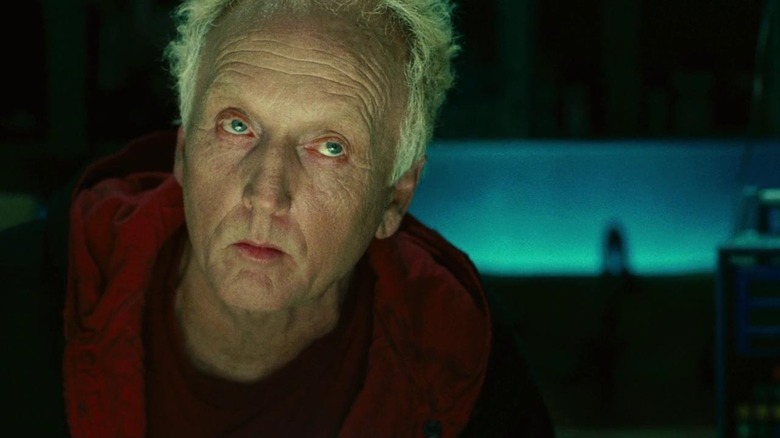 Lionsgate
Speaking of characters who could appear in the film, the question on every fan's lips is undoubtedly whether or not Tobin Bell will reprise his role as John Kramer, aka Jigsaw. According to The Hollywood Reporter, Bell is making a comeback yet again, and franchise producers Mark Burg and Oren Koules remarked on his return, "What a thrill to be reuniting with Tobin. His performance as John Kramer is part of the magic that made this franchise a phenomenon, and his character is an active part of this film."
There are two other characters that would make intriguing additions to the film that takes place between the first and second films. According to the IMDb page, one of the characters, Amanda Young (played by Shawnee Smith), is set to return as the first of Jigsaw's apprentices. And the second is the first victim to escape the grasp of the serial killer, Dr. Lawrence Gordon (Cary Elwes). Unfortunately for fans, the actor responded to rumors he would make an appearance in "Saw X" in an interview with Screen Rant while promoting his film, "Sweetwater."
"I have no comment one way or the other about that franchise; I really can't speak to it. I'm happy for the filmmakers that they continue to make money, and that it seems to be a financial bonus for them, I really can't speak to it because I'm not really involved anymore," he said. The film also stars Michael Beach, Synnøve Macody Lund, and Steven Brand.
Who is directing Saw X?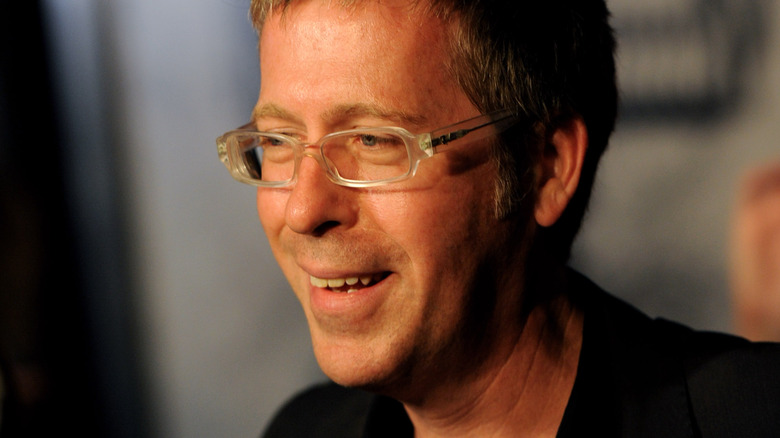 Kevin Winter/Getty Images
Kevin Greutert is a director who is no stranger to the "Saw" franchise, as he directed the 2009 installment, "Saw VI" and 2010's "Saw 3D." While those were his first two feature film directorial pursuits, he followed them up with three more horror thrillers, "Jessabelle," "Visions," and "Jackals." The first two were produced by horror legend Jason Blum, and the films starred names like Sarah Snook, Isla Fisher, Anson Mount, and Jim Parsons.
Greutert isn't only known for his directing, he is also an accomplished editor in the industry and his editing filmography includes the first five "Saw" films, along with "Jigsaw" in 2017. He also edited "The Strangers" in 2008 and "The Collection" in 2012.
While he is a relatively inexperienced director as far as the industry is concerned, he is a seasoned veteran when it comes to the nefarious games and challenges of the "Saw" franchise. He is not only more than capable of helming "Saw X," but he may just be the perfect fit.