Whatever Happened To Shane From The Walking Dead?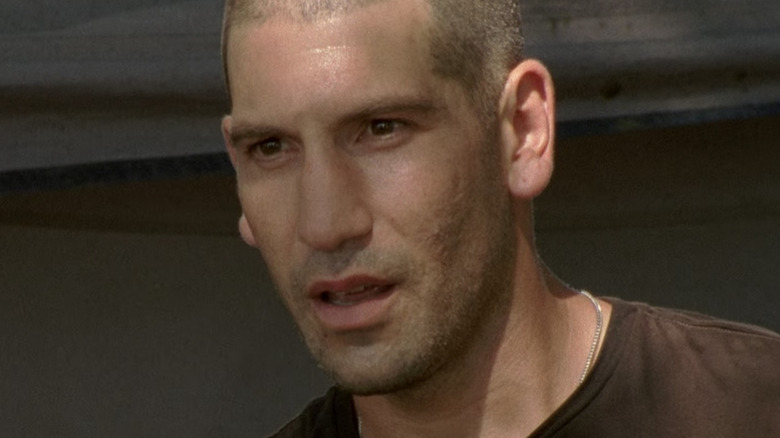 AMC
In the earliest days of "The Walking Dead," Shane Walsh (Jon Bernthal) was arguably the second most important character on the entire show aside from series lead Rick Grimes (Andrew Lincoln). Shane is Rick's former best friend and partner from when they both served on the police force in King County, Georgia. Believing Rick to be dead following the zombie outbreak, Shane begins a secret relationship with Rick's wife Lori (Sarah Wayne Collins) and becomes a father figure to Rick's son Carl (Chandler Riggs) — all of which becomes extremely complicated when Rick finds them after battling his way out of Atlanta.
This familial drama, coupled with the fact that Rick later supplants Shane as the de-facto leader of the Atlanta survivors camp, slowly turns the two former best friends into bitter enemies. By the time Season 2 rolls Shane's sanity has started to slip, and his story comes to a bloody conclusion when he tries to murder Rick on the farm of Hershel Greene (Scott Wilson).
At the time the thought of leaving "The Walking Dead" was so terrible it reduced actor Jon Bernthal to tears — though he's certainly gotten plenty of work in the years that followed his gruesome exit from the series. Here's what Jon Bernthal's been up to since he left AMC's "The Walking Dead."
Bernthal had a series of small roles throughout the early 2010s
Following his departure from "The Walking Dead" in 2012, Jon Bernthal spent the next four years playing a variety of smaller roles across film and television. In 2013 he appeared in six episodes of Frank Darabont's "Mob City" as a LAPD detective Joe Teague, and starred in Martin Scorsese's "The Wolf of Wall Street" as a volatile drug dealer named Brad Bodnick.
2014 saw Bernthal co-starring alongside the likes of Brad Pitt, Logan Lerman, Michael Peña, and Shia LaBeouf in the WWII tank drama "Fury," and in 2015 he appeared in the films "Sicario," "Me and Earl and the Dying Girl," and "We Are Your Friends." That same year he also appeared in the Oscar Isaac-led miniseries "Show Me a Hero," playing the character of Michael H. Sussman. Bernthal certainly kept himself busy during these years, though it wouldn't be until 2016 that he would score his next big break with a recurring role on Netflix's "Daredevil."
He went on to play Frank Castle in Daredevil and The Punisher
As mentioned, Bernthal scored perhaps the biggest role of his entire career in 2016 when he was cast as Frank Castle (aka The Punisher) in Season 2 of Netflix's "Daredevil," acting opposite Charlie Cox as the titular blind vigilante. Castle is a vigilante himself, though unlike Daredevil he tends to go out of his way to murder any criminals he comes across, admitting multiple times that he actually enjoys taking vengeance on those who have hurt other people.
Bernthal's portrayal of the character received an immense amount of praise from fans and critics alike, and that popularity would lead to his very own Netflix spinoff series titled "The Punisher." The series began in 2017 and ran for two seasons before its abrupt cancellation in 2019, though fans of the character will be happy to know that Bernthal is set to reprise the role in the upcoming Disney+ series "Daredevil: Born Again." 
Although for many fans Bernthal will always be most well known for his role as Shane Walsh on "The Walking Dead," his role as Frank Castle has made him one of the most popular characters in the Marvel Cinematic Universe — and it will be interesting to see what role he plays in the upcoming sequel series.
Bernthal had a prolific acting resume throughout the late 2010s
After scoring the titular role in "The Punisher," Bernthal took on a variety of roles (both small and large) throughout the late 2010s. 2017 saw Bernthal appearing in Taylor Sheridan's "Wind River," the Edgar Wright blockbuster "Baby Driver," and as a minor character in "Shot Caller."
In 2018, Bernthal reprised his role as Shane Walsh in Season 9 of "The Walking Dead," appearing during the episode "What Comes After" in a hallucinatory vision had by series lead Rick Grimes. 2019 saw Bernthal appearing in a variety of prolific films and television projects that include "The Peanut Butter Falcon" (in which he reunited with "Fury" costar Shia Labeouf), "The Unbreakable Kimmy Schmidt" (reprising his cameo role as the "mysterious man" from Season 4), and the racing blockbuster "Ford v Ferrari."
Indeed, Bernthal kept himself extremely busy during the final years of the 2010s, and thus far the early 2020s have been no different.
Bernthal has already scored two leading roles during the 2020s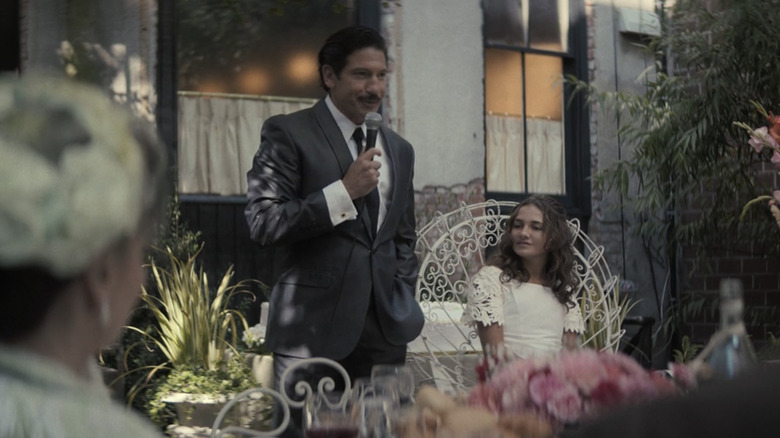 HBO
Despite appearing in only one film released in 2020 (the musical drama "Viena and the Fantomes") Jon Bernthal has already been expanding his filmography throughout the early 2020s, appearing in some of the biggest projects of 2021 and 2022. These include the Will Smith-led biopic "King Richard" (in which he played Rick Macci, the real life trainer of Venus and Serena Williams), and "The Sopranos" prequel film "The Many Saints of Newark" in which he played Johnny Soprano, the late father of Tony Soprano (James Gandolfini/Michael Gandolfini).
In 2022 Bernthal played the lead role of Sergeant Wayne Jenkins on the HBO miniseries "We Own This City," while also appearing in two episodes of Jeremy Allen White's "The Bear" as Carmen Berzatto's (White) late brother Michael. That same year he also played the titular role of Julian "Johnny" Kaye on Showtime's "American Gigolo," based on Paul Schrader's 1980 film of the same name. 
Despite how heartbreaking it was to say goodbye to "The Walking Dead" back in 2012, Bernthal's career has only grown more prolific with each passing year since his departure from the series — and fans of Bernthal's work ought to expect plenty more from the acclaimed actor in the near future, particularly once he returns to the MCU for "Daredevil: Born Again" in 2024.