Jon Bernthal Legit Cried When He Was Killed Off On The Walking Dead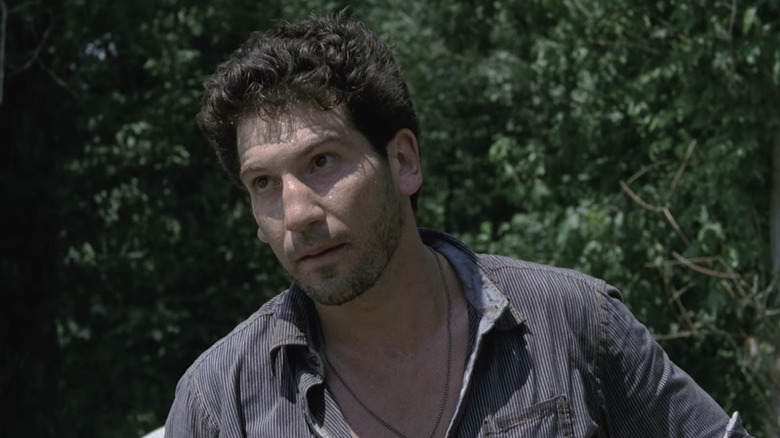 AMC
Given all of the psychotic villains, gut-wrenching character deaths, and shocking twists we witnessed during the twelve years that "The Walking Dead" was on the air, it's sometimes hard to remember the relative simplicity of the show's first two seasons. Those first two seasons saw Rick Grimes (Andrew Lincoln) and a group of survivors adapting to life in the zombie apocalypse — fighting for survival against undead and human foes alike and eventually allying themselves with the family of Hershel Greene (Scott Wilson) on his farm.
While the ever-present threat of the zombie horde certainly kept these survivors on their toes, much of these early seasons were devoted to the interpersonal drama of the survivors, specifically the growing tension between Rick and his former partner Shane Walsh (Jon Bernthal). Shane had already betrayed Rick by sleeping with his wife Lori Grimes (Sarah Wayne Callies) at the outset of the apocalypse, and much of Season 2 is devoted to his slow loss of sanity in the chaos of the outbreak.
This eventually leads Shane to become a full-blown villain: with plans to murder Rick and supplant himself as the de-facto leader of the survivors and the head of Rick's own household. Finally, the episode "Better Angels" saw Shane attempting to murder Rick in the woods, only to end up with Rick's knife in his heart. Although this scene remains one of the most powerful moments in "The Walking Dead," Shane's death certainly didn't sit right with actor Jon Bernthal, who cried after being killed off.
Bernthal got choked up watching the cast film a scene without him for the first time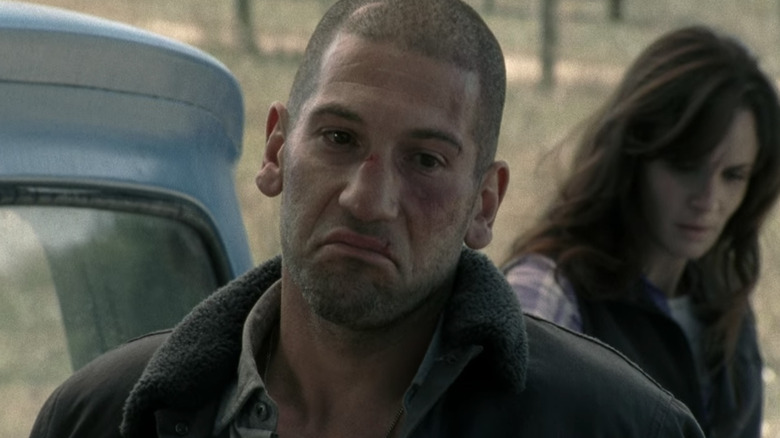 AMC
During a recent interview on "Conan O'Brien Needs a Friend," Jon Bernthal expressed his frustration at having to leave the series right after it began to pick up steam and become a sensation – and admitted that he actually cried when he saw them shooting a scene without him.
"I remember like walking out and seeing them sort of shoot this first episode that I wasn't gonna be in, and I wanted to go say goodbye to everyone," said Bernthal. "And instead of saying goodbye, I just sat on this rock in the woods and watched this beautiful sort of symphony of the barn was on fire, and there were all these zombies ... and I sat there and I weeped."
Bernthal described just how painful it was to see all of the cast and crew, who had become like a family to him at this point, continuing without him and realizing that he wasn't a part of it anymore. He finished by reiterating how grateful he was to have gotten those first two seasons on "The Walking Dead," though it's clear he was incredibly bummed about Shane's death in the moment.
Thankfully, Bernthal did actually get to return to the series during Season 9, when he appeared in a hallucinatory vision of Rick Grimes. Although Bernthal was clearly distraught at losing such an important role after just two seasons, the impact that Shane had on the show cannot be overstated — and his return in Season 9 is proof of just how important Bernthal was to the story of "The Walking Dead."