The Last TV Series Jerry Springer Was In Before He Died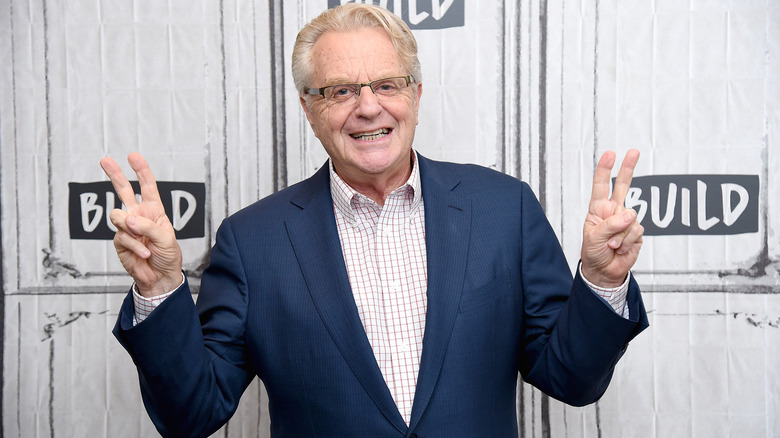 Gary Gershoff/Getty Images
TV legend Jerry Springer has died at the age of 79, and viewers of his eponymous daytime trash TV classic are looking back fondly at its wild and outrageous antics. Springer popped up elsewhere on television throughout his career, and his final TV appearance is a somehow fitting capper to a body of work devoted to entertaining the audience by any means necessary.
Devoted viewers of "The Masked Singer" already know that Springer made an appearance on the show, hidden under a "Beetle" costume and wowing the audience with his rendition of the Frank Sinatra classic "The Way You Look Tonight" (YouTube).
It happened on "Muppets Night" during Season 8 of the show (with Kermit the Frog providing moral support from the stage), and many fans of the talk show host might well have been surprised by the quality of his singing voice, not to be confused with Sinatra's but very pleasant in its own right.
But of course, the real treat for Springer fans was watching the audience erupt with adoration after he took off the mask.
The Masked Singer audience couldn't hold back a 'Jerry! Jerry!' chant after his reveal
As you can see in the clip above, the expected "take it off!" chant from the audience, panelists, and host of "The Masked Singer" morphed into another chant entirely once Jerry Springer's mask came off and his identity was revealed. Nick Cannon kicked off a "Jerry! Jerry!" chant that is familiar to anybody who ever watched "Jerry Springer" during its daytime heyday.
Despite his heroic welcome, Springer was self-deprecating in his remarks on the stage. "When I sing, seriously, people will get involved. Because they have to guess where the notes were supposed to have been. It's like interactive," Springer joked.
In his closing moments on the stage, Springer got a bit serious after Cannon asked him why he chose to appear on "The Masked Singer." "There are so many serious things going on in the world, to be able to do something that's just fun, and silly ... I appreciate it."
Springer made two additional appearances on "The Masked Singer" Season 8, for the season finale and the "Seasonal Sing-A-Long Spectacular," and now they stand as the television icon's last appearance in the medium he changed forever. Jerry! Jerry! Jerry!