Outer Banks' Carlacia Grant Didn't Plan On Auditioning For Cleo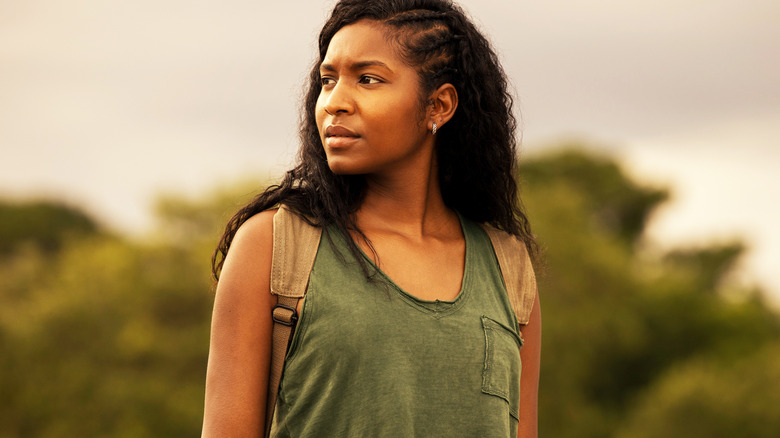 Jackson Lee Davis/Netflix
Carlacia Grant plays a member of cargo ship captain Terrance (Terence Rosemore)'s crew named Cleo, who befriends and joins the show's protagonists in Seasons 2 and 3 of "Outer Banks." During Season 3, Grant had to overcome her fear of heights while working on its elevator scene, she once shared, showcasing a genuine degree of challenge sometimes required as an actor.
While Grant may now be wholly devoted to her "Outer Banks" character, she revealed in an interview with Netflix's YouTube channel Still Watching Netflix that she didn't originally plan on auditioning for the role of Cleo, and even encouraged friends of hers to attempt to book the part instead. "It's crazy because I wasn't even gonna audition for it. Like I sent it to some of my friends and stuff like, 'Ah, I think this is more you than me.' I guess they still didn't find the person so they recast it again. And I sent the same tape in again," she said. The next day, it turned out, she was asked to show up for a chemistry reading. After that, she attended a table read, where she ultimately learned that she landed the role.
Of course, for present day "Outer Banks" fans, Grant is inseparable from Cleo, making her initial hesitancy plenty surprising in retrospect.
Carlacia Grant was drawn to Cleo's attitude, but struggled with her accent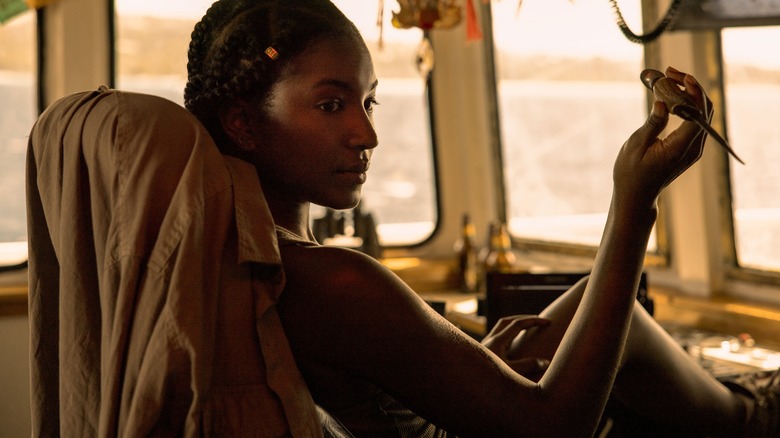 Jackson Lee Davis/Netflix
In that same Still Watching Netflix video, Carlacia Grant's interviewer followed up by asking what drew her to the role of Cleo. Of course, as she detailed in her previous response, she wasn't initially interested in the role, but clearly saw something in Cleo later on in the casting process, allowing her to connect with the character and beat out her competition for the gig.
"Reading the script it was like, she's walking in first scene, you see her spinning a knife. And she's like, just this bad gal," Grant said. "I was like, oh yeah. I wanna play her, she's cool."
She then went on to explain that the hardest part of playing Cleo on "Outer Banks" is her accent. Cleo is from Nassau in the Bahamas, whereas Grant grew up in the United States. "Once I got into it, it was like, oh, this is fun," she continued.
Between her initial reluctance and the effort it took to develop the character's voice, then, the role of Cleo seems to have started off as a struggle for Grant. Fortunately, she overcame these and perhaps other hardships and remains a core member of the "Outer Banks" cast on the strength of her hard work.