Breaking Bad: David Costabile Had To Fight For His Role As Gale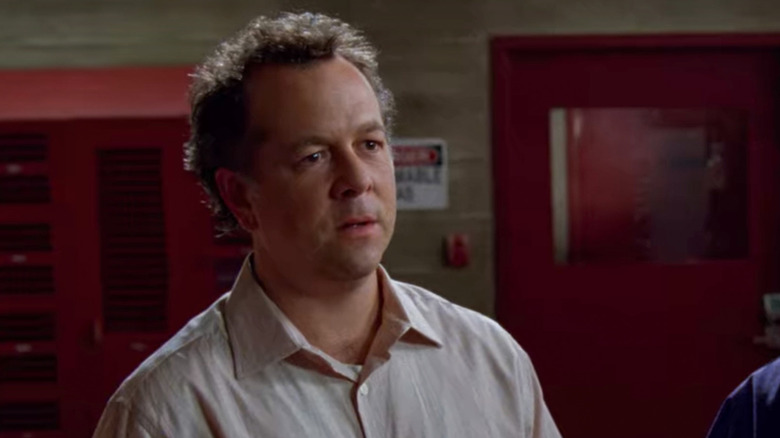 AMC
While David Costabile has never had top billing in his career, his credits include roles on some of television's most successful and beloved series, including "The Wire," "Damages," Billions," and "Breaking Bad." Costabile appeared in seven episodes of "Breaking Bad" as chemist Gale Boetticher, someone Gus Fring (Giancarlo Esposito) considers as a replacement for Walter White (Bryan Cranston) as the trust between the two men erodes late in Season 3. Gale's arc is brief, but it marks a significant point in the darkening of Walt's relationships with both Gus and Jesse. 
In an interview with The Ringer, Costabile explained that when he landed the part of Gale Boetticher, he had already developed a fondness for "Breaking Bad" and thought he was a perfect fit for the part. 
"They tried hard not to cast me, tried for a long time to find somebody else," he said. "But I was like, 'I am that character.' And that was the truth. ... I dare you to find somebody who's going to do that [role] better than me.'" He also admitted that determination alone was not enough to bring him success in his career, and that a certain amount of good fortune was also necessary. "There have been many times in my life when I've been able to identify something, like, 'I want that,' and get it," Costabile said.  "And most people will be like, 'You're so f****** lucky,' and the answer to that is, I am."
David Costabile's manner was a perfect fit for the character of Gale Boetticher
Gale is ultimately killed by Jesse Pinkman (Aaron Paul), a moment that is critical in Jesse's long, slow slide from low-level meth cook to crumpled, embittered husk of a human being. 
The Ringer's Miles Surrey called Gale's murder "a heartbreaking, game-changing moment with reverberative effects throughout the rest of the series." 
In his seven episodes on "Breaking Bad," David Costabile brought a gentle humanity that contrasts with Walt's reckless selfishness and Jesse's brash attitude while meshing ideally with Gus Fring's quiet professionalism. 
Costabile plays Gale perfectly, bringing his musical theater background to multiple scenes. His unforgettable YouTube rendition of Peter Shilling's epic "Major Tom" in Season 4, Episode 4 is one of the series' comedic highlights, as is his singalong of Tom Lehrer's "The Elements" in Season 4, Episode 3. 
In the end, while Gale is one of the minor characters in "Breaking Bad," his influence has a butterfly effect throughout the series, ultimately leading to Walter White's murder of Gus Fring and Jesse's estrangement from Walt and flight to Alaska.