The Flash First Reactions Should Have DC Fans Very Excited
Ezra Miller's Barry Allen may or may not have a future in James Gunn and Peter Safran's DCU following "The Flash" star's string of arrests and assorted controversies. Still, that doesn't take away from the fact that the movie itself is riding a virtually unprecedented hype train by DC Extended Universe standards. In fact, Gunn's monumental praise for "The Flash" indicates that regardless of Miller's behind-the-scenes troubles, the film is nothing short of a complete and utter delight.
"The Flash" is set to premiere on June 16, and courtesy of CinemaCon, we've now reached a stage where people who aren't directly affiliated with the studio have gotten a peek at the movie. If their first reactions are anything to go by, "The Flash" would indeed appear to be a pretty intriguing piece of superhero cinema. "The Flash is hands down one of the best superhero films of all time. No joke, The Flash is the ultimate movie going experience as it has a little bit of everything! Action, emotion, heart, humor and plenty of nostalgia," critic and journalist Scott Menzel tweeted after seeing the film, while also praising stars Miller, Michael Keaton, and Sasha Calle, as well as the movie's considerable rewatch potential. 
Menzel also made a point of noting that the movie has plenty of extremely spoiler-y surprises, which writer Nicola Austin mentioned in her Twitter analysis, as well. "The Flash is a compelling, character-driven flick with a real emotional core & game changing stakes," Austin wrote. "With heart & humour aplenty – along with some shocks & surprises – there's so much to be excited for. Keaton steals the show with a terrific performance. A real love letter to DC!"
Even the people who don't love The Flash say it's a fun film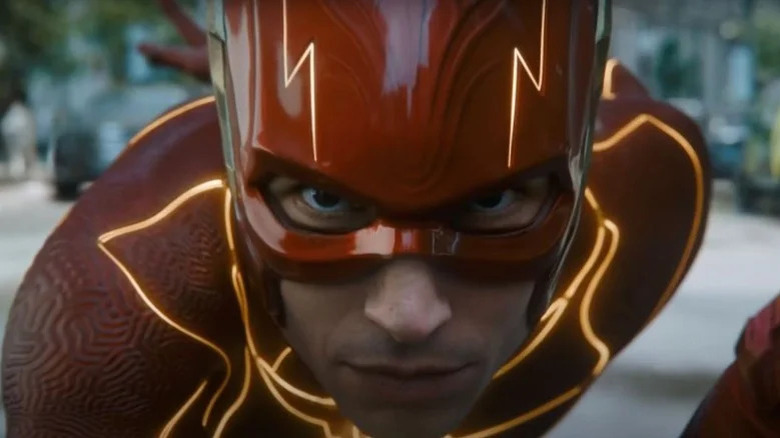 Warner Bros. Discovery/DC Entertainment
The majority of the first reactions from CinemaCon shower "The Flash" with some extremely high praise, to the point that some — like Erik Davis of Fandango — even think it might actually be one of the very best superhero movies out there. "DC's The Flash is TREMENDOUS! Forget DC, it is without a doubt among the best superhero films ever made. An all-timer. Inventive storytelling, FANTASTIC action sequences, great cast. SO MANY nerdy details. I'm in tears at the end. Everything you want from a superhero film & more," Davis tweeted, comparing the movie to the time-travel classic "Back to the Future." Eric Goldman of Fandom also tweeted good things about the movie, praising "The Flash" for its creative decisions and sense of fun. 
Of course, not everyone who's had a chance to watch "The Flash" is entirely enamored with it. However, DC fans should still be pretty excited by the fact that even the harsher critics are quick to admit that the movie is a fun enough time. "The Flash manages to deliver glorious high thrills," Andrew J. Salazar of Discussing Film wrote on Twitter. "Andy Muschietti captures what many of us have always dreamed for a cinematic Flash story. But there's also plenty of just *bizarre* decisions. Some story related and others technical. Not amazing but still pretty good at times."
Incidentally, it's worth noting that all this praise for "The Flash" comes without the benefit of one of the most effective and often-used franchise-building tools in superhero movies: the post-credits scene. "We saw it without closing credits except for 'Directed by Andy Muschietti' and no credit scenes.... though I certainly think that may be different when it opens!" Goldman wrote on Twitter. As such, it appears that "The Flash" packs plenty of punch in its own right ... and the studio might still opt to add a game-changing stinger or two as the icing on the cake.