Ezra Miller's Barry Allen Could Still Have A Future In The DCU
Warner Bros. Discovery/DC
Following the disastrous release of "Black Adam," Warner Bros. Discovery has regrouped and is prepared to bring audiences another DC Comics-based offering. This time around it's "The Flash," which sees Barry Allen (Ezra Miller) effectively wreck the multiverse in the process of trying to fix his past. Given Miller's well-documented legal troubles over the past year as well as James Gunn and Peter Safran's revision of the DC film and TV slate, it's logical to assume fans will never see this version of the Scarlet Speedster again. Although, that might not be the case.
At the 2023 CinemaCon event, "Flash" director Andy Muschietti and producer Barbara Muschietti took audience questions after a screening of the film. According to Jenna Busch of /Film, they explained that there's potential for a follow-up to "The Flash" should the movie perform well, though they're not sure what Gunn and Safran have in mind for the future of the DC Universe — formerly known as the DC Extended Universe. One would have to imagine that should such a project become a reality, Miller would once again don the Flash suit for the project.
Narratively, if the DC franchise is up for a reboot, how would Miller's Flash even exist in the new timeline? Given Gunn and Safran's plan, it's not as far-fetched as one might think.
According to Gunn, the DCU isn't a total reboot of the DCEU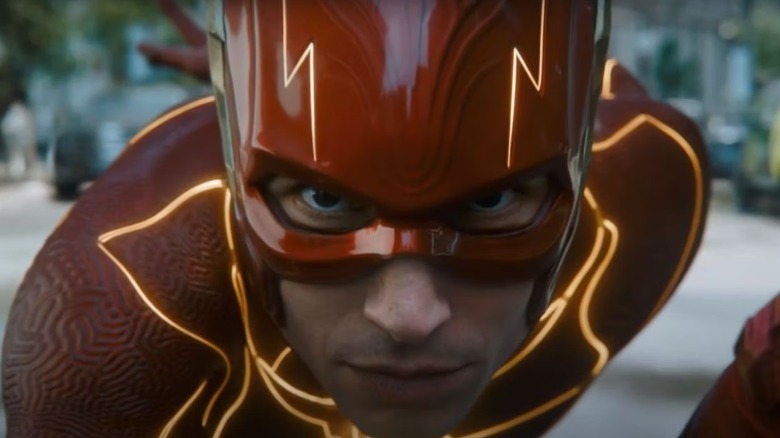 Warner Bros. Discovery/DC
With the departure of Henry Cavill from the role of Superman, the cancelation of "Wonder Woman 3," and rumors of Jason Momoa taking on the role of Lobo, it's logical to assume that James Gunn and Peter Safran's DCU will wipe the slate entirely clean. This is further supported by the fact that the DCU will be broken up into chapters, with the first known as "Gods and Monsters" set to bring with it brand new takes on DC's tentpole characters. However, according to Gunn himself, it's not out of the realm of possibility that some DCEU holdovers will be present.
"Flash resets many things, not all things. Some characters remain the same some do not," Gunn commented on an Instagram post, clarifying that "The Flash" will indeed kick off a new era in DC media. At the same time, there's a good chance that some of the characters fans have come to know and love will not be changed by the shifting of the universe. Two of these holdovers that we know of so far are Weasel (Sean Gunn) and Amanda Waller (Viola Davis), and it stands to reason they won't be the only ones. Perhaps Ezra Miller's Flash will join them down the line.
The timeline-altering "Flash" will zoom into cinemas on June 16, 2023.