A Quiet Place: Why John Krasinski Was Scared To Star In The Film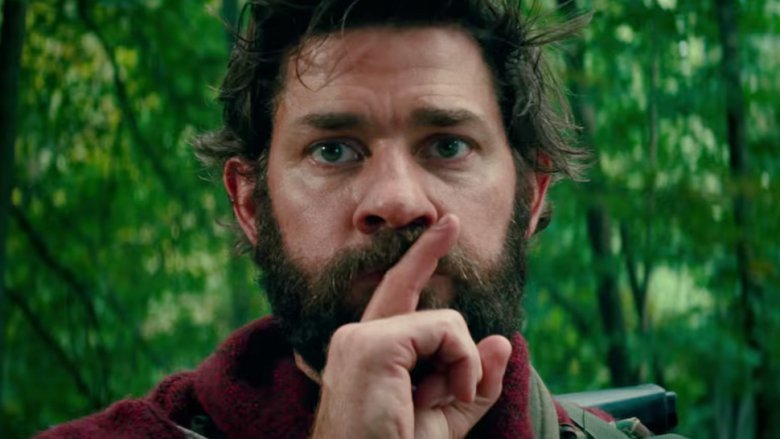 A Quiet Place scared moviegoers worldwide when it launched in theaters on April 6. Viewers were left shaking in their seats at the horror-thriller film's tension, strategic use of sound (mostly the lack thereof, actually), and the vicious monsters that lurk in the silence. But A Quiet Place also terrified its lead actor and director John Krasinski for a very different reason.
In a behind-the-scenes featurette from the forthcoming home release for the film (via The Hollywood Reporter), Krasinski admitted that he hesitated to accept the starring role as survivalist, engineer, and father Lee Abbott. "Why on Earth would he have doubts about being in a movie he directs? Don't a ton of filmmakers do that? Isn't it kind of their 'thing?'" we can imagine you asking. 
Well, before Krasinski was set as the director of A Quiet Place, he was in talks to star — but he was too scared to say yes because he felt like he couldn't "really do genre" films, despite producers Brad Fuller and Andrew Form believing he could. Fuller and Form had FaceTimed with Krasinski every day, and were the ones who had the idea for the actor to portray the patriarch of the family that lives in silent to avoid being killed by sound-seeking creatures.
"I said, 'I can't really do genre. I'm too scared,'" Krasinski explained. "They said, 'It's about a family that has to be quiet and you have to figure out why.' I thought, 'That's one of the best one-liners I've ever heard.'"
After Krasinski spent some time with the story, his fears subsided. He got in touch with Fuller and Form and relayed to them his excitement about the project –and his desire to not only star in but also write and direct A Quiet Place. (Krasinski wrote a new draft of the first script written by Bryan Woods and Scott Beck after he boarded the movie.)
As Fuller recalled, "We said, 'really?' and he said, 'Yes, and here's my pitch for what the movie is going to be and this is what I'd like to change from the script.' It was all very compelling."
And funnily enough, Krasinski actually used fear to fuel his scriptwriting process later on. At the time, Krasinski was a new parent with his wife and A Quiet Place co-star Emily Blunt, and he let that experience inform his storytelling decisions. 
"I was still early days of early parenthood, being totally terrified, nervous, trying to keep our daughter safe and keep our daughter alive already," said Krasinski. "So I thought, 'Why not put all of those ideas into a script?'"
We're glad the artist formerly known as Jim Halpert pushed past his panic and boarded A Quiet Place, because if he hadn't, we wouldn't have gotten to see one of the best horror movies of 2018.
A Quiet Place will launch on digital on June 26, and on 4K Ultra HD, Blu-ray, and DVD on July 10.