True Detective: Rachel McAdams Went On Ride-Alongs To Prepare For Ani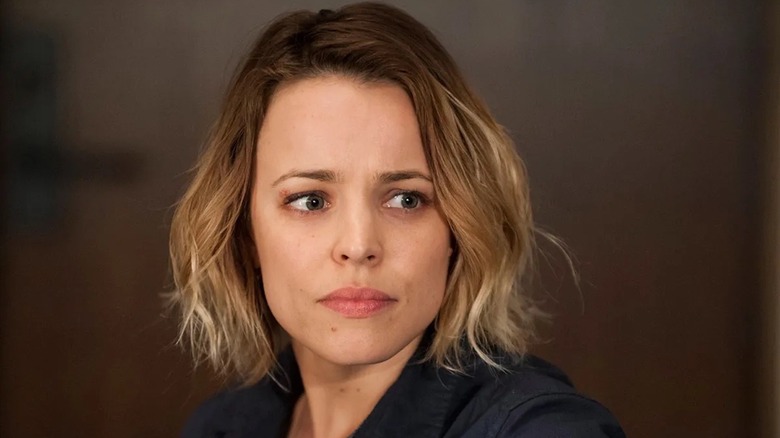 Tinseltown/Shutterstock
The second season of HBO's "True Detective" did not get the same critical praise as the debut season of the Nic Pizzolatto-created crime drama. While introducing stars like Colin Farrell, Vince Vaughn, and Rachel McAdams into the mix as well as leaning heavily into the show's noir vibes, the second season just wasn't the gut punch for most that the first season following Matthew McConaughey and Woody Harrelson as opposite detectives chasing down an elusive killer.
McAdams portrayed Los Angeles Detective Ani Bezzerides, one of the cops who find themselves tangled up in a "Chinatown"-like conspiracy involving everything from murder to good old-fashioned real estate. McAdams took playing a Los Angeles cop seriously enough that she went on late-night ride-alongs with the Ventura County Police Department to prepare for her role. In a 2015 interview with Marie Claire, the actor revealed that she also learned things like how to hold a weapon properly, and that the time spent with actual officers gave her a real appreciation for how much the job demands. 
"I don't know how they do it every day. I was like, 'I'm going to get a hash brown from McDonald's and go to bed,'" she said. McAdams also saw some excitement during her time shadowing police too.
Rachel McAdams got into a high speed chase
In a 2015 interview on "The Tonight Show" with Jimmy Fallon, McAdams described a high-speed chase she got in while researching her "True Detective" role. According to the actor, during a stop to get some coffee during an overnight shift, one of the cops she was with noticed someone behind the wheel who appeared clearly stoned and the suspect decided to jet when he saw a pair of police offers and one of the stars of "The Notebook."
"He turned the car on and I'm standing there, behind the car with my coffee, like, 'This is weird, is he going to pull away and take off?' and he literally did. He's backing up and she's like, 'Where are you going? What are you doing?' [I get] pulled out of the way and the kid pulls out and takes off and coffees are flying," McAdams told Fallon.
One of the names of McAdams' blue mentors? J. Lo. No, not actress and fellow former detective-portrayer Jennifer Lopez, but instead an officer named Jerry Lopez, whom McAdams described as "the best guy" and "such a sweetheart."