Here's What Rotten Tomatoes Reviews Are Saying About Love & Death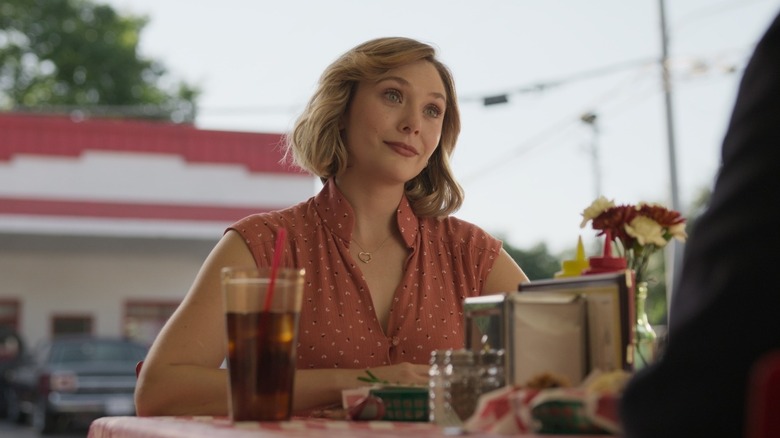 HBO Max
Just as true crime remains a genre of endless fascination, Candy Montgomery is the latest subject du jour. The suburban housewife — who in 1980 was accused of murdering her neighbor, Betty Gore, after having an affair with her husband — was first depicted in a Barbara Hershey-starring TV movie in 1990. In 2022, Hulu brought the sordid tale back to the public consciousness with its miniseries "Candy," starring Jessica Biel in the title role and Melanie Lynskey as Betty.
Now, HBO Max (soon to be Max) is delivering its own spin on the Montgomery saga with "Love & Death." The forthcoming series stars Elizabeth Olsen as Candy, Patrick Fugit as her milquetoast husband Pat, Jesse Plemons as her lover Allan, and Lily Rabe as his ill-fated wife Betty.
With "Love & Death" set to premiere on April 27, early reviews are pouring in. As of this writing, the true crime series has secured a middling rating in the 60s on Rotten Tomatoes. In her positive review for Looper, Audrey Fox called the series "a showpiece for Olsen, who carries the lion's share of the emotional lifting." Here's what other critics think of "Love & Death."
Elizabeth Olsen keeps on rocking the suburbs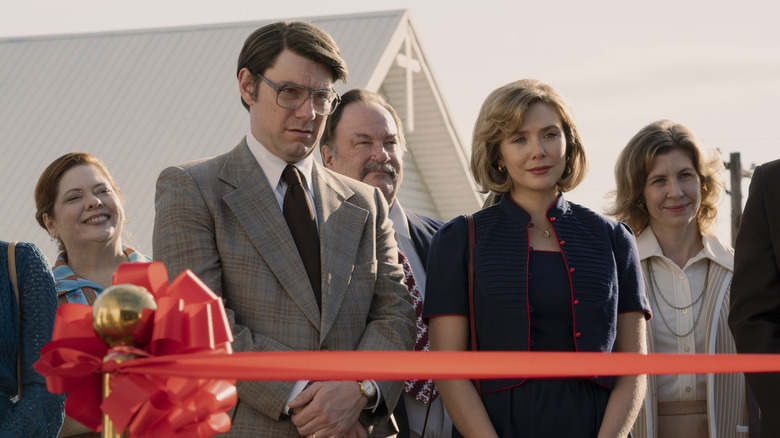 Jake Giles Netter/HBO Max
"Love & Death" is a series that interrogates suburban malaise, particularly among housewives, and HBO Max certainly enlisted experts in the field. "Love & Death" shares DNA with creator David E. Kelley's previous brainchild, "Big Little Lies," and the role of Candy is a logical next step for Elizabeth Olsen, who played a similarly volatile suburban housewife on "WandaVision." As Lauren Piester wrote for TheWrap, "There's just something about Elizabeth Olsen as a housewife with a dark side that is endlessly appealing," 
Indeed, critics agree that Olsen shines in "Love & Death," sometimes carrying the series on her shoulders. Writing for The Playlist, Marya E. Gates called Olsen "sublime," and Collider's Carly Lane went a step further, writing, "'Love & Death' wouldn't be half as riveting without Elizabeth Olsen to bind it all together." In his review for TV Guide, Keith Phipps added, "Olsen alone provides a reason to watch."
Olsen is undoubtedly affecting as Candy, all at once cheery, agreeable, and caught in the vice grip of her repressed environment. For The Daily Beast's Nick Schager, Olsen's magnetism is to her own detriment. "Olsen is almost too foxy, charming, and self-possessed for this tale; it's hard to imagine someone this magnetic (and striking) being stuck in such dead-end circumstances."
Love & Death is true crime déjà vu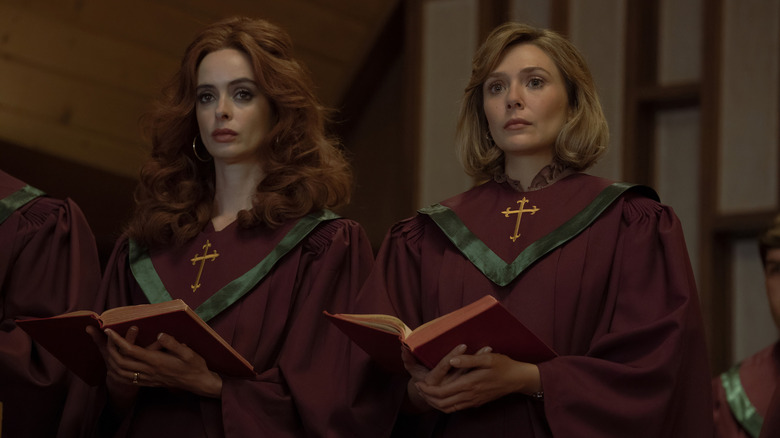 Jake Giles Netter/HBO Max
The negative reviews of "Love & Death" currently posted on Rotten Tomatoes find critics pointing to the series' unfortunate redundancy. "Try as it might, 'Love & Death' just can't escape the shadow of 'Candy,'" wrote Chris Evangelista for /Film. "If this new miniseries had improved on what 'Candy' was doing, or given us a fresh look at the players involved with the story, it might be something to write home about."
In his scathing review for Indiewire, Ben Travers suggests that it's not just the existence of "Candy" that doomed "Love & Death." "Love & Death," he argues, is derivative pablum within an already oversaturated genre, a "provocative synopsis turned into another paint-by-numbers, faux-prestige courtroom drama."
Were "Love & Death" purely fiction, its shortcomings could at least be enjoyed as a campy binge watch or guilty pleasure. Since the series is based on an actual murder, however, its missteps are far more damning. "Real human beings are flattened into Lifetime movie archetypes," wrote Meghan O'Keefe for Decider. She continued, "Betty Gore was a real woman who was murdered and 'Love & Death' only massacres her all over again."