How Chicago Med's Jessy Schram Congratulated Brian Tee On His Directorial Return
After departing from the series' cast upon Dr. Ethan Choi's Season 8 exit in December of 2022, Brian Tee returned to direct "Chicago Med" Season 8, Episode 17, which premiered on March 29, 2023. Tee's continued work on the show, in fact, may leave the door open for Dr. Choi's "Chicago Med" return.
Supporting this possibility is the fact that Tee appears to remain on great terms with his former "Chicago Med" castmates. Notably, Dr. Hannah Asher actor Jessy Schram warmly welcomed Tee back into the fold with an Instagram post celebrating his directorial gig. "I knew I adored working with @brian_tee as an actor/human. I didn't know just how much I'd appreciate and admire him in the director's chair," Schram wrote. "His thoughtfulness, experience, respect and choice of approach, shone through and I'm so excited for his directorial debut TONIGHT and to have been a piece in it."
This caption accompanies a photo of Schram, Tee, and Dr. Will Halstead actor Nick Gehlfuss, followed by various screencaps of moments from throughout Episode 17. While the possibility of Tee bringing back Dr. Choi may still remain on the table, Schram's praise of Tee's capabilities as director suggest that he could always continue contributing to the show behind the scenes as well, either in conjunction with or instead of a full return to the series' cast.
Brian Tee was happy to be back with his friends on the Chicago Med cast and crew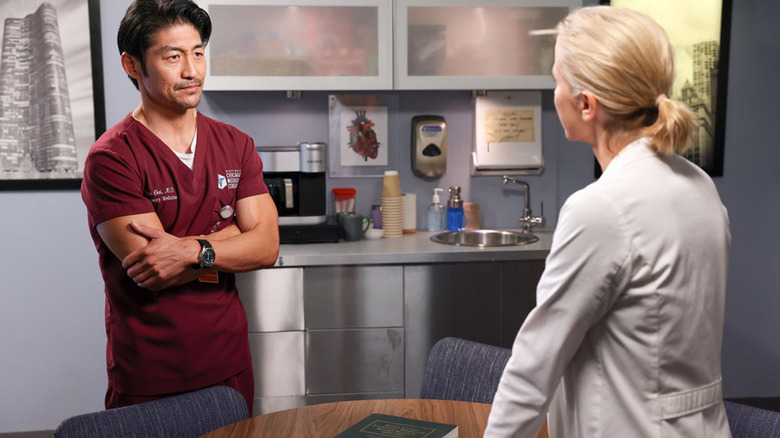 George Burns Jr/NBC
While Brian Tee may no longer be an active "Chicago Med" cast member, Jessy Schram's celebratory post about his directorial debut indicates that Tee and at least some members of the show's cast remain close. Tee himself likewise revealed in an interview with NBC Insider that his favorite part of rejoining "Chicago Med" as a director was the opportunity to work with the friends he made on the show once more.
"I think you create a family environment being on the show for so long, and you know, I think it was great to come home if that makes sense. It was really nice to see the cast and crew, all the wonderful faces that you've lived with and grew up with for the last eight seasons," Tee said. "So in that context, it was a lot of fun just to get back on the horse, albeit in a different role, but again just be able to play with all my friends and family again."
From the sound of it, then, Tee is very much still a part of "Chicago Med," even if not actively, then through the close connections he maintains with its key contributors. Of course, this dynamic means that the door is seemingly always open for a multitude of ways he could continue to work on "Chicago Med" moving forward.