Which Episode Of Chicago Med Did Brian Tee Return To Direct?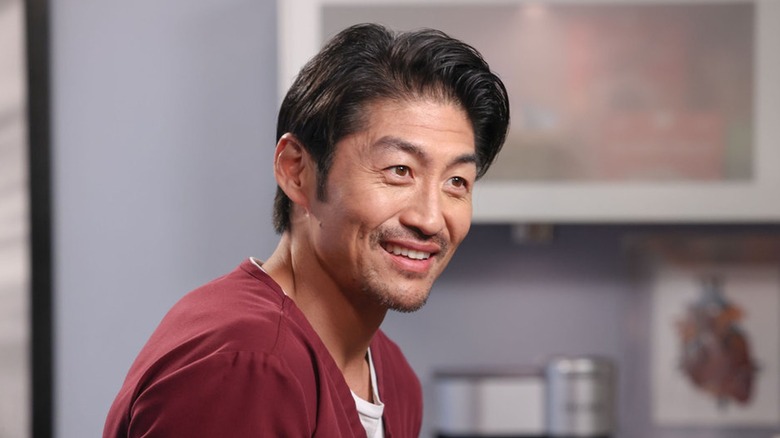 George Burns Jr/NBC)
It's safe to say Chi-Hards visiting the One Chicago universe of shows are there to catch up with the exploits of their favorite docs, cops and firefighters on, respectively, "Chicago Med," "Chicago P.D.," and "Chicago Fire." But in-the-know fans of these hit NBC shows can also likely tell you that some of their beloved One Chicago stars have spent time behind the camera as directors on a variety of other TV series.
For instance, "Chicago P.D." Detective Jay Halstead, played by Jesse Lee Soffer, may have exited the series as an actor in Season 10, but Soffer turned up recently to occupy the director's chair for the "Deadlocked" episode of the cop show. Likewise, Monica Raymond, who portrayed paramedic and firefighter Gabby Dawson for many years on "Chicago Fire," has also taken on directorial duties on shows, including several "Law & Order" franchises as well as "FBI" and "National Treasure: Edge of Discovery." And then there's Brian Tee, who gloved up as Dr. Ethan Choi from Season 1 through Season 8 of "Chicago Med" before bowing out of the show after his character got married in Episode 9 of Season 8. Returning to the show to direct co-stars including Jesse Schram and Nick Gehlfuss, Tee took the creative reins on the episode "Know When to Hold and When to Fold." But the truth is Tee had been nurturing dreams of directing the show since early on during his time as part of the cast on "Chicago Med."
Tee wasn't nervous about directing because he'd prepared for the task
As Brian Tee told Variety, he laid down the foundation for his directing work by observing other more experienced hands on the show. "In Season 2 [of 'Chicago Med'], I started shadowing directors," he said. But, as Tee explained, he was a first-time director. Deciding to let him take the helm of this long-running hit show wasn't a sure thing by any means. "It was not necessarily an easy yes. I'm sure there's a bit of a hesitation," he said. "But it wasn't just something new, out of the blue. It's been something I've been working toward."
And while someone directing their first episode of such a high-profile franchise could be excused for having a bit of newbie anxiety, this wasn't the case for Tee. "There weren't any nerves," he recalled. In fact, it seems like directing was just a logical extension of his earlier acting role on the show. "It was really fun to come back and see everyone. It felt like jumping back into the swing of things, obviously in a completely different role, but to be back with the cast and crew was just a lot of fun and really a wonderful experience to be a part of, especially from this point of view."