The Last Movie Harry Belafonte Was In Before He Died
The death of legendary actor and singer Harry Belafonte leaves behind a long career full of mesmerizing screen performances. From "Carmen Jones" and "Uptown Saturday Night" to "Kansas City" and "Bobby," Belafonte's musicality was matched by an ability to enliven his acting roles with dynamic charisma. So what was his last film before he passed away?
Harry Belafonte last appeared on the big screen in Spike Lee's 2018 historical drama "BlacKKKlansman." In the film, the actor played an activist named Jerome Turner, who delivers a riveting monologue about a teenager, Jesse Washington, who was mutilated and murdered by an angry crowd after being coerced to confess to a homicide he did not commit in 1916.
Belafonte's passionate performance was thanks to Lee and his efforts to bring the veteran performer out of retirement to play the scene. But the humanitarian shared a humorous reason why he ultimately accepted the job.
Belafonte jokingly said that he appeared in BlacKKKlansman to make Spike Lee 'shut up'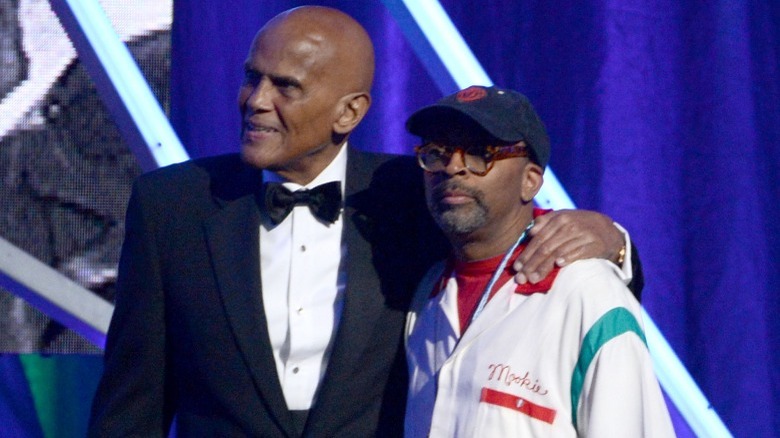 Kevin Winter/Getty Images
In a 2019 interview with Deadline, Harry Belafonte spoke about his experience on the "BlacKKKlansman" set and his relationship with its helmer Spike Lee. When asked why he chose to appear in the film after such a long gap since his last film, 2006's "Bobby," Belafonte wryly replied that it was the only way he could get Lee to shut up.
After breaking the ice with some humor, the actor/singer answered the publication's follow-up question about the courtship between the acclaimed filmmaker and himself. He said, "First of all, I am most respectful of many of the films that Spike has done. I always find the choices he makes, are about things that are very substantial and meaningful, especially to his community. The black filmgoer." The "Odds Against Tomorrow" star then shared how he agreed to Lee's insistence for him to play Jerome.
Belafonte added, "But he was so insistent, and so persistent, I thought the best way to shut him up was to go do it. And never talk to him again. So far, I have only succeeded in the first part. I can't stop talking to him."
Thanks to Lee's efforts, Harry Belafonte ended his screen career on a powerful note.