Young Sheldon EP Addresses The Possibility Of A TBBT Reunion In Its Final Season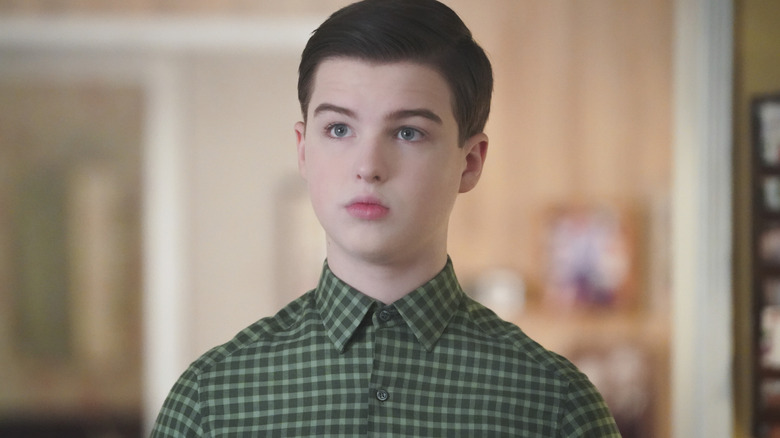 Bill Inoshita / 2023 Warner Bros. Entertainment Inc.
"The Big Bang Theory" remained one of the most popular sitcoms on the air for well over a decade, encompassing 12 seasons total. "Young Sheldon" likely isn't going to get that far due to the natural storyline of the show, with many suspecting its upcoming seventh season could be its last. 
It's getting to that point in the series where Sheldon, played by Iain Armitage in the spin-off, moves from Texas to California, making for a natural stopping point for the show. This leads to a bevy of questions as to how the series will end young Sheldon's story while tying into what fans know about "The Big Bang Theory," and one possible option is to incorporate the old cast into the series somehow. "Young Sheldon" executive producer Steve Holland ruminated on this in Jessica Radloff's book, "The Big Bang Theory: The Definitive, Inside Story Of The Epic Hit Series."
He doesn't confirm anything definitively, but it is something he's considering: "You never say never. It would be exciting. I would love to be around them all again, but I don't want to take anything away from the magnificent cast of Young Sheldon by leaning on the Big Bang cast. That show and those actors have earned their mark, and while it would be a very fun nostalgia play, I don't think it would be fair to them or the show." Still, there could be a way to pay tribute to what's come before without taking anything away from what the "Young Sheldon" team has accomplished.
A flash-forward could bring back the cast of The Big Bang Theory to Young Sheldon
Even if "Young Sheldon" ends with Season 7, there's still gold to be mined in this franchise. Another spin-off is on the way to Max, so fans won't have to say goodbye to this world just yet. Still, there's the question of how to send off "Young Sheldon" in high fashion, and if the creative team decides to bring back the original "TBBT" cast members, it'll have to be done in just the right way. 
The most natural course of action would be to have a flash-forward scene. "Young Sheldon" has had the older Sheldon, played by Jim Parsons, as a narrator throughout the show, so a flash-forward could bring him to the forefront where audiences actually see his face. This would be an excellent opportunity to bring back other "TBBT" actors, perhaps as they've been listening to the story he's been telling this entire time. 
It wouldn't be the first time some original cast members came back. In addition to Parsons serving as narrator, Mayim Bialik and Simon Helberg, who played Amy and Howard, respectively, also made voiceover appearances. Kaley Cuoco also had an uncredited part voicing "water" back in Season 3. While these were fun cameos, it would be something else entirely for viewers to see the gang back together again. However, it's understandable to avoid such a scenario. "Young Sheldon" has stood on its own legs for many years, and relying on characters largely unaffiliated with the show may be seen as a gimmick. There are no right or wrong answers as to how "Young Sheldon" should go out, and those making creative decisions will likely do whatever they feel is best to honor the show as a whole.